MannKind (NASDAQ:MNKD) investors have something to be a bit happy about with the sales numbers reported for week 3 of the company's re-launch of Afrezza. This past week, MannKind sales trajectory saw a shift upward in total scripts, new scripts, and refills. Sales are now tracking above my 3 projection lines after being below the model for the first 2 weeks of data.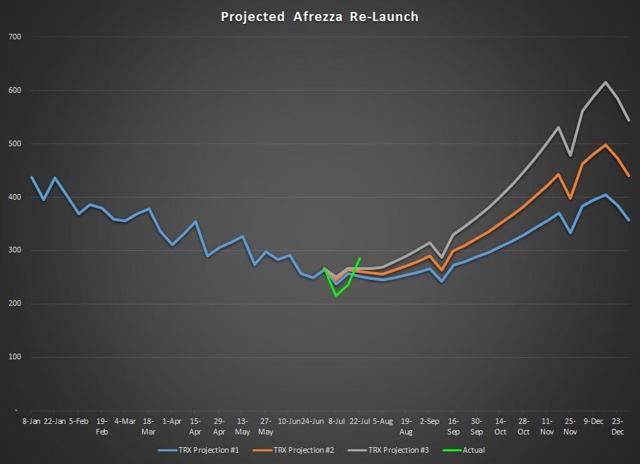 Chart Source - Spencer Osborne
The good news is that scripts saw a jump of over 20%. This could be an early indicator that sales have bottomed out and will be stable and positive as we move through the weeks ahead. The hint of caution is that even with these numbers, sales are not nearly what they will need to be to drive MannKind stock. What seems to be clear at the moment is getting sales reps back out on the street has allowed scripts to deliver a sharp shift upward, a dynamic that would not likely happen if the drug was simply floundering along organically like it had been for the past few months.
On a quarter-over-quarter basis, we are seeing the beginnings of the type of sales trajectory that was delivered in the initial launch. This is a positive event. The numbers are still off pace from the previous quarter by 24%, but the trajectory is lining up better than what was seen in the previous quarter. The green line in the chart below represents last quarter, and the pink line represents the current quarter.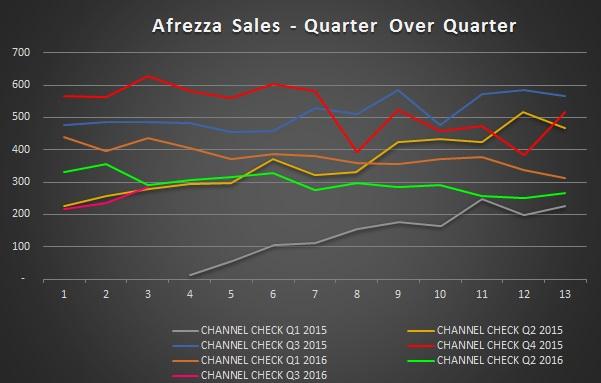 Chart Source - Spencer Osborne
On a year-over-year basis, the numbers remain troubling. A year ago at this time, Afrezza was selling at much higher levels. The year-over-year pace is 49% lower than what Q3 of last year was delivering. Afrezza sales climbed throughout Q3 of 2015, so improving on the year-over-year comparison will be difficult to accomplish. The impact will likely be muted in conference calls because MannKind now controls 100% of Afrezza and will get all revenue as well as all costs vs. being a shared partner last year.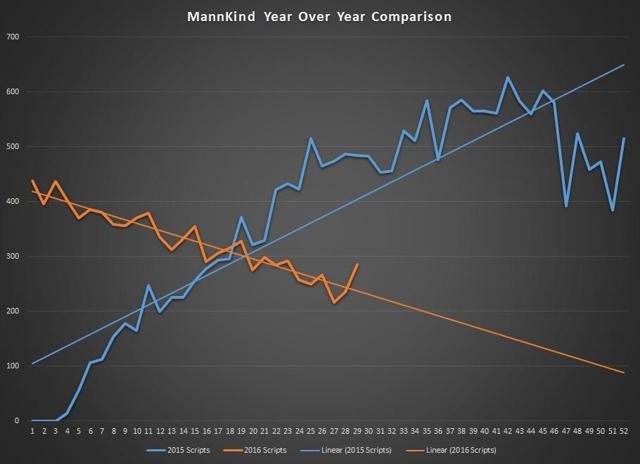 Chart Source - Spencer Osborne
More important than the script levels is the cash situation with the company. It is the low level of cash that has placed such an importance on these first six months. The issue at the moment is not necessarily the long-term success level of Afrezza, but rather the more immediate potential for substantial dilution. For existing investors, it may not make a difference, as those still holding could be likely to "let-it-ride." Tracking these issues is more applicable for those on the sidelines.
It is new money that has to approach MannKind with a critical eye, be concerned about dilution, and chase the best possible entry points. By my estimation, MannKind is now down to approximately $37.05 million left in cash. Seeing a better than modeled pace on scripts sales can eventually lead to buying the company some time, but in my opinion, will not be enough to avoid some form of capital raise.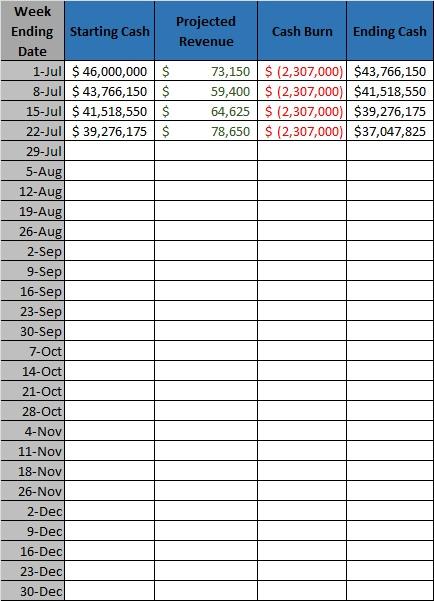 Chart Source - Spencer Osborne
The bottom line is that the sharp move in scripts this week is one positive data point out of many that are needed. As I have stated before, even beating my most bullish projection does not get this company out of the woods to a point that delivers equity appreciation. The equity is currently trading below the required levels established by NASDAQ. The stock price is bouncing in and out of compliance, but the overall trend with the stock price is down. MannKind investors need to hope that this company does not get into a de-listing process because that makes the already tough road ahead even more difficult. Stay Tuned!
Disclosure: I/we have no positions in any stocks mentioned, and no plans to initiate any positions within the next 72 hours.
I wrote this article myself, and it expresses my own opinions. I am not receiving compensation for it (other than from Seeking Alpha). I have no business relationship with any company whose stock is mentioned in this article.
Editor's Note: This article covers one or more stocks trading at less than $1 per share and/or with less than a $100 million market cap. Please be aware of the risks associated with these stocks.