Shares of Gilead Sciences (NASDAQ:GILD) remain in the spotlight after a string of disappointing earnings results. The shares have sold off once again as management incrementally dropped the lower end of revenue guidance for the year. The second part of the series will deal exclusivity with multiple valuation models for GILD; the first part dealt with the conference call and can be accessed here.
A special thank you to Matt Hogan and the team at Finbox.io for access to the excellent tools shown below.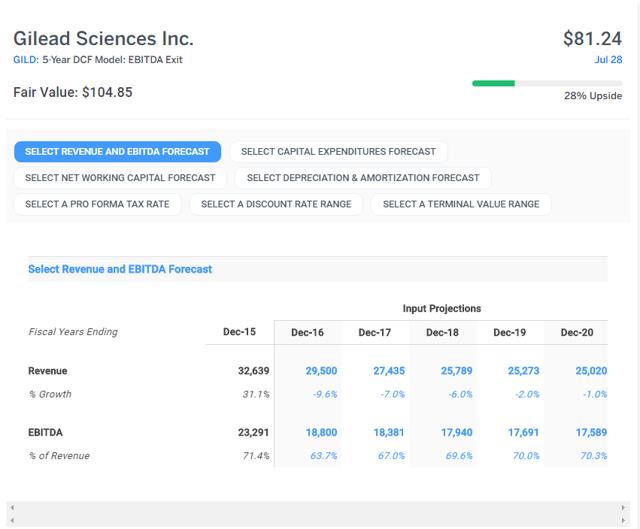 As per custom, I have incorporated the most pessimistic scenario which is sales of 29.5 billion coupled with an 88% gross margin, 20% tax rate and the high end of R&D plus SG&A expenses.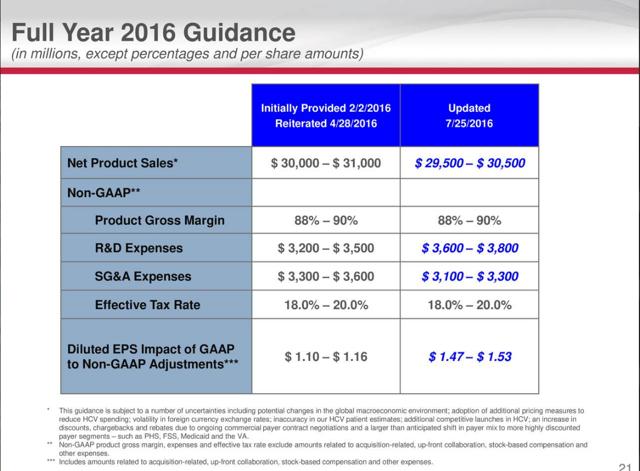 Additionally, further declines are factored in well into 2020. I believe it is safe at assuming additional novel products will be brought to market yet for today's purposes it is better to err on the side of caution and assume continued declines. EBITDA margin should accelerate in the out years as marketing support will be pulled if the HCV marketplace is indeed in terminal decline.
To account for the continued uncertainty in the HCV marketplace, I am assigning GILD a discount rate of 11% coupled with an exit multiple of 8. 2015 will serve as the peak of HCV sales, its downhill from here. The reason why a more dramatic fall in revenue shown above for GILD is the continued strength if the HIV franchise with a notably refresh in the form of TAF replacing tenofovir to create new combinations in a clever form of lifecycle management.
Unlike the HCV franchise with continued margin pressure manifesting itself in the form of higher rebates and shorter duration of therapy, the HIV marketplace behaves in a very rational and inherently predictable fashion. The primary focus should be redirected onto the HIV franchise instead of myopically centered on the wasting asset that is the HCV marketplace. Thus far the HCV franchise has generated sales of $40 billion dollars and remains well on track to generate over $100 billion in sales during the extent of its patent protection.
The continued pace of growth of the HIV marketplace combined with the expected approval of TAF for Hepatitis B should offset the vast majority of lost revenue for GILD by 2019, which is not indicated in the DCF above.
The Unknown
Easily the most perplexing portion of the GILD story remains the identity of the next revenue source outside of their core competency in antivirals. Many are clamoring for additional M&A activity to fill in the gap in revenues for GILD over the next couple of years. The idea does have merit as the team at GILD remains active on the M&A front, just not in the type of deals most expect. Last year saw the acquisition of the leading complementary pieces in GILD quest for a viable treatment for NASH in the form of Phenex Pharma. GILD acquired their lead product now known as GS-9674 with a phase I read expected by year-end.
An additional deal was struck with Galapagos for Filgotinib for the treatment of Crohn's Disease and Rheumatoid Arthritis. GILD is projected to commence phase 3 trials in the third quarter. Thus far in 2016, GILD acquired a developmental stage entity in Nimbus Appollo for their lead product an ACC inhibitor for the treatment of NASH. In essence, GILD is developing a four-pronged attack to tackle the issue of NASH.
Here is where things do become interesting. GILD remains interested in the oncology space as mentioned on numerous analyst conferences by different members of the management team. GILD does have a notable data read in early 2017 for GS-5745 an MMP9 antibody for the treatment of gastric cancer. An approval here would add to GILD existing stable of oncology products most notably Zydelig. Medivation (NASDAQ:MDVN) remains locked in a takeover drama with Sanofi (NYSE:SNY) as they try to acquire control of Xtandi a novel treatment for prostate cancer. Xtandi is still in its growth phase with expected sales to hit $1.5 billion in 2016 versus $900+ million in 2015.
As seen in this press release, MDVN has entered into confidentiality agreements with multiple interested parties including SNY. I suspect GILD is at least reviewing the merits of acquiring MDVN. MDVN sports a $10 billion dollar market cap with less than 700 employees based in the San Francisco area. MDVN would fit in nicely with GILD allowing them access to a growing product in oncology while allowing the company to remain lean and mean. Management has mentioned on multiple conference calls the desire to retain its unique culture and not take on the overhead traditionally found in big pharma. GILD is holding enough cash in the books to pull off the transaction if they so desire.
The management team beginning with the new CEO John Milligan is under enormous pressure to produce positive results. A declining share price is a disincentive when trying to retain the top talent needed to conduct the cutting-edge research necessary to drive future growth. The very top talent will field multiple offers, to compete your overall package of which stock options is a significant portion needs to have real value.
Let's use IBM (NYSE:IBM) as a template for a company that is sloughing off all sorts of revenue. IBM share price is essentially flat from the level it traded at in 2011. The reason for the IBM analogy is to warn of the fallacy that share repurchases is the panacea that cures all ills. Let's contemplate the following scenario, top notch engineering talent is looking to begin their career and is widely expected to field offers from all of the major players. Do you think for one moment they would entertain offers from an entity who's revenue continues to decline? I certainly think not; hence the dilemma facing GILD.
They have an experienced management team with new executives brought in to shore up the companies focus in a more productive manner. I applaud Milligan for taking decisive action after the absolute disaster that was the first quarter. Now the pressure is back on him to take additional steps to right what is being perceived by many as a ship adrift in the night.
The specter of a meaningful take out (not a developmental entity) is the primary reason why I closed out the puts purchased ahead of the earnings report to hedge exposure. 2015 was a spectacular year to write covered calls against a core GILD position, not know as a meaningful takeout would immediately snap the share price out of its current malaise much to the delight of the GILD bulls.
Share Repurchase Plan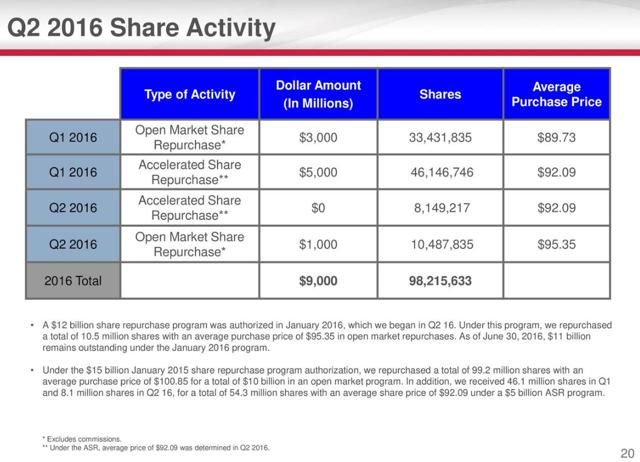 I am absolutely stunned at the cost GILD paid in the open market for shares purchased in the second quarter of 2016. Take a look at the chart below, with the exception of the period of early April: GILD has not cracked $90 since the bomb of a Q1 report. I invite all former CFO's who have conducted a share repurchase plan to chime in on the mechanisms employed here. A clear trend has emerged here: GILD routinely overpays when conducting open market purchases going back to last year.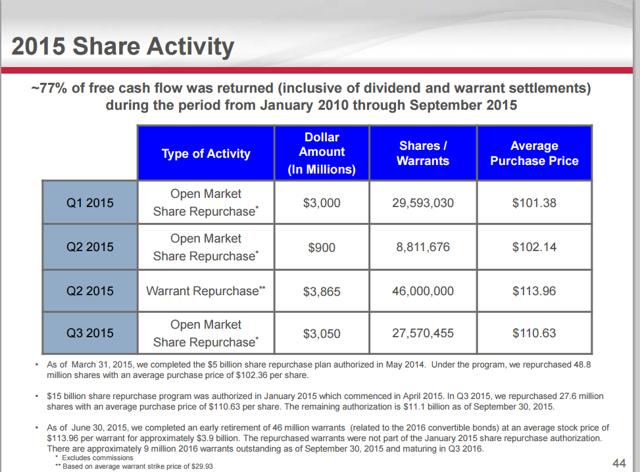 To further compound the error, the vast majority of GILD share repurchase allotment has been consumed yet the share price is noticeably lower. An absolute waste here, just atrocious timing.
Alternative methodology to determine GILD's Fair Value
Utilizing my $100 billion in lifetime figure for HCV revenue less the $40 billion already received nets $60 to go. Let's assume 80% margins to take into account higher rebates, payer pushback, and lower revenue mix as a greater number of patients will be treated ex-US (hence lower payment per patient). The remaining HCV franchise is worth $48 billion which will be discounted an additional 20% to account for the risk of disruption coupled with the time value of money netting a present day value of $40 billion.
GILD's current market cap is $109 billion less the $40 billion expected from the HCV franchise nets $69 billion in present-day value for the remaining franchises. The portion that remains generated sales of $13.5 billion in 2015 with excellent patent protection for the next few years coupled with additional new entities that are poised to gain share. When combined with an expected annual price hike of at minimum 4%, the remaining stub should grow at a near-double-digit clip through 2020. GILD ex-HCV is trading at roughly 5x sales a more gentle multiple than most of its peers.
In essence, GILD remains undervalued with the decline in HCV revenue masking the growth of its other properties. The management team has two straight earnings debacles on their hands; I expect some corrective action will be taken shortly to rectify this. I would like to share a slide from a recent Abbvie (NYSE:ABBV) earnings report. I am a former ABBV shareholder who sold for a tidy profit as detailed here. A special alert was sent out to subscribers of the Undervalued Gems service detailing a successful entry into ABBV at $51.87 last November.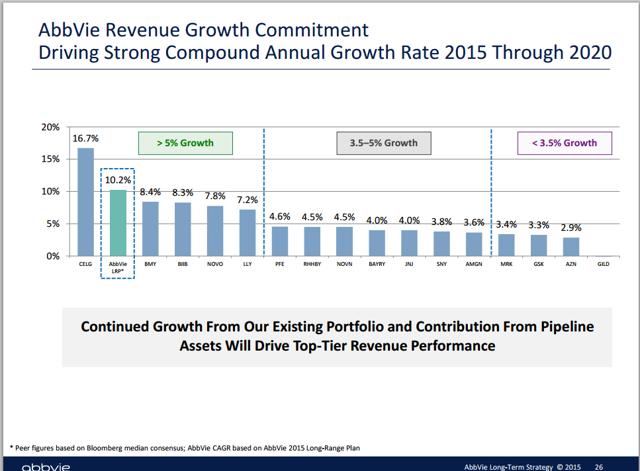 Notice how GILD is now dead last in this interesting slide with zero growth expected well into 2020. If the HCV revenue is excluded, the remaining company is growing revenue at a greater than 5% firmly placing them in the same league as such stalwarts as Celgene (NASDAQ:CELG) and Bristol-Myers Squibb (NYSE:BMY). Incidentally, I do not believe ABBV will be able to grow at a double-digit clip through 2020. The patent challenges to top selling product Humira exposes ABBV to a GILDesque issue with a sudden drop in revenue which will depress the share price. Both CELG and BMY trade at over seven times sales implying GILD is fairly valued to deeply undervalued at its present quote depending on what multiple you wish to use.
Conclusion
In my view, GILD remains a compelling choice in the biotech space. Sentiment has turned against the company with many outright bearish/hostile on the companies future growth path. The speculative/hot money has left the scene with the value players poised to nibble here. I suspect that once the U.S. presidential election is over, the biotech sector will become more popular once again. I would like to thank you for reading; I look forward to your comments.
Disclaimer: Investors are always reminded that before making any investment, you should do your own proper due diligence on any name directly or indirectly mentioned in this article. Investors should also consider seeking advice from a broker or financial adviser before making any investment decisions. Any material in this article should be considered general information, and not relied on as a formal investment recommendation.
Disclosure: I am/we are long GILD.
I wrote this article myself, and it expresses my own opinions. I am not receiving compensation for it (other than from Seeking Alpha). I have no business relationship with any company whose stock is mentioned in this article.