By Parke Shall
Longs can rejoice, because this will be our last article on Anavex (NASDAQ:AVXL) for a long time. Having said that, we saw enough in this morning's press release to make us simply chuckle at the AVXL scenario, leave it on short and forget about it for a while.
We get the feeling that we can tell a company might be rattled when it issues a press release that is, for the most part, completely meaningless. We believe that may have been the case with AVXL this morning.
This morning, AVXL issued a press release (company PR in quotes) that not only stated that its trial "pooled data from a relatively small number of subjects receiving a variety of doses," but also that it "is unreasonable to draw conclusions about any limits to the long-term efficacy of ANAVEX 2-73 based on the interim Phase 2a findings."
It seemed like a step back from a company that has seen outside stock promotions suggest that ANAVEX 2-73 could treat or cure Alzheimer's.
And it certainly seems that the stock has drawn plenty of conclusions. Enrollment for Phase 2 started on December 16, 2014. Here's how it has performed since then,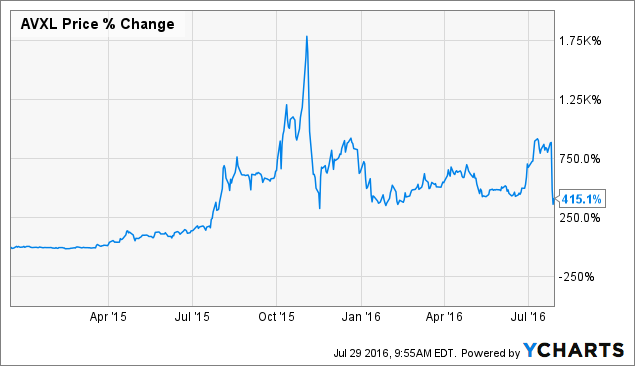 Should the stock be giving back these gains now that the company has come out and said that it's unreasonable to draw conclusions about limits to ANAVEX 2-73's long-term efficacy?
The company has seen its shares decline significantly over the last two days after new Phase II data points were put on display at a recent conference. The public sentiment to these results was abhorrent, as it seemed to show that any and all promise the company had shown from its previous presentation of these results was rendered moot as time progressed.
We reviewed in an article yesterday that biotech writer Adam Feuerstein at The Street called the company's trial "garbage" and also stated,
A scientific poster of the study data presented at the Alzheimer's Association International Conference shows 31-week declines in the patients' MMSE score, a measure of memory loss, and the ADCS-ADL, an assessment of daily living activities.
Last fall, Anavex presented data showing Alzheimer's patients treated with 2-73 for five weeks had improvements on five of six cognitive tests. After 31 weeks of treatment, only 3 of the 6 cognitive tests showed improvement.
Bad clinical trials produce bad data and Anavex is conducting a garbage study.
The Anavex study is small - just 32 patients enrolled - and lacks a control arm of any kind. All the patients were selected and enrolled at a single hospital in Australia. All were treated with 2-73.
It certainly seems as though the company's statements this morning are confirming Mr. Feuerstein's skeptical outlook. The company stated in its press release this morning,
However, this analysis was based on pooled data from a relatively small number of subjects receiving a variety of doses. It is therefore unlikely that these findings reflect the full potential ANAVEX 2-73 in treating Alzheimer's disease. It is unreasonable to draw conclusions about any limits to the long-term efficacy of ANAVEX 2-73 based on the interim Phase 2a findings, especially since no statistically significant decline from baseline was reported, which is impressive.
In comments to our last article, a former doctor and other skeptics chimed in with the following comments,
"Bioturd Playbook 101 is to run an open trial (unblinded, small sample size, no control group, no placebo). There will almost always be some "encouraging" piece of garbage in the results (even from randomness alone). Rinse and repeat."
"My personal opinion, which has 8 years of hedge fund management experience, and 7 years as a practicing M.D. behind it, is that this is not a serious company. I do not believe it is management's real intention to bring a viable drug to market. I think there was never any chance that this drug would succeed. Regardless of my personal opinion, the data yesterday were awful. We were short coming into the poster, and the data were worse than my happiest dreams. This was an unblinded trial in a group of patients expected to have large placebo effect. Instead, what we saw looking at the group, was that this study population demonstrated no sign of efficacy. Period. Full stop."
"Phase II studies are done to determine effectiveness. There's simply no way to do this in Alzheimer's without randomized, double-blind, placebo-controlled studies because of the cognitive testing element. The fact that they went ahead with this trial design is enough of a red flag to determine the company is a total joke in my opinion."
The stock depreciation over the course of two days is a markedly negative event for the company. As we noted in our previous article, the company is going to need to rely on issuing equity in order to fund its operations. A lower stock price means significantly more dilution for the company and therefore, in order to protect the stock price, we believe the company put out a press release this morning.
The stock price popped at the open, but we believe that by the end of the day investors will see this PR for what we believe it is, a whole lot of nothing.
The company never came out and talked seriously about the limits of the trial while the stock was skyrocketing. Why address them now that the data doesn't impress the market?
If this hilarious commentary from the company doesn't drive the price of the stock lower, we believe that eventually issuing more shares will. The company filed an S-3 in October of this year that it is waiting on the SEC to declare effective. The hold-up is likely the formal SEC investigation the company faces.
On December 22, 2015, the Company received a subpoena from the Securities and Exchange Commission (SEC) which indicates that the agency is conducting a formal investigation. The Company believes the subpoena and investigation relate to the recent unusual activity in the market for the Company's shares. The Company is fully cooperating with the SEC in this investigation and is unable to predict when this matter will be resolved or what further action, if any, the SEC may take in connection with it.
Either the company won't get as far as raising new capital, or the new capital it'll raise will likely be toxic, as AVXL just admitted to its potential investors this morning that its Phase II study isn't much to be relied on.
Some suggested in our article yesterday that the company may find a partner. We replied in the comments,
If they find a major pharma partner before issuing more equity and that partner supplies them with more than $20M up front we will retract this article and never write again about AVXL.
We're sticking to that.
We continue to stay short and believe that a market cap of under $15M is a reasonable scenario based on the company's cash on hand. We expect shares below $1 in coming quarters as the public catches on to what we believe to be a charade and the company dilutes further or has to deal with the SEC.
Disclosure: I am/we are short AVXL.
I wrote this article myself, and it expresses my own opinions. I am not receiving compensation for it (other than from Seeking Alpha). I have no business relationship with any company whose stock is mentioned in this article.