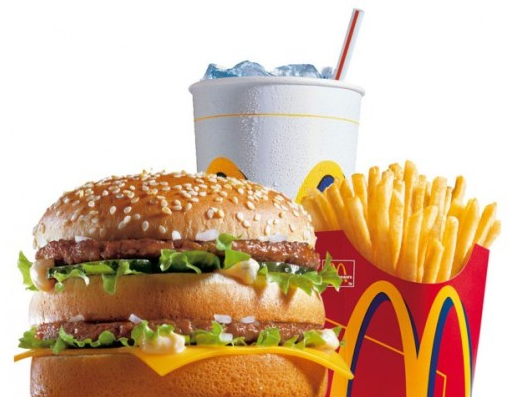 I've been skeptical on McDonald's (NYSE:MCD) ever since it cleared $105. I've felt for a while that the stock has been overpriced on optimism surrounding the impact of its all-day breakfast menu, which has admittedly been wildly successful. However, that initiative is getting long in the tooth in terms of fueling comp sales as it anniversaries but MCD shares are still flying as though the behemoth has another shot in the arm waiting in the wings. With no evidence of that, I've found the $130+ share price a little perplexing. But after a weak Q2 earnings report, MCD has been smacked and is now trading right at its 200DMA. What happens in the next few sessions will determine the short term direction of the stock and potentially signal a longer term shift as well.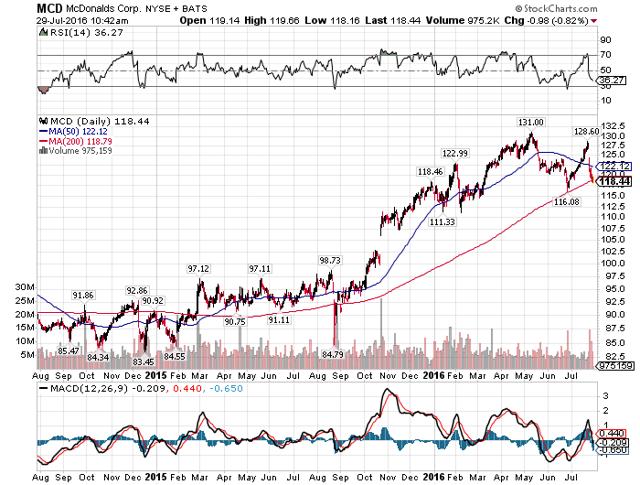 But we'll start with MCD's Q2 because I think it showcases some important points for investors to understand when evaluating the stock at its current price. Revenue was down 4% due to the company's refranchising efforts so that is just noise, but what isn't noise is comp sales numbers and MCD disappointed investors there. The global comp came in at 3.1%, a worthy number for just about any restaurant chain anywhere, particularly one of the size and scope of MCD. But insatiable analysts wanted 3.6% and that is the problem with stocks that have flown higher in anticipation of better results; the slightest hiccup can whack the bulls right where it hurts.
In particular, the US comp was dreadful compared to expectations as it came in at just 1.8% versus expectations of 3.2%. Again, there's nothing wrong with a 1.8% comp; many chains would be thrilled with that. And there's certainly nothing wrong with MCD's business either; the all-day breakfast and pick two initiatives are doing quite well. But what is wrong with MCD is the valuation because investors simply expect too much. The all-day breakfast push was a stroke of genius and it provided MCD with a lot of needed growth but once it anniversaries, comps will likely go right back to where they were prior. MCD needs much more than what it has been doing for the last year to continue to satisfy investors and analysts and - more importantly - justify its current price.
In addition, MCD is perhaps more susceptible than any other chain to rising wages, something that is becoming more and more about how a chain is perceived and less about the business case for it. Obviously, MCD will suffer if the federal minimum wage is hiked, an outcome that is looking more like an eventuality at this point rather than a proposal. Both candidates for the circus we know and love as the Presidential race have decided higher minimum wages are something they'll go after. That could put a damper on margins for MCD and its franchisees and while the impact or even specifics of increases are unknown at this point, one thing that is known with 100% certainty is that rising wages are terrible for MCD; simply the magnitude is up for discussion at this point.
On the plus side, MCD is using its excess cash to buy back a lot of shares, reducing the float in the past year by a whopping 9%. The sheer amount of cash it takes to perform such a feat is rather astounding and MCD has made good use of that money considering how high the share price is today. In addition, the lower share count will accrue EPS benefits forever, making it easier for MCD to grow despite the headwinds it faces.
Speaking of growth, the company's refranchising efforts will keep a lid on revenue for at least the next two years, as we can see below.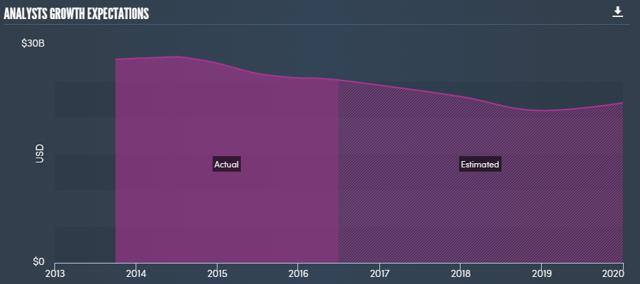 Source: Simply Wall St.
Analysts have revenue declining through the end of 2018 and then rising slightly after that and while we are a long way out from that actually occurring, directionally it seems sound. MCD is undertaking a massive effort to franchise a lot of its locations and that has a devastating impact on the top line. It is probably the right thing to do long term but short term, it hurts.
In addition to negative revenue growth for the foreseeable future, MCD has taken on an enormous amount of debt in recent quarters.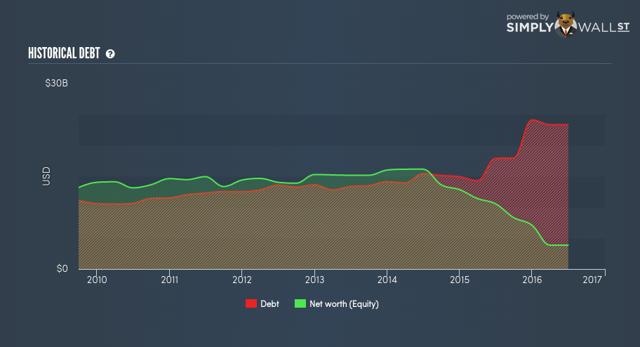 Source: Simply Wall St.
MCD's equity position and its debt position have inverted to power the buyback and while I love a good buyback, this kind of thing isn't sustainable over the long term. Yes, MCD will receive cash from selling units to franchisees and yes, it produces FCF to buy back stock. But the debt binge can't go on forever and the massive reduction in the float that we've seen of late likely won't carry on in the same magnitude either. This is particularly true if the share price remains elevated because MCD's debt buys fewer and fewer shares. That will then result in lower EPS growth as share reductions slow.
MCD's dividend - though it keeps growing - hasn't kept pace with gains in the stock and this has resulted in the situation we see below.

Source: Simply Wall St.
MCD is sporting its lowest yield in the past eight years as the share price has soared and the dividend hasn't been able to keep pace. If you're one that values a stock based upon its yield, this is yet another way that MCD looks very expensive right now. There's certainly nothing wrong with a 2.9% yield but in historical context, it is low for this stock.
MCD is still going for 21.1 times this year's earnings so it is expensive to my eye. Remember that revenue is going to be solidly negative for at least a couple more years and that it appears to me that constant, heavy buybacks are unsustainable due to the company's debt levels. Margin improvements should come from a higher mix of franchises but I still think MCD has its work cut out for it to hit the double digit EPS gains analysts are looking for.
But shorter term, the stock is finally testing its 200DMA for just the second time since last September. When this happened a few weeks ago the stock shot higher. What will happen this time? That's anyone's guess but whether or not MCD bounces higher is of huge consequence. If the stock breaks down through the 200DMA and stays below it for a week or two it will announce that the rally is over and that new highs are very unlikely. MCD already made a lower high at $128 against $130 so if that happens again, I think it will be pretty clear evidence the run higher is over for now. That's my base case but as I said, that is pending what happens in the next couple weeks. However, the evidence suggests a good outcome for the bulls is rather unlikely at this point.
Given all of this information - the chart, the yield, the valuation, the headwinds - it certainly seems to me that the bias for MCD is lower from here. We may get a bounce from the 200DMA but that won't negate the idea that MCD is topping out. If we get a relative high below $128 I will short aggressively as that will confirm the top is in and likewise if MCD breaks below its 200DMA. There are simply no fundamental factors for MCD to move higher from here when expectations are already so very high. If you own it, get out while you still can.
Disclosure: I/we have no positions in any stocks mentioned, but may initiate a short position in MCD over the next 72 hours.
I wrote this article myself, and it expresses my own opinions. I am not receiving compensation for it (other than from Seeking Alpha). I have no business relationship with any company whose stock is mentioned in this article.