The financials notably the banking sector continues to underperform the gains in the overall market. As shown in the weekly chart of the Financial Select Sector SPDR ETF (NYSEARCA:XLF) a clear uptrend is now in place. The article below will discuss the outlook for Citigroup (NYSE:C) one of the top five holdings of the index.
XLF Top Ten Holdings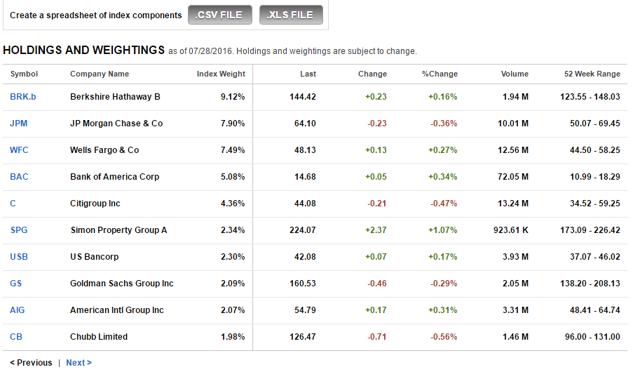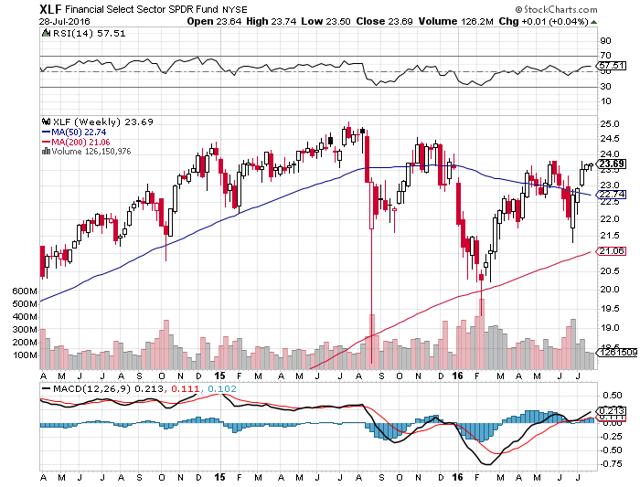 The XLF remains mired in a sideways pattern as the index attempts to recoup the bulk of the ground lost from the steep sell-off early this year. I like to use weekly charts to gain a feel for the technical backdrop of an index. In this particular case, the 200-week moving average slope remains upward, yet more importantly, the moving average has capped each downside move.
Citigroup
C remains my favorite deep value play in the sector. The company remains mired in the midst of a transformation as they attempt to reposition the business for today's financial environment. C is actively reshaping the business's held under the Citigroup umbrella by selling off assets in foreign countries such as the disposal of the Nicaraguan banking assets coupled with the exit from the subprime market via the sale of OneMain. Additionally, a holding company was formed dubbed CitiHoldings that contains the toxic housing loans that nearly toppled the company.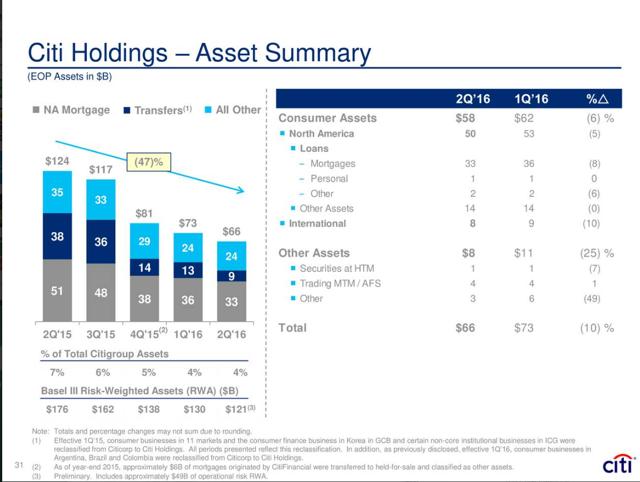 Management has performed admirably here, selling down the bulk of the assets over the past year. As the assets in CItHoldings continue to shrink, the overall risk profile for the parent company declines. This is crucial as it allows the regulators to give their blessing for a more aggressive capital returns.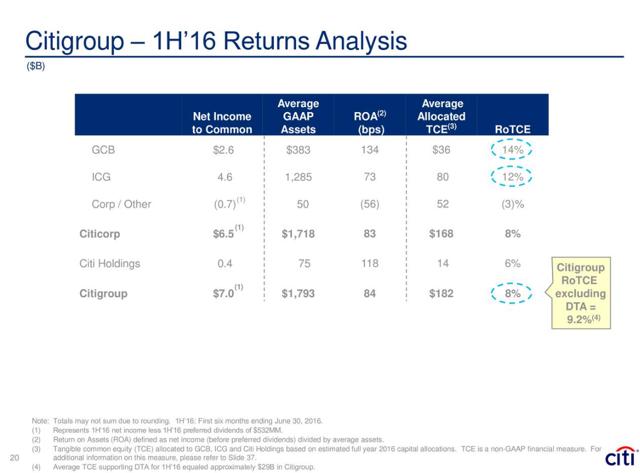 As shown in the slide above, the Citicorp division which houses the CitiHoldings division continues to generate a Return on Tangible Common Equity (RoTCE) of 8% which is considered below the theoretical cost of capital equation analysts use to value the banks. As a comparison, Wells Fargo (NYSE:WFC) easily one of the best run banks out there posted a RoTCE of over 14%, as shown below.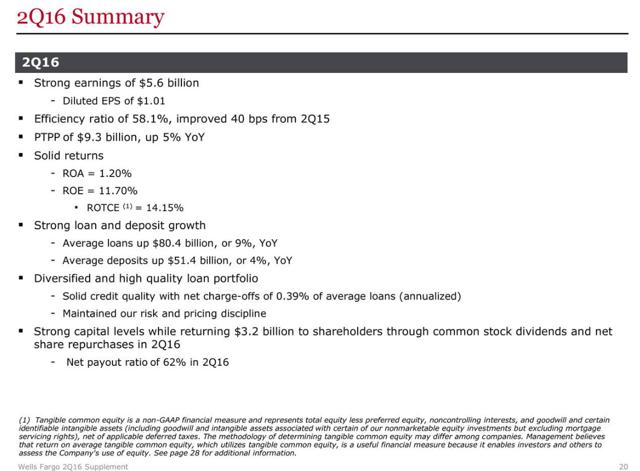 Herein lies the dilemma for C shareholders. Management continues to make tangible progress in winding down the toxic assets in CitiHoldings while consuming a portion of the DTAs (deferred tax assets) that continue to hamper RoTCE. C is overcapitalized with a common equity tier 1 capital ratio of 12.5% far above WFC level of 10.6%.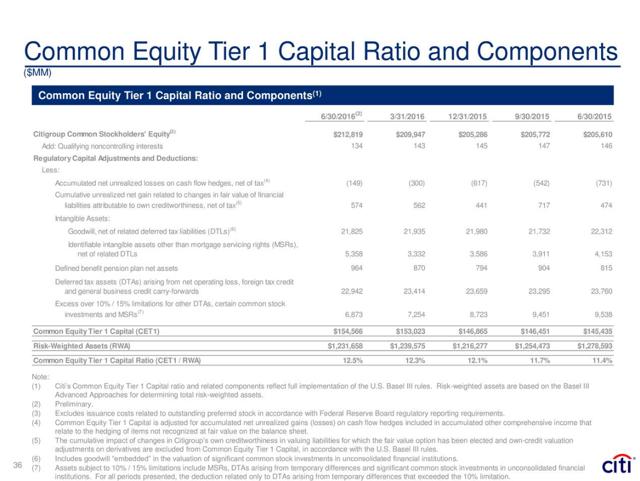 The effect of this can be clearly seen in C's staggering discount to tangible book value. As shown in the slide below, C's tangible book value is $63.53 a far cry from C's current share price.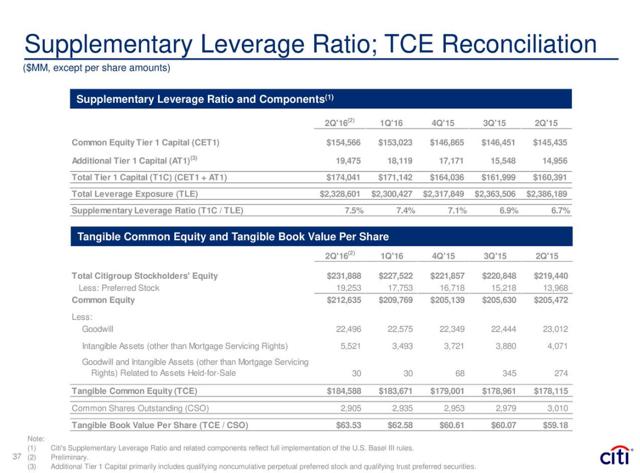 Part of the fear here is that C's net interest margins will continue to get crushed in today's low-interest rate environment. C's net margin has continued to trend down yet not as meaningfully as one would expect.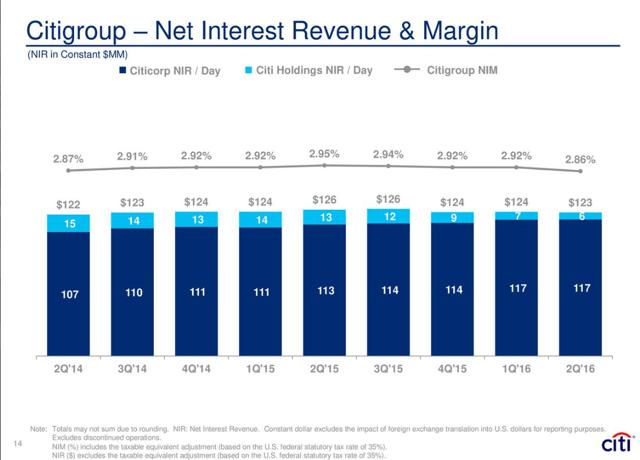 In essence, an investment in C is a long call in a rising interest rate environment. A sharp rise in net interest rate margin would be a huge positive going forward; let's assume a benign environment continues. The question is how C would generate returns for investors going forward.
In my view, the key to the C story is the CCAR capital returns yearly ask. For 2016, C was allowed to raise the dividend to 16 cents per quarter for a current yield of 1.5%. C's Achilles heel for the past two years is the lack of a meaningful dividend. A dividend hike over 2% in today's interest rate environment where the ten-year bond is trading at less than 1.5% would be an incremental positive. C is primed to morph into a reliable high dividend payer in the next couple of years as the dividend should grow to the level seen with WFC. (A similar higher yield opportunity, my top pick for 2017, has emerged in a well-established entity detailed in my report, available to subscribers of the Undervalued Gems Investment Service.)
The real opportunity for C is their ability to repurchase a meaningful amount of shares far below TBV. By purchasing shares below TBV in essence, C is buying a dollar's worth of assets for less than a dollar. At present value, the discount is roughly 29% or in other terms purchasing a dollar's worth of assets for 71 cents. The belief is C will continue to reshape its balance sheet and free up regulatory capital by lowering toxic assets while consuming DTAs and making tactical share repurchase plans.
My fair value for C is the companies TBV of $63.53 per share. My reasoning is as follows: The concept of trapped assets is not valid. To construct a bank from scratch and build out the extensive networks would cost far more than where C is currently trading at. The fact a meaningful dividend is now in place further adds to C appeal here as an income play. The key remains C ability to repurchase shares at a significant discount rate.
At some point in the future, rates will rise and dare I say normalize allowing C to trade for a premium to TBV. Yes, the Federal Reserve will raise interest rates, we are at a meaningful bottom in rates with a ten-year bond trading for less than 1.5%. I remain patiently long C; I do not see a credible case to sell the shares at this time. C remains a deep value play for the patient long-term investor. I would like to thank you for reading; I look forward to your comments.
Disclaimer: Investors are always reminded that before making any investment, you should do your own proper due diligence on any name directly or indirectly mentioned in this article. Investors should also consider seeking advice from a broker or financial adviser before making any investment decisions. Any material in this article should be considered general information, and not relied on as a formal investment recommendation.
Disclosure: I am/we are long C, WFC.
I wrote this article myself, and it expresses my own opinions. I am not receiving compensation for it (other than from Seeking Alpha). I have no business relationship with any company whose stock is mentioned in this article.