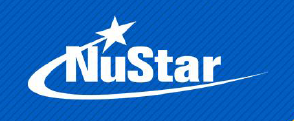 Ok, so I blew it with NuStar (NYSE:NS). My Seeking Alpha article last December suggested the 11.6% yield might entice investors to fall through a trap-door. The opinion was based on what I perceived as overly optimistic pipeline volume estimates issued by the company. What I overlooked was the upside prospects on the storage side of the business. And, on that front, NuStar recently reported its tankage (all 93 million bbls) is "effectively full". So while the LP's units did drop shortly after the article was published (from ~$38 to ~$27 in February), they have since rallied strongly and are currently trading at $48.50. That equates to roughly a 28% return in six months. Some "trap-door".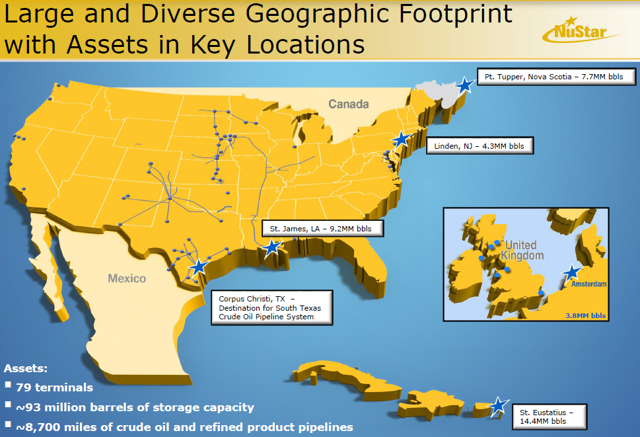 Source: June MLP Conference presentation (available here).
Pipeline Volumes
A company slide was presented in the December article, which showed management's projected 2016 average throughputs on its South Texas pipeline systems would be as follows:
Eagle Ford System: 258,000 bpd
South Texas Crude Oil System (Corpus): 178,000 bpd
Those estimates appeared overly optimistic relative to the production declines reported in the Eagle Ford. I predicted ~180,000-200,000 bpd as a better estimate for 2016 volumes for the Eagle Ford system. That was a pretty good call given Q1's reported volumes and management's most recent estimate for all of 2016.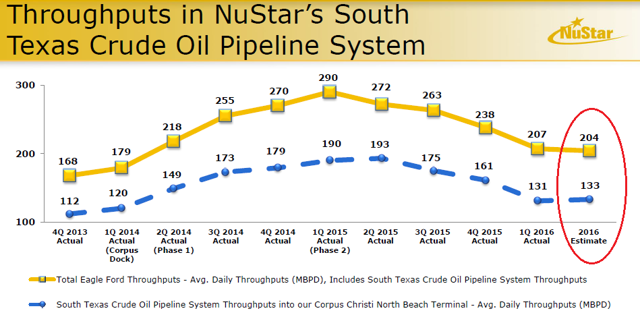 Source: June MLP Conference presentation
Note the volume estimates above are based on contract minimums, so there is upside potential should a recovering oil price drive the Eagle Ford production higher. I doubt that will be the case through the end of the year. WTI has dropped from the $50 level to currently trade around $41/bbl. WTI is likely to trade in a band of $35-45 for the rest of the year. Given current storage levels (see below), that is hardly a high enough price to encourage higher production out of the Eagle Ford. In fact, month over month, Eagle Ford production is down 48,000 bpd.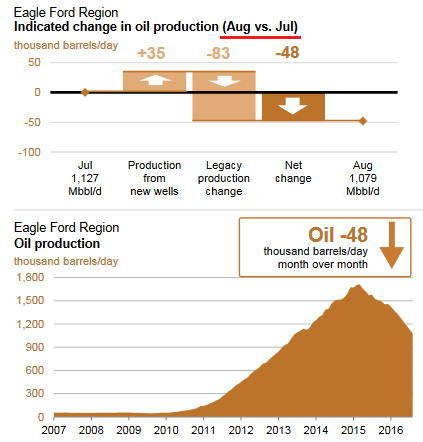 Source: EIA Eagle Ford Productivity Report
While my declining pipeline throughput thesis was correct, my conclusion on NuStar was wrong because I overlooked bullish developments in the storage segment. After all, the storage segment was 48% of full-year 2015 EBITDA and with 93 million bbls, NuStar is one of the largest liquids storage providers in America. Add to that still robust domestic oil production (given the low-price environment), and a big over-supply of summer gasoline, and all that crude and refined product has got to go somewhere. As the chart below shows, despite the low-price oil environment and high 2016 refinery utilization, crude oil in storage is still up 13% yoy. Gasoline and distillates are also up quite strongly yoy.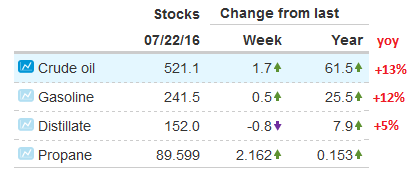 Source: EIA weekly report as of July 27, 2016
The result is that now gasoline in storage has now joined crude oil in being significantly above the five-year average.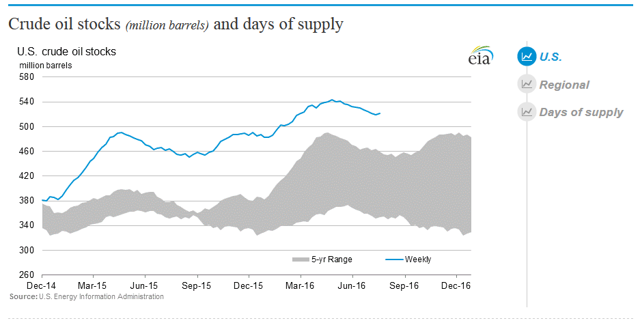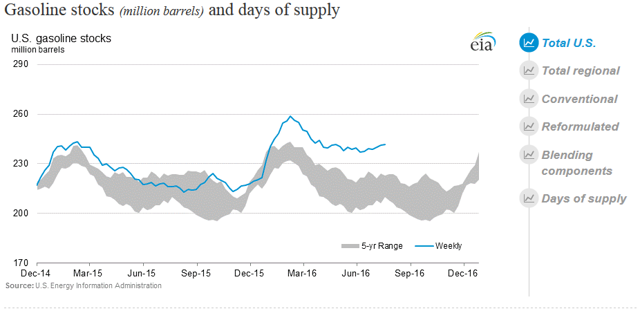 The combination of very high storage levels for both crude and gasoline with the fact that we are quickly moving toward the end of the summer driving season and that NuStar's tankage is already 98% contracted is very bullish for the LP. In fact, there are strong indicators that refiners are starting to blend in low-cost butane to existing stocks of summer grade gasoline in early preparation for winter. Those storage providers like TransMontaigne Partners (NYSE:TLP) and NuStar that can also provide fee-based blending services are sitting pretty.
Earnings
NuStar's pipeline and storage results presented above fed right into the Q1 EPS report (supplemental data available here):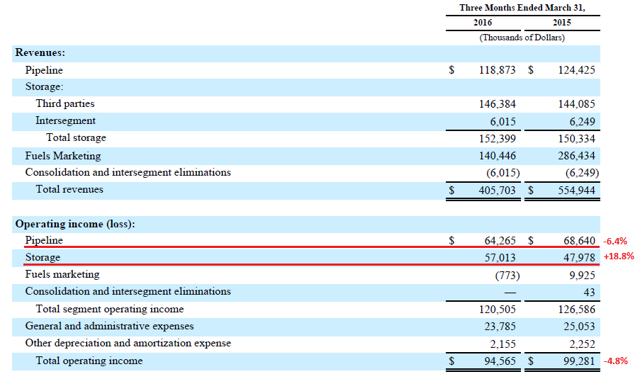 As can be seen by the above graphic, pipeline segment operating income was down 6.4% while the storage segment jumped 18.8% yoy. A $1.2 million improvement in G&A was more than offset by a $9.2 million decline in the fuels marketing segment. As a result, total operating income was down only 4.8%.
The partnership reported Q1 EBITDA from continuing operations of $147.5 million. Q1 distributable cash flow ("DCF") from continuing operations available to LP unitholders was $97.0 million, or $1.25 per unit. The Q1 distribution was unchanged from the prior quarter at $1.095 per unit for a coverage ratio of 1.14x. The TTM coverage ratio was 1.08x despite the big drop in the price of a barrel of oil. And this is what I was trying to tell people during last year's MLP sell-off: most of the well-positioned pipeline and storage companies have relatively low or no exposure to the price of oil, gas, or gasoline. They are protected on the downside by minimum volume contracts ("MVCs") and have potential upside should volumes increase.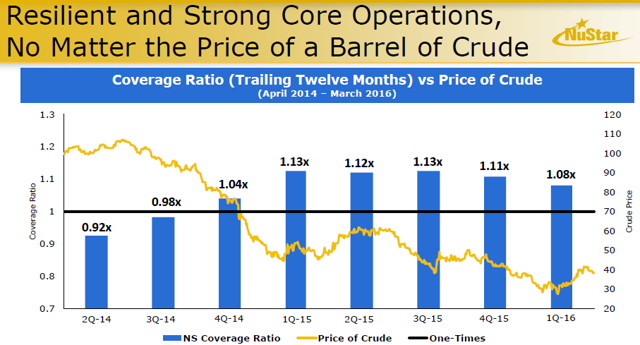 Going Forward
Moving forward, NS's management has guided for $335-355 million in pipeline segment EBITDA and $310-330 in EBITDA for the storage segment. This appears quite achievable and could be exceeded should NuStar be able to benefit from increased butane blending services. Meantime, management decided to reduce 2016 cap-ex by ~50% to a range of $180-200 million. As a result, distributions are solidly secure for the remainder of 2016 and likely 2017 as well.
Meantime, there are some excellent growth initiatives. As CEO Brad Barron reported in the Q1 EPS release, NuStar recently reactivated its moth-balled Piney Point, Maryland, storage facility due to favorable market conditions. NuStar has signed a one-year 850,000 bbl storage contract and total storage commitments have reached 1.1 million bbls. The total capacity of Piney Point is 5.4 million bbls, so there is plenty of upside there.
Other growth initiatives include expansion of the St. James terminal, projects to transport LPG exports into Mexico, and various high-return pipeline additions in South Texas.
While NuStar teamed up with ConocoPhillips (NYSE:COP) to make big headlines shipping the first tanker full of domestic crude oil exports in 40 years, I said at the time this was not likely to be a big catalysts considering the deduction in the WTI/Brent spread. Indeed, crude oil export announcements have been few and far between. Indeed, crude oil exports in 2016 are not much above the highs seen in 2015 when the Dept. of Energy allowed condensate exports to begin.

Source: EIA
Risks
Given the high levels of crude and gasoline storage and NuStar's high storage capacity utilization rate, along with a further reduction in cap-ex, NuStar's distributions are secure for the remainder of the year and likely 2017 as well. NuStar has no debt maturing for the remainder of 2016 and 2017 as well.
At the end of Q1, total long-term debt was $3.1 billion. The current market cap is $3.7 billion for a total EV of $6.8 billion. There is still $523 million available under the $1.5 billion credit facility and debt-to-EBITDA is 4.6x, well below the 5x required by the credit facility.
Higher interest rates are a threat to all MLPs, but the Federal Reserve (as I have been predicting for years now) is unable to raise rates and has only raised them once in the last 10 years. As a result, the search for yield has likely been one reason NuStar has performed so well this year.
Summary & Conclusion
NuStar has 93 million bbls of storage tankage that are regionally diversified and 98% contracted. Given high crude oil and gasoline stocks, NuStar is in an excellent position to be a prime benefactor. More evidence of this fact is the partnership's decision to reactivate the Piney Point terminal and storage facility during Q1 - with 20% of storage capacity already contracted out. But there's another 4+ million bbls of upside at Piney Point. Meantime, early butane blending of summer grade gasoline could be an upside catalyst for NuStar and add additional high-margin fee-based income. While my lower pipeline throughput thesis was a good call, overlooking the positive catalysts in the storage segment was not. Meantime, pipeline MVCs protect the downside for that segment. With the 10-year T-bill at 1.5%, NuStar- and its 9% yield - is quite ATTRACTIVE here.
Note: NuStar will release Q2 results next Tuesday (August 2nd). While the results should be roughly in line with Q1 (on a continuing operation basis), units could be volatile on the release date, so be careful with market orders.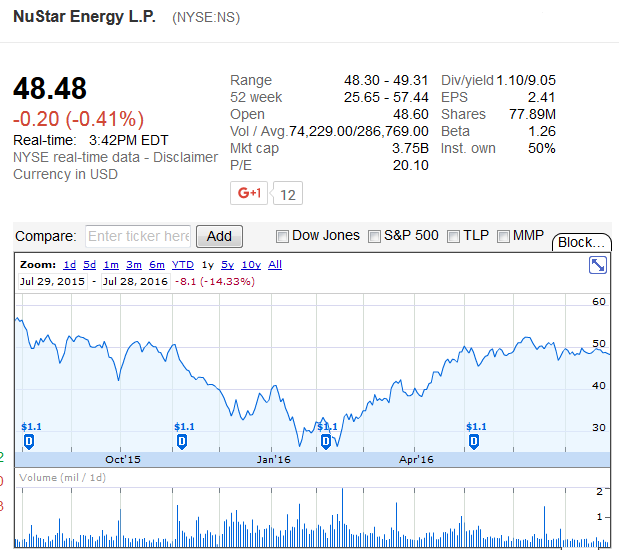 Disclosure: I am/we are long COP.
I wrote this article myself, and it expresses my own opinions. I am not receiving compensation for it (other than from Seeking Alpha). I have no business relationship with any company whose stock is mentioned in this article.
Additional disclosure: I am an engineer, not a CFA. The information and data presented in this article were obtained from company documents and/or sources believed to be reliable, but have not been independently verified. Therefore, the author cannot guarantee their accuracy. Please do your own research and contact a qualified investment advisor. I am not responsible for investment decisions you make. Thanks for reading and good luck!