Under Armour (NYSE:UA) founder and CEO Kevin Plank is a world class salesman. If you listen to him for only a few moments you can't help but get excited. He's a go-getter, he's a leader, and it appears that nothing will stop him from achieving his goals. If I owned a business, I'd want somebody like him running it.
Company public relations generally consist of Plank speaking enthusiastically about the top selling points of the company. The numbers that are trumpeted out are the outstanding revenue growth... and then slowly the details follow.
Maybe you tune out, but if the audience were to listen to the middle and end of an Under Armour presentation with the same vigor, it's a different story.
The quantitative good (which many people can cite):
28% revenue growth overall YoY.
58% footwear growth YoY.
68% International growth Yoy.
Counterpoint: Footwear growth grew at an impressive percentage but let's be real here, it grew from $154 million to $243 million. This is the law of large numbers in reverse. We aren't talking about profits here, we are talking about revenue.
The quantitative bad (which hardly gets talked about on SA, the only negative that really gets tossed around is, "The PE is too high!"):
39% decrease in operating income YoY.
58% decrease in net income YoY.
50% increase in interest expense.
69% increase in debt from $712 mil to $1.2 bil.
$50 million decrease in cash on balance sheet.
30% increase in inventory from $837 mil to $1.1 billion.
32% increase in selling, general and administrative expenses.
Margins declined.
First major public bond offering, added $600 billion in debt
Single digit operating income guidance for the year
Qualitative good:
I like that they are focused on sportswear and have their own sportswear division internally. My Under Armour polos are much better than my Nike (NYSE:NKE) or Addidas (OTCQX:ADDYY) ones and they rival better more expensive non athleisure brands.
I like that they care about having a very good mobile phone app. It has gotten strong reviews so far and that's a great way to scale and make money.
They know they are East Coast centric and went after two top colleges in the Bay Area and Los Angeles. That should help balance things out over time.
Qualitative bad:
This company is massively missing an opportunity in women's business.
A 53,000 square-foot store in downtown Manhattan. Is that to make money or feed Kevin Plank's ego? That right there shows that they want to go big, but do they even care about profits?
This company is a few key people away from disaster. Kevin Plank is by far No. 1. They keep talking about their top endorsed athlete in each sport, but the bench behind the top 1-2 athletes is very weak.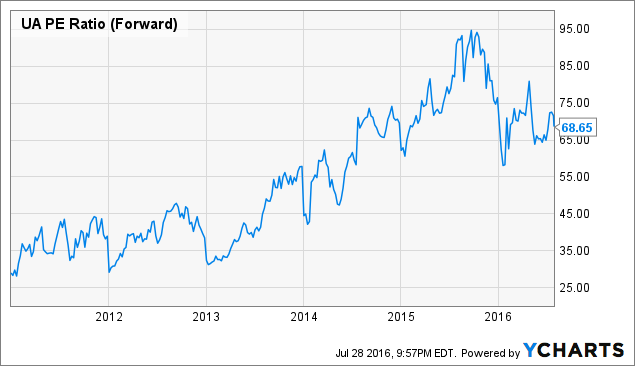 Conclusion
Growing revenue is great, but what I really care about is growing profits. Yeah you have to invest in the business to grow the business, but Under Armour made $6 million in net profits last quarter - six million. There are many major league baseball players that make that in a quarter never mind an entire global company.
This company is spending a lot of money, and I can't justify it all.
Are some of the negatives I brought up in this article unfair? Sure, interest expense going up 50% because it increased from $4 million to $6 million is unfair, but so is saying connect fitness revenue rose 73%. It's at $23 million and that's revenue, not profits.
So why did I point out all the negatives? Because they matter. I want to have a serious conversation about Under Armour - you can't do that and only point out the good, you can't do that and only talk about which athletes endorse their products, or even just complain that it's too expensive without quantifying it. Under Armour had a lot of negatives - chiefly that they didn't make any money last quarter.
Under Armour the company still has a lot of potential, but Under Armour the stock has a lot of risk. There are risks to both sides of the coin, risks that they clean up the business, grow and make a lot of money and that bears miss the boat. There also are risks that the company keeps spending and spending, not getting any return and then the market wakes up or recession hits and this high PE stock gets wacked.
For me, I hate hate losing money. I'd rather miss out on some "potential" growth and also miss out on some potential headache. There are plenty of other fish in the sea, and you don't have to go very far to find one I like better on a risk/reward basis - Nike. If you were to avoid my advice at least consider owning both of them.
Disclosure: I am/we are long NKE.
I wrote this article myself, and it expresses my own opinions. I am not receiving compensation for it (other than from Seeking Alpha). I have no business relationship with any company whose stock is mentioned in this article.