Baytex Energy Corp. (NYSE:BTE) just released its Q2 2016 report and has found itself in a familiar position faced by many oil companies. With low oil prices continuing to drag down revenues and net income, investors are left to decide which oil companies will come out of this stronger.
For Baytex what helps to set it apart from other producers is its asset allocation, with operations in Canada and the United States, and a lesser dependence on heavy oil from Alberta.

Baytex was able to achieve this diversification when it acquired Aurora Oil and Gas Ltd. back in 2014 which gave it access to 23,000 net acres in the Eagle Ford shale region of Texas. This in turn helped Baytex balance out its portfolio in North America and increased its access to natural gas and light oil.
Currently Baytex has access to 417 MMboe of proven plus probable reserves, with 203.4 MMboe in the Eagle Ford region, 73.6 MMboe (plus 18 MMboe in bitumen reserves) in the Peace River Region and 32.2 MMboe (plus 43.4 MMboe in bitumen reserves) in the Lloydminster region. While prices may not be the best at the moment Baytex does have a healthy stockpile of reserves to act upon when the time arises.
When oil prices began to slide Baytex was forced to make drastic changes to its business such as canceling its dividend and suspending 7,500 boe/day of heavy crude production in Alberta. However, Baytex has begun to reactivate approximately 95% of its heavy oil rigs over the past couple of months, making it one of the few producers to do so recently. Baytex management spoke about this back in May stating that they would have most of its production back online in July if oil prices held out at around $45.00. This sounds to be encouraging news but how did it effect Baytex's last quarter?
And up through the ground came a-bubblin report
Baytex's Q2 2016 report has arrived and despite turning on some of the taps in Alberta post-royalty revenues fell to C$153 million from C$264 million. When we divide this by region we see that post-royalty revenues in Canada fell to C$67.7 million from C$146 million, and in the United States it fell to C$85.5 million from C$118 million. When this is converted into "funds from operations" the number in the quarter was C$81.2 million, down from C$158 million.
Much of the loss in revenues can be traced to continued lower production numbers and a further drop in energy prices, as we can see in the tables below.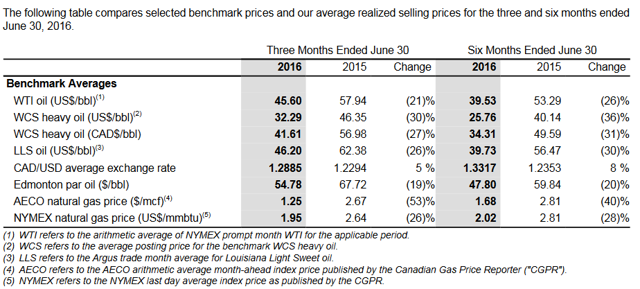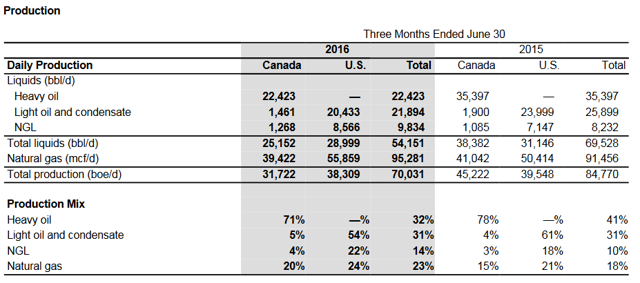 With such a narrow operating net back rate of C$18.13 per barrel it is easy to see how Baytex could have posted a net loss (attributable to shareholders) in the quarter of C$86.9 million (-C$0.41 per share) which is a steep drop from the net loss if C$26.9 million (-C$0.13 per share) posted in Q2 2015. This is an amount which has shocked many as it fell short of analysts consensus expectations of -C$0.08. These results have pushed the year-to-date net loss to C$184 million which is an improvement over the net loss of C$240 million posted at this time last year.
There still isn't much optimism coming from analysts that Baytex could just be beginning to dig itself out of the hole that it is in as the consensus EPS estimate for Q3 2016 is -C$0.20 with a range of -C$0.18 to -C$0.22. On the brighter side full-year EPS estimates have fallen to -C$0.42 from -C$0.74 earlier in the year. While this is still a projected loss it is still better than many of Baytex's competitors which are seeing their projections go the opposite way.
While the net loss may be an issue over the short term Baytex has managed to make progress on its debt with a net debt of C$1.9 billion, which includes C$1.54 billion in long-term notes. The good news is that there are no major repayments scheduled until 2021 which should give Baytex plenty of breathing room to ride out this market slump.
Staking out the stock
Since Baytex cancelled its dividend in August 2015 it has fallen into an unusual (but fitting) place in the markets. It has become a very popular short-term hold. On the TSX the average daily trade volume over the past three months has been 6.7 million shares, keeping it near the top of the TSX volume charts. Part of the massive movement in the stock has led to Baytex's 52-week range of C$1.57 to C$12.96. It has been a little less drastic on the NYSE with the average daily trade volume over the past three months only at 2.9 million and a 52-week range of $1.08 to $9.97.
On Thursday Baytex closed at C$5.81 on the TSX and at $4.42 on the NYSE, with a noticeable drop in share value thanks to the Q2 report and WTI crude oil dropping to $41.00. This drop should play into the theory that Baytex could be seen as a quick in and out stock strategy. Currently the analyst price targets are showing the potential for some growth in the stock. The TSX shares currently have an average price target of C$7.23 with a range of C$5.50 to C$9.50, with the most recent report coming from Barclays PLC with a target price of C$9.00. On the NYSE side the average price target is $7.79 with a range of $6.00 to $9.50, with the most recent report coming from Scotiabank with a target price of $8.75.
While a short-term hold may be the most popular option, investors could also consider Baytex as a longer term hold if one is looking to take advantage of the Eagle Ford shale play at reduced prices. Then there also is the fact that natural gas has been outperforming crude as of late, although without a dividend there may be some better options for a pure natural gas strategy than Baytex.
Author's note: If you enjoyed this article and found it helpful, please "Follow" me on Seeking Alpha to receive notification whenever I publish a new article.
You may also be interested in other recent articles I have written for Seeking Alpha with my Canadian point of view that focus on stocks and stories that I have found compelling. You can also find my previous articles here for further study.
Disclosure: I/we have no positions in any stocks mentioned, and no plans to initiate any positions within the next 72 hours.
I wrote this article myself, and it expresses my own opinions. I am not receiving compensation for it (other than from Seeking Alpha). I have no business relationship with any company whose stock is mentioned in this article.