Wall Street continues to play a silly game quarter after quarter, and the financial press plays right along, when it should be serving the purpose of investigative reporting and informing the investing public instead of insulting our intelligence. The game is pretty simple-celebrate the earnings results that have beaten estimates, which were repeatedly lowered over the prior three months, while at the same time gradually reducing the overly optimistic forward estimates that have been used deceptively to justify today's lofty stock market valuations. This has been happening at the S&P 500 index (NYSEARCA:SPY) level ever since the earnings recession began 18 months ago.
Bloomberg reported on Wednesday that "the earnings season so far has delivered optimistic forecasts and better-than-forecast results, adding to sentiment that the US economy is firming amid recent data that have beaten forecasts by the biggest margins since December 2014."
This is a complete fallacy. The earnings results for the second quarter may be better than what was forecast a couple of weeks ago after multiple downward revisions, but they are well below what was forecast just a couple of months ago. Furthermore, it is delusional to suggest that we are seeing optimistic forecasts for future earnings when estimates for the third quarter continue to be revised lower.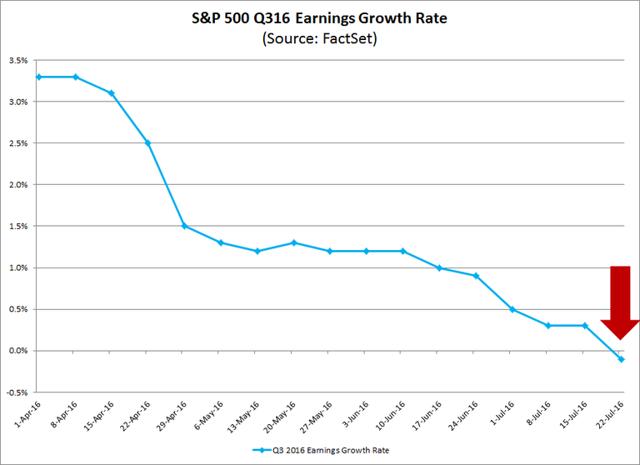 In fact, the most significant aspect of this earnings season is that the second-half earnings recovery that the Wall Street consensus has been forecasting vanished in recent days, as I predicted at the beginning of this year. The estimate for year-over-year growth of 3.3% in the third quarter is now a decline of 0.1%, and you can be certain it will continue to decline in the months ahead. Yet it was the optimism that corporate earnings would rebound that supposedly fueled the huge recovery rally in the S&P 500 since its February low.
As for the suggestion that the US economy is firming, which was furthered by yesterday's statement from the Federal Reserve, this is also delusional. Yesterday's dismal durable goods orders report alone completely undermined this assertion, as the prolonged downturn in business spending continues. If we were seeing a firming in US economic activity on a sustained basis, we would not be seeing a continued decline in business investment.
Additionally, today's initial estimate for the rate of US economic growth in the second quarter of just 1.2% was less than half the Wall Street consensus estimate of 2.5%, and the first quarter was revised lower to just 0.8%. Our estimate has been 1% for 2016 since the beginning of the year. This is an economy on life support rather than one that is firming.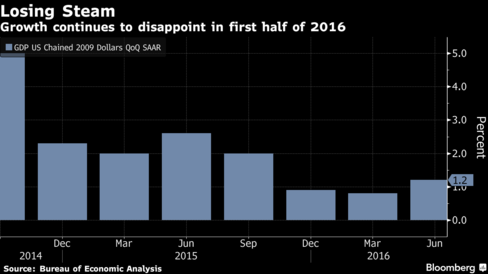 Why then does Wall Street continue to perpetuate completely unsubstantiated optimism rather than acknowledge reality? It never wants the party to end, and it has an unlimited supply of liquidity at its disposal with which to mal-invest. It wants us to come along for the ride. Unlike the real economy, things are pretty good on Wall Street and within the executive suites of corporate America. If you live in this bubble, there is no reason to reflect upon reality, so long as the Federal Reserve has your back.
I fully recognize that the gloomy fundamental statistics that I am sharing are completely irrelevant in this era of central bank manipulation. I'm simply providing information to show that the earnings recession continues, and that valuations are becoming even more extreme. While this does not mean that the stock market has to suffer a significant decline in the near term, it does mean that forward returns will be even more severely diminished when prices ultimately revert to their historical means.
This morning's disappointing GDP report was extremely significant, but the stock market was indifferent, as evidenced by new all-time highs in the S&P 500. Because the rate of economic growth fell dramatically short of the consensus Wall Street estimate, it completely undermines the forecast for a recovery in corporate revenues and earnings. Neither can grow in an environment where the rate of economic growth is declining.
Let me ask the Federal Reserve and the Wall Street consensus a simple question - does the chart below look like a US economy that is firming? The annualized rate of economic growth has slowed for five consecutive quarters. The performance outside the US is even more abysmal.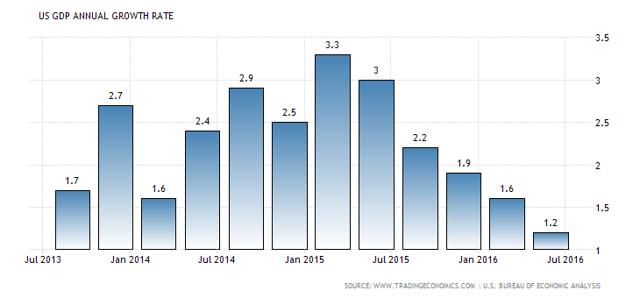 The moral hazard underpinning this market, perpetuated by the Federal Reserve, is at unprecedented heights. It is resulting in a bubble that will match, if not exceed, the ones we saw in technology and housing during the past two decades. What makes this bubble unique is that our markets are now ruled by computer programs that belittle human decision-making, so I have no idea how prices will respond to the inevitable reversion that ultimately takes place. I suspect it will not be a long drawn-out process when it occurs.
Disclosure: I/we have no positions in any stocks mentioned, and no plans to initiate any positions within the next 72 hours.
I wrote this article myself, and it expresses my own opinions. I am not receiving compensation for it (other than from Seeking Alpha). I have no business relationship with any company whose stock is mentioned in this article.
Additional disclosure: Lawrence Fuller is the Managing Director of Fuller Asset Management, a Registered Investment Adviser. This post is for informational purposes only. There are risks involved with investing including loss of principal. Clients of Fuller Asset Management may hold positions in the securities mentioned in this article. Lawrence Fuller makes no explicit or implicit guarantee with respect to performance or the outcome of any investment or projections made by him or Fuller Asset Management. There is no guarantee that the goals of the strategies discussed by will be met. Information or opinions expressed may change without notice, and should not be considered recommendations to buy or sell any particular security.