AMD's (NASDAQ:AMD) share price skyrocketed last week to new highs, driven by strong sales growth in Q2 2016, which impressed Wall Street and scared short sellers. Management has been busy pointing out the strong sales growth and the non GAAP net profit of $69 million for the quarter. However, blindly looking at sales growth does not tell the true story. AMD has not earned a dime for a very long time and it is not going to change for the foreseeable future.

Sales vs Gross margin
In Q2 2016, AMD reported impressive sales growth of 23% quarter over quarter from $832 million to $1027 million. By segment, Computing & Graphics (ie C&G, represents mainly the ailing PC business) amounted to $435 million (-5% growth qoq) and Enterprise, Embedded & Semi Custom (ie EE&SC, represents high growth opportunities) amounted to $592 million (59% growth qoq). On the bottom line, the company reported net income of $69 million thanks to a gain of $150 million realized from the joint venture created with Nantong Fujitsu Microelectronics Co., Ltd. Remember, AMD is a turnaround stock. On paper, these numbers look stunningly good, sales up strongly, net profit.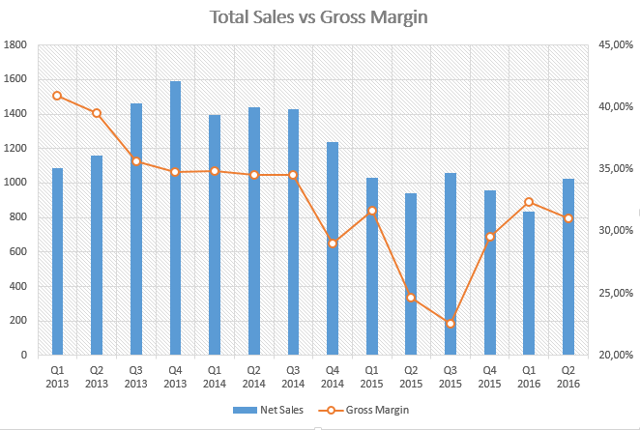 Source: AMD 10-Qs, Kasteel Research
However, I failed to mention that 1) total sales decreased from as high as $1600 million in Q4 2013 to $1027 million in Q2 2016, and 2) gross margin was above 40% in Q1 2013 and still higher than 35% in Q3 2014. Last quarter, gross margin decreased 1 bp to 30% from 31% in Q1 2016 due to higher mix from EE&SC, which carried lower margins than traditional GPU/CPU chips.
That's the paradox of AMD strategy; replace a high margin/low growth business by a low margin/high growth business. This strategy is wrong but there was no other possibility at the time. Increased competition on the CPU/GPU side from both Intel (NASDAQ:INTC) and Nvidia (NASDAQ:NVDA) coupled with an ailing PC business, inevitably leads AMD to focus on other opportunities with less competition. However, these Semi Custom deals (mainly for gaming consoles), while good, came with lower margins, which cannot compensate for the C&G segment decline. AMD cost structure is and will stay too high in the near future to earn a dime. To make things worse, AMD has $40 million of interest expense to pay each quarter.
On the bright side, the gaming console deals permit AMD to survive and gain some time to implement their turnaround strategy. However, it puts further pressure on the company (and margins) because these deals are of critical importance to survive. AMD expects to generate 1.5 billion on sales from these Semi custom deals in the next 1.5 years.
Sales vs Operating Margin (by segment)
I compiled a second graphic which points out the different operating margins by segment as well as segment sales. This graphic shows different trends. While C&G revenues are decreasing quarter over quarter, EE&SC revenues are barely stable over time. In Q2 2015, EE&SC sales were higher than C&G for the first time. On the margin side, C&G margin collapsed from 0% to -20% (with a stunning -40% in Q3 2015). Regarding EE&SC, the operating margin has slightly decreased but is still profitable at 14% for Q2 2016. In the long term, AMD should shut down its C&G segment which will never be profitable again (9 consecutive quarter of negative operating margin) and focus on the EE&SC segment which is profitable.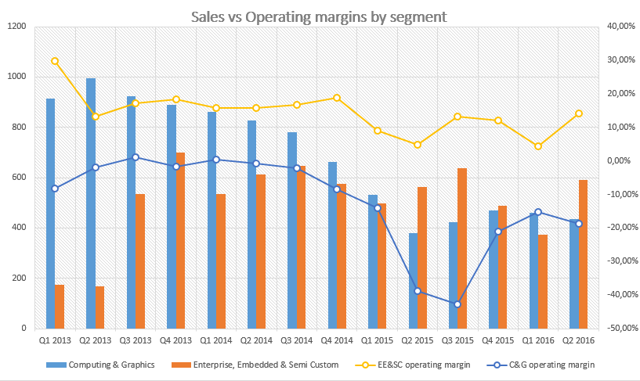 Valuation
When you value a mature company such as AMD based on a price to sales ratio, you know something is wrong. AMD is not worth its current share price of $6.86 or $11 as suggested by another author, AMD is simply worthless. Plain and simple. Why? AMD does not make any money. AMD has $2 billion on debt and pays approximately $40 million on interests each quarter. Finally, AMD has negative equity. On the positive side, the company still has time to try to turnaround itself with $1 billion in the bank. But, do not forget that the company burned roughly $300 million of cash for FY 2015.
At $6.86 per share, AMD represents a compelling short opportunity with an attractive risk/reward ratio. The recent rally was fueled by short covering. In fact, short interest was 132.34 million shares (as of February 12th). Now, short interest stands at 71.446 million shares, having decreased by 46% in 5 months. When the market will understand that AMD is not on track to turnaround itself despite strong sales growth and a fake return to profitability, the share price will sink and there will be no floor as the company has both negative equity and cash flow.
Disclosure: I/we have no positions in any stocks mentioned, but may initiate a short position in AMD over the next 72 hours.
I wrote this article myself, and it expresses my own opinions. I am not receiving compensation for it (other than from Seeking Alpha). I have no business relationship with any company whose stock is mentioned in this article.