Investing in oil (USO, BNO) or oil-related companies often takes a healthy dose of patience, resolve and perspective. When oil is at $43/barrel today, it's hard to imagine a world where any other price makes sense. Just as $100/barrel two years ago seemed rational, $43/barrel and the shale band also appears reasonable today. Oil, a physical commodity with an inelastic demand, however, is anything but. Prices will swoon and crash, and swoon again, and we believe this time is no different.
The short term, however, is what many investors focus on. The sources and cadence of information are familiar. Look to Genscape on Monday, API weekly data on Tuesday, EIA weekly data on Wednesday, Baker Hughes rig counts on Friday, some IEA and EIA reports sprinkled in between, then finally media inputs, pundit outputs, and rinse and repeat. Of course most know these figures are inaccurate and hidden agendas abound, but this is what investors should look to, right? Perhaps, but for oil maybe it's better to step away from the trees, especially the petrified ones and gain some perspective.
Demand
For purposes of this exercise in gaining perspective let's make a big assumption. Let's assume that demand for oil will not grow in the near future (i.e., next 5 years). This would be an aggressive and largely inaccurate assumption based on recent trends. If the EIA's Short-Term Energy Outlook (July 2016) is accurate, demand from 2014-2016 alone has increased by 3M boe/d.
Total World Liquid Fuels Consumption (million barrels per day)

2014

2015

2016 (Estimated)

93.9

95.3

96.8
For comparison OPEC and IEA data (OPEC: Monthly Oil Market Report, June 2016 and IEA Medium-Term Oil Market Report (2016)) also supports the EIA's data.
World Oil Demand (million barrels per day)

2014

2015

2016 (Estimated)

OPEC

91.4

93.0

94.2

IEA

92.8

94.4

95.6
Oil demand has clearly risen in the last few years and forecasts are that they will continue (absent an economic slowdown). Regardless, oil demand is notoriously difficult to forecast, as it's often predicated on global GDP assumptions and a ratio of oil demand growth to GDP growth, or using other proxies (such as global storage changes); so for this discussion, let's just set aside demand and assume no growth. Besides, we believe oil is headed higher not by what's to come; it's headed higher by what has occurred.
Supply: We Go Where CapEx Goes
Even if the daily/weekly oil information is unclear, what's become clear is the rush of cuts to long-term capital expenditures ("CapEx"). Let's explain why that's critical.
Although oil has come off from the bottom and sits at $43/barrel today, at this price only a small number of oil producers break even on a cash cost basis. Recall that as you pump your production rates decline over time because the pressure in your reservoirs decreases. You will also need to keep finding or buying new oil reserves to replace what you've extracted. CapEx are the long-term expenses incurred to maintain current production and to find, develop, and acquire additional reserves. Yet these long-term expenditures are the first ones cut when you're trying to survive in the short term. Eventually this "rob Peter to pay Paul" strategy will lead to reduced production and supply.
According to Wood MacKenzie "[g]lobal upstream capital spend from 2015 out to 2020 has been reduced by 22% or US$740 billion. When we include cuts to conventional exploration investment, the figure increases to just over US$1 trillion."
Note that this is a 5-year forecast, and 2 of those years (2015 and 2016) are in the books (or close). As we head into corporate budgeting season in the next few months, current oil prices do not portend significant CapEx increases for 2017. Wood Mackenzie states "[c]ompared with expectations before the slide in oil prices, output this year will be 5 million barrels of oil equivalent a day lower, with the deficit widening to 6 million next year." (Bloomberg, June 15, 2016)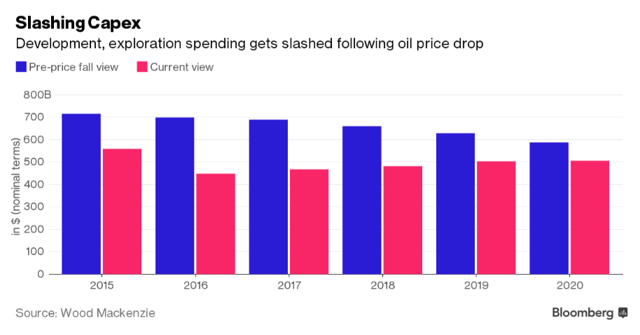 In total, Tudor, Pickering and Holt, an investment bank, estimates that the world's oil companies have canceled or delayed final investment decisions on 150 projects that could negatively affect the world's daily production by around 19 million barrels of oil equivalent in the coming years.
Claudio Descalzi, CEO of Italian energy company Eni SpA, stated, "A big gap is forming in oil-industry investments. That will lead in two to three years an imbalance between supply and demand that will push prices higher."
Accelerating Decline Rates
Cutting CapEx effects two things on the production side: 1) accelerate the decline rate (i.e., the production on older wells decline faster as they age, more so when you skimp on maintenance) and 2) lead to an oil shortage as production from new fields fail to replace older fields.
Even if we assumed no growth in oil demand, there's one inimitable truth to oil production, decline rates never sleep. What do those decline curves look like today?
In its recent Q2 2016 conference call, Core Labs stated:
"Globally, Core estimates that the net crude oil production decline curve rate has expanded to 3.3% net, up some 20 basis points from earlier year estimates. Applying the 3.3% net decline curve rate to a worldwide crude oil production base of approximately 85 million barrels per day means the planet will need to produce an approximately 2.8 million new barrels by this date next year to maintain current worldwide productive capacity totals. With the long-term worldwide spare capacity nearing zero, Core believes worldwide producers will not be able to offset these declines, and the estimated 3.3% net production decline curve rate in 2016 will lead to falling global production in 2016."
CapEx and continued investments are what mitigates decline rates and supports flat production. It matters little whether this spend comes from independently operated companies ("IOC"), national oil companies ("NOC"), or Majors; someone or some entity needs to commit long-term capital if the world wants to maintain sufficient production to keep up with even a flat oil demand.
That 3.3% decline rate is also an average, and just for this year. Decline rates accelerate if there's an underinvestment in older mature fields. While most of the CapEx cuts have been for new projects and shale drilling, some of it has been on mature producing fields. Information provided by Rystad Energy shows that decline rates have accelerated for older fields.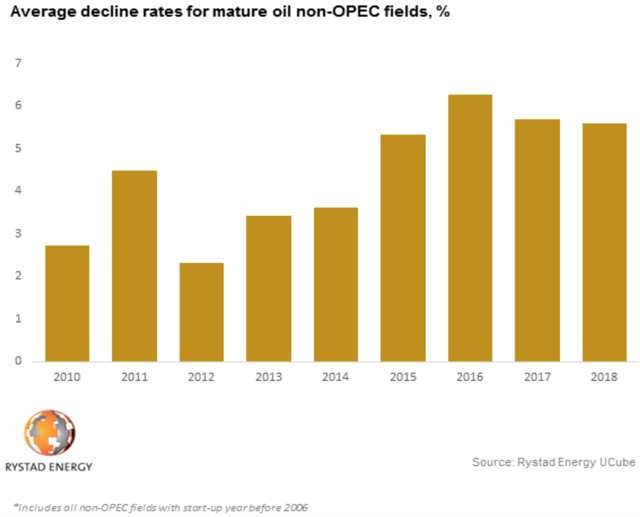 The accelerating decline rates coupled with the lack of new fields coming online have led to a production gap.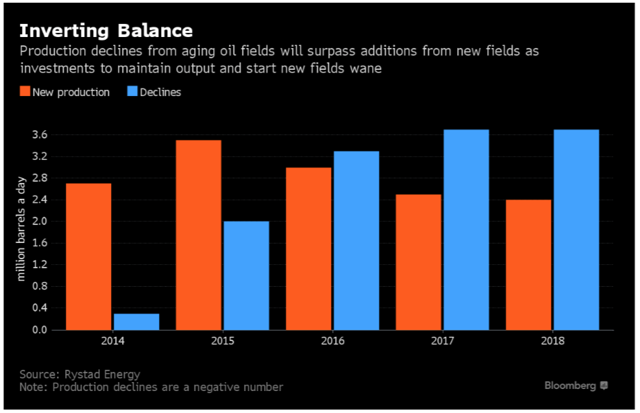 The red bars represent new oil production whereas the blue bars represent the oil declines from older oil fields. When blue overtakes red, declines are happening faster than our ability to pump oil from new fields. Our current CapEx trajectory suggests that this gap will increase over time.
This fact isn't lost on the oil industry, but when you sell a commodity that's essentially worthless (i.e., valued at below the cost of production), then you're just trying to liquidate slower than your competitors. Let the market worry about the future.
"There is still an ominous investment gap building up in the oil industry that might, depending on how quickly today's record high oil stocks are eroded, create the conditions for sharply higher prices over the medium term." - IEA Oil Market Report July 13, 2016
What About Increased Capital Efficiency?
We've considered the possibility that this $1T CapEx shortfall is in fact a red herring. Maybe a majority of the $1T was earmarked for production growth, or maybe the reduced drilling costs we see today means the projected CapEx levels in 2014 were too high. Deloitte's recent study "Short of Capital" dispels either argument. (Deloitte Short of Capital, May 2016). Deloitte states:
"Since the industry's replacement capex is about 80 percent of total spending . . . the industry could reduce its overall capex by a maximum of 20 percent to remain flat. After making capex cost of 25% in 2015, E&P companies have announced further capex cuts of 27% in 2016 and expect a flat 2017, taking future spending far below the levels required to stay flat.

Even if the upstream capital cost deflation of 15-18 percent is considered, the industry's capex levels have gone below the minimum required levels to offset depletion, let alone meet any expected growth."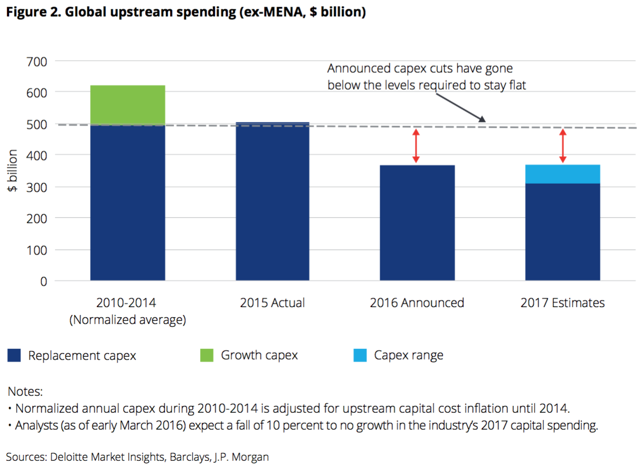 Thus, CapEx cuts have gone beyond the muscle (to support growing demand), but to the bone (below projected levels needed to keep production flat). Moreover, not only have the cost reductions for drilling oil been insufficient to make up for reduced CapEx, they are increasingly unsustainable.
Most of these cost cuts have been borne by the oil service industry (e.g., Schlumberger, Baker Hughes, Halliburton, etc.), as they've elected to bear temporary losses to "stay in the game". We've written previously about this, and what is unsustainable in the long term will eventually stop. While larger and better-funded oil service providers can bear such losses for a short-period, eventually they will need to earn a return above their cost of capital to be viable, a fact that was often repeated in the latest rounds of oil service provider conference calls. Consequently, reduced service provider costs will eventually mean revert, thereby increasing CapEx costs.
Many have said that OPEC has spare capacity. This is essentially the Saudi Arabia argument, as Saudi Arabia has a spare capacity of 2M barrels/day. Let's assume that Saudi Arabia produces flat out and covers this decline, what about next year, or the year after that? Decline rates compound every year. Finding 2.8M boe/d of spare capacity every year is equivalent to finding a new producing Bakken and Permian region annually, or take your pick, the equivalent oil output of Kuwait, UAE, or Venezuela (before the turmoil).
Ultimately, if we have any hope of replacing Core Labs' 2.8M boe/d of compounding decline rate (or 5M boe/d using Wood Mackenzie's previously forecasted figure), CapEx investments must increase dramatically in the next few years. Given where prices stand today, this looks increasingly unlikely.
Statoil's Chief Financial Officer Hans Jakob Hegge stated "[f]or the first time in history, we've seen cutting of capex two years in a row and potentially we risk a third year as well for 2017," Hegge said. "It might be that we see quite a dramatic reduction in replacing the capacity and of course that will have an impact, eventually, on price."
At this stage it's not the demand that will rebalance the market, declining supply will have a much greater impact. This price war has already set the stage for higher prices. So if oil is worthless today because there's a small oversupply, then what's oil worth when there's not enough to go around?
Disclosure: I/we have no positions in any stocks mentioned, and no plans to initiate any positions within the next 72 hours.
I wrote this article myself, and it expresses my own opinions. I am not receiving compensation for it (other than from Seeking Alpha). I have no business relationship with any company whose stock is mentioned in this article.