With Facebook's (NASDAQ:FB) Q2 outperformance in focus, investors are fixated on how the company can continue growing rapidly with its user base numbers reaching maturation. From our perspective, the possibilities remain endless. We expect new services to be rolled out for years to come. In addition, Facebook can increase its targeting acumen along multiple dimensions. Personality profiling remains one area of low-hanging fruit.
Studies have shown that advertisements are more effective when they are targeted to match each customer's personality. Unbeknownst to most, Mattersight Corporation (NASDAQ:MATR) was recently granted the latest in a series of personality-focused patents. The strategic value of its growing IP portfolio may impact the balance of consumer-profiling power between Facebook, Apple (NASDAQ:AAPL), Alphabet (NASDAQ:GOOG) (NASDAQ:GOOGL), Amazon (NASDAQ:AMZN), and Microsoft (NASDAQ:MSFT).
In this article, I will explain how/why.
The most recent patent, Mattersight's sixth of the year, was announced without much fanfare. However, in reading the press release and speaking with company representatives, the implications were palpable.
Mattersight now holds patents around analyzing phone calls, social media (i.e. Facebook, Instagram, Snapchat, WhatsApp, etc.), emails, and video for personality and behavioral characteristics (empathy, stress, etc.). This latest patent enables the use of that data to personalize computer assistants like Apple's Siri, Alphabet's Google Now, Microsoft Cortana, and Amazon Echo's Alexa.
With this capability, Siri (as an example) might soon be able to learn about your personality based on how you communicate with people or interact with your phone. Using that information, it will then adjust the way it communicates to you (i.e. using the tone, tempo, and word choices that are tailored to your personality and communication style). That technology can extend to call center computer response systems.
Taken in concert, this set of capabilities can boost sales by 15-25% and increase click-through rates by as much as 80%. Mattersight's own experience with customers has validated the 15-25% figure. Many of its customers have experienced uplifts in that range (along with similar decreases in the amount of time required for a call center agent to satisfy a customer).
At the low-end of those ranges, the value to Facebook is $3.75 billion on its $25 billion in expected 2016 ad revenue. For Google, the number is $5 billion on its $33 billion in expected 2016 ad revenue, but a bit less applicable since Facebook accumulates more personality-relevant user data.
Either way, we're talking about numbers that are several multiples above Mattersight's current market cap (just over $100 million).
With each of the aforementioned tech giants vying for consumer supremacy, gaining ownership over Mattersight's patent portfolio might go far beyond a simple revenue boost - it could decide which vendors can leverage this technology and which are blocked from doing so. While doing our research for this article, a reliable source confirmed that MATR has receiving inbound interest along these lines.
More Evidence
Looking at the rest of MATR's growing patent portfolio, most of them fall under two capability buckets: 1) creating behavioral data and 2) utilizing that data.
A company representative stated, "we don't want anybody else creating personality data from phone calls. We don't want anybody else to route calls based on personality data. We're protecting our current ground. We're also blocking future ground… for social media or creating a personality-based personal assistant."
Digging deeper into the technology, we have learned that both Facebook and Mattersight use phone numbers as a unique identifier in their databases. In other words, assimilating MATR's technology would be plug-and-play.
The company representative continued, "It could be huge. There is a huge opportunity there right now. We are focused on our core competency from a revenue perspective. We're also focused on building our IP."
This Has Been A Long Time Coming
Back in 2014, I approved a five-figure budget to commission a Harvard expert and numerous industry analysts to investigate the potential implications of personality profiling for Facebook's revenue. In 2015, a still-obscure Mattersight stated the following on its earnings call:
"There are 152 million daily active Facebook users in United States and Canada and 300 million Outlook and Gmail business users in the U.S. and Canada and those users are everyday creating mountains of user generated content that presumably we could apply our analytics to make it more effective and more efficient."
The company's CEO Kelly Conway went on to say:
"We have 13 existing patents including patents to do this behavioral modeling in both phone calls and social context and we have 23 patents that are pending. We've a very large consumer behavioral database already plus we've got a very strong group of people. We have between 65 and 70 people that are behavioral data scientists and developers. That is the strongest core probably outside of places like Facebook or Google.
There really doesn't exist that much concentrated talent tackling this problem. So we have assets that really can be deployed and it's incredibly exciting. I do want to reemphasize, we need to do first things first."
Since that time, the company has been on a patent-building tear. Founded in 1994, they required 20 years to obtain a dozen patents. But just the past 18 months, the company has been granted 15 more, with two in the most recent couple of weeks.
Valuation
At present, Wall Street analysts are expecting MATR's revenue to grow by 37% next year, hitting $64 million. For Cloud software vendors with this growth profile, a typical forward sales multiple is 5.5x (0.15 times the forward growth rate). For MATR, that's $350M or about $14 per share.
This coincides with the top value of our current Risk/Reward Channel.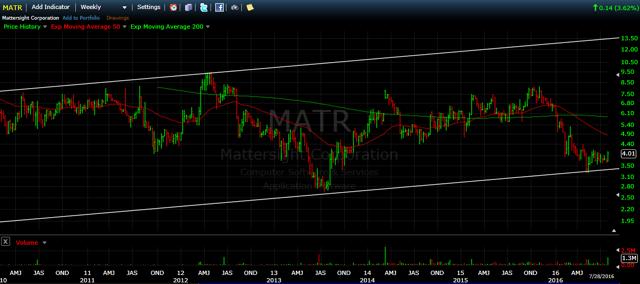 In recent days, the stock has shown signs of life on high volume. A 900,000 share block crossed on Thursday and the stock appears to be breaking out of its long slow down trend.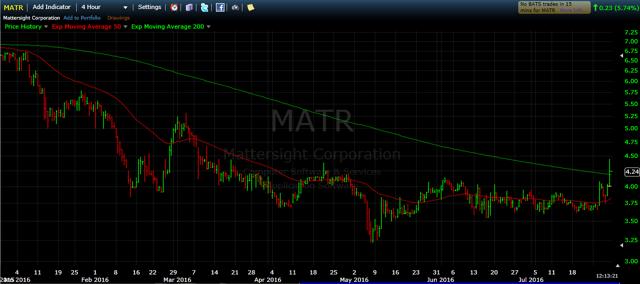 Mattersight will release its second quarter 2016 financial results after the market close on Tuesday, August 9, 2016. Then, just two days later (on August 11 at 11:00AM ET), CEO Kelly Conway will present at this year's Canaccord Genuity Growth Conference. He will also be hosting one-on-one meetings with institutional investors.
I have no insight into what the Q2 announcement will bring. However, management will surely highlight its growing patent portfolio and perhaps address our analysis of what it means for their future. In the meantime, the stock remains among Pipeline Data's top selections.
Disclosure: I am/we are long FB, MATR.
I wrote this article myself, and it expresses my own opinions. I am not receiving compensation for it. I have no business relationship with any company whose stock is mentioned in this article.
Additional disclosure: The information in this article is for informational and illustrative purposes only and should not be regarded as investment advice or as a recommendation regarding any particular security or course of action. The opinions expressed in Pipeline Data, LLC publications are the opinions of Mr. Gomes as of the date of publication, and are subject to change without notice and may not be updated. All investments carry the risk of loss and the investment strategies discussed by Mr. Gomes entail a high level of risk. Any person considering an investment should perform their own research and consult with an investment professional. Additional important disclosures can be found in the Important Disclosures section at PipelineDataLLC.com.