I typically do not like doing what others do. I have always been that way - groupthink and going with the crowd are against my educational beliefs. I think that is one of the reasons why I chose to invest in micro-cap stocks. The less people that follow a certain security, the better.
As I have progressed as an investor and a prolific writer, I have begun to notice that there are the typical 'fan-boy' micro-cap stocks that everyone seems to own - just like your large-cap 'fan-boy' stocks. This has further led me to believe that the micro-cap space experiences the dreadful groupthink mentality that plagues other well-known investment classes.
To overcome the groupthink mentality - in whatever asset class, sector or investment methodology you practice, you must do things others will not do. Being original in all aspects of life should be taught widely to students. However, the 'norm' is widely taught and instructing youth to think alike, over differently is the proverbial standard. Agatha Christie states it best…
"The human mind prefers to be spoon-fed with the thoughts of others, but deprived of such nourishment it will, reluctantly, begin to think for itself-and such thinking, remember, is original thinking and may have valuable results."
Based upon the research I have conducted over the past year, in my belief, one of the best ways to succeed in this industry is to do what others are not doing. This means going off the beaten path. Visiting companies when others would prefer to sit in front of their screens. And, thinking in an unconventional way.
One asset class that I believe goes off the beaten path, is unconventional and makes the researcher think original thoughts is the community banking space. There are a significant amount of community banks in the US and a good majority of them have never been publicly looked at by investors, analysts or bloggers. This is good for a few different reasons.
First, there is probably going to be an information gap with some of these community banks. Most of these community banks have probably only been analyzed by a handful of eyes - compare and contrast that with how many eyes look at Apple (NASDAQ:AAPL) every single day. This literally means you could stumble upon something hidden that could actually be quite valuable. Hidden information is great and makes me think of one of my favorite Mark Twain quotes…
"There comes a time in every rightly constructed boy's life when he has a raging desire to go somewhere and dig for hidden treasure."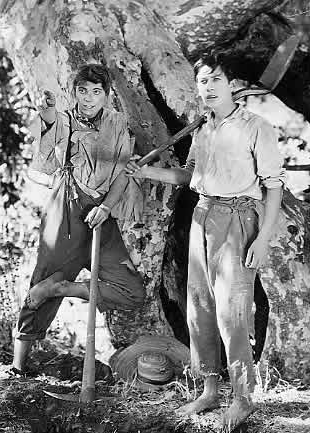 Source: Twain Quotes
Maybe Huckleberry Finn and Tom Sawyer would have had better luck finding treasure pulling up a 10-K of their local St. Petersburg bank in Missouri.
Researching these unheard of and unusual stocks brings out the 'lost boy' in me that went missing when adulthood turned the page. I am not sure if you ever had the urge to find hidden treasure, but digging in overlooked companies like community banks is a type of way to find treasure and to bring out the spirit of a boy.
A second benefit of looking at community banks is that your research will be pure, original and untainted by the opinions of others. When everyone is saying the same thing about company XYZ, it will be very hard for you to form an original opinion on the company. Furthermore, if there is already a significant amount of research on a certain company you are working on, pure original work will be very hard to produce. Researching unheard of community banks gives the original thinker pure thoughts, allows them to form a clear decision and all mistakes in allocation will be on the hands on your work - not the other hundreds of analysts saying the same thing.
Another advantage of digging into community banks and other 'unwanted' stocks is that you will eventually run into other original thinkers. Think for a minute, if someone else is following a community bank - that no one really knows about - do you not think that that individual is also an original thinker? Furthermore, if you write a decent research report, article or whatever you call it, do you not think that the other original thinker/investor will eventually reach out to you?
Being reached by original thinkers, with other non-banking micro-caps, has happened to me numerous times. Typically, if you write a good research report on a company that has never been or hardly been covered, there is a high chance someone following that company will want to talk. This is a great way to build a network of original thinkers.
Should I publicize my thoughts on community banks with fear of giving this treasure away to everyone? I'd think not. Proven ways to minimize risk and maximize gains have been publicly documented for some time now. Be it from Ben Graham or Warren Buffett and all the way to Seth Klarman; there have been numerous 'super-investors' who have let us in their heads on ways to do well in this industry. Moreover, there are a few reasons why I believe my documentation on community banks won't give away the treasure.
Institutions can't invest: Most community banks have lower amounts of liquidity and are micro-cap stocks. Furthermore, regulation prevents anyone from owning more than 10% of a bank, unless it becomes a holding company. This instantly makes it that the majority of institutions cannot invest. Retail investors are lazy: Not many retail investors have the time or inclination to study and invest in community banks. Additionally, researching community banks is a full-time job - typically not a retail investor's occupation. Investors like glam, pizzazz and fads: Unless community banks become the next fad, I don't think there is going to be any glam or pizzazz anytime soon in this asset class.
A good example of a hidden community bank that is making bold moves is Mission Valley Bancorp (OTCQX:MVLY). I wrote a brief introduction article via CompleteBankData and to my knowledge, no one else has ever publicized information on the bank.
The thesis is simple and the business model is easy to understand. The bank is a three-branch community bank that continues to post record-breaking quarters. Additionally, despite the fact that 2015 was a record-breaking year and Q2 was a record-breaking quarter, the market didn't blink an eye.
MVLY isn't your proverbial community bank with a history of not giving back to shareholders, either. Since inception, the company has done four stock splits, issued its first ever common dividend in 2015 and up-listed to the most visible and highly regarded OTC exchange - OTCQX. Moreover, management's goal is to create value through visibility, execution and giving back to shareholders.
Finally, the bank has had a strong history of conservative underwriting/loan origination - noncurrent loans to loans were 3.79% in the Great Recession, in which the majority of the loan book was commercial loans. Thus even though the company has 87% of its loans in 'riskier' C&I loans, the company has done historically well with this loan profile and should do well into the future.
On a valuation standpoint, the company is trading near TBV and has a P/E ratio in the low 7.00x range. For a bank that is growing its bottom line at a 20-30% rate, has historically done very well in loan origination and continues to post record-breaking results, does a low-end valuation make sense? In my opinion, no, it doesn't. However, the market seems to believe the company is worth no more than TBV and all forward-looking growth has no option in the valuation. Furthermore, if the company continues to grow at the rate it is, the valuation will be much cheaper by this time next year, unless the market finally recognizes this hidden community bank.
Mission Valley is just one example of a community bank that is growing, executing and returning value to shareholders under the broader market's nose. Want more ideas like Mission Valley? Well, stay tuned.
Going forward, you will see a lot of my work focused on community banks. Sure, their business models may bore me to death, but if I hit a treasure chest through my research, the time spent will be worth it. Researching and investing in community banks has a learning curve - and I am still a student. There will be mistakes and errors on my behalf, however, I urge my readers to point out the flaws in my analysis in order to not only for me to become better, but for us, as a collective whole, to become better analysts. With that being said… let the search begin.
Disclosure: I/we have no positions in any stocks mentioned, and no plans to initiate any positions within the next 72 hours.
I wrote this article myself, and it expresses my own opinions. I am not receiving compensation for it (other than from Seeking Alpha). I have no business relationship with any company whose stock is mentioned in this article.
Editor's Note: This article covers one or more stocks trading at less than $1 per share and/or with less than a $100 million market cap. Please be aware of the risks associated with these stocks.