Last month I published an article on Seeking Alpha regarding the Permian Basin, the single largest oil producing region in the U.S. and one of seven oil and natural gas producing regions covered by the EIA (Energy Information Administration) in its monthly Drilling Productivity Report. In that report, I showed some very ugly oil revisions for the area that should, by itself, take some wind out of investors' sails but now that fresh data is available, I figured that now would be a good time to revisit the picture and see what it should mean for investors in companies like Memorial Production Partners (NASDAQ:MEMP), Approach Resources (NASDAQ:AREX), and Legacy Reserves (NASDAQ:LGCY), as well as for the United States Oil ETF (NYSEARCA:USO) and other oil-related ETFs.
A look at my old data and making important revisions
In my last piece on the Permian, I forecasted what production in the region should look like atthe end of the year based on existing trends. One of these trends related to the rig count in the area which, after seeing it spike up to 142 units in operation, I figured that we would see additional declines in the future to the tune of 5 units per month. However, production in the area has only picked up (though the increases have slowed) so I determined, in this report, to assume 160 units in operation for the month of July, which is in accordance with existing data provided by Baker Hughes (BHI), and to then keep the count unchanged moving forward. Of course, if we continue to see rig count increases coming from the Permian, I will adjust accordingly.
The second indicator I looked at relates to the month-to-month rig productivity improvement rate. In the last report I wrote, I used historical data to assume that productivity improves on a per-rig basis by about 3% each month. However, as you can see in the graph below, this metric has been revised down by the EIA and stood at just 2.39% being forecasted for the month of August. Because of this, I am going to revise my own forecast down to 2.4% for the months after August.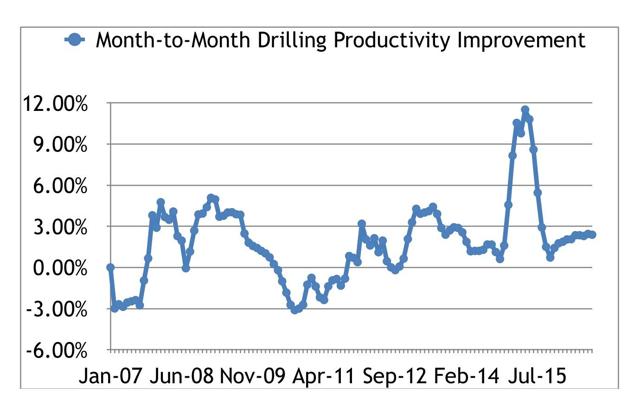 Chart created by author with data from the EIA's Drilling Productivity Report.
The last indicator I had to look at in my prior work was the decline rate in the Permian. In it, I looked at three scenarios; a conservative one where the decline rate would average 3% per month, a moderate one where the number would be 3.75%, and a liberal one where it would average 4.5% per month. In the graph below, however, you can see that this data has changed and the average decline rate is now hovering at about 4%. Because of this, I intend to keep the conservative scenario unchanged while moving the moderate one up to 4% and the liberal one up to 5%. In all likelihood, the moderate scenario is the most realistic one moving forward while the liberal one is the least likely in my opinion.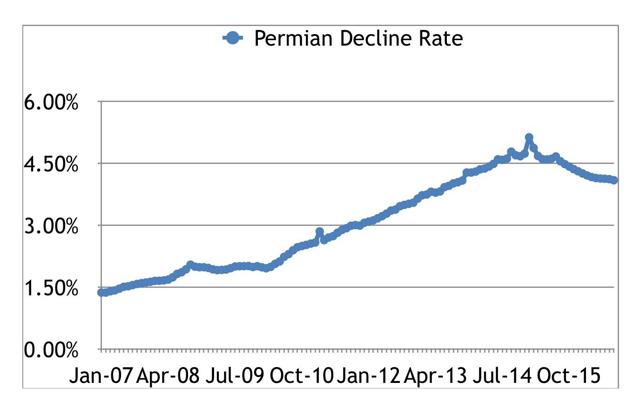 Chart created by author with data from the EIA's Drilling Productivity Report.
Incorporating my prior forecasts, I was able to forecast that production this year would likely rise, climbing from a now-revised output in December of last year of 1,987,968 barrels per day to as high as 2,072,739 barrels per day by December of this year. This is, of course, under the most conservative scenario, while the moderate one calls for production of 2,002,022 barrels per day and the liberal one is estimated to shrink to some degree down to 1,933,147 barrels per day. In the table below, you can see exactly how this should have played out on a month-to-month basis.

*Source: Created by author with data from the EIA's Drilling Productivity Report
The picture's more bearish now... mostly
After incorporating the changes to my prior model, I was able to forecast what the picture should look like now that the new data is out. In the table below, you can see that the conservative scearnio is now calling for production to climb to as much as 2,082,020 barrels per day while the moderate scenario is calling for production to go as high as 2,006,164 barrels per day. Once again, only the liberal scenario is expected to see output from the Permian decline, falling to about 1,932,556 barrels per day if my model turns out to be accurate.

Chart created by author with data from the EIA's Drilling Productivity Report.
In order to put this all into perspective, I created the following table below, which shows my prior forecast stacked up against my newest one. In the table, you can see that, under both the conservative and moderate scenarios, production from the region should be higher than I forecasted last month. In the conservative scenario, it should be to the tune of 9,024 barrels per day, while the moderate one should be to the tune of 4,141 barrels per day. Only under the liberal scenario should output fall more, thanks to the decline rate revision, but it would be by an immaterial 591 barrels per day.

Chart created by author with data from the EIA's Drilling Productivity Report.
Takeaway
Based on the data provided, if you look at only the Permian, production for this year is quite bearish. After falling initially because of the massive drop in the rig count, the recent resurgence in activity there will likely cause production to rebound nicely. Thankfully for oil bulls, most regions are not experiencing anything to this degree, but if the trend continues to worsen in the Permian and if it extends elsewhere, then the oil market recovery could be delayed. Investors should keep a close eye on this data moving forward.
Disclosure: I am/we are long AREX, MEMP, LGCY.
I wrote this article myself, and it expresses my own opinions. I am not receiving compensation for it (other than from Seeking Alpha). I have no business relationship with any company whose stock is mentioned in this article.
Additional disclosure: I own LGCYO, not LGCY.
Editor's Note: This article covers one or more stocks trading at less than $1 per share and/or with less than a $100 million market cap. Please be aware of the risks associated with these stocks.