While I've talked about breaking up the big financial companies - with Bank of America and Citi being in the crosshairs, American International General (NYSE:AIG) might have enough upside to make it compelling without a breakup. Shares of AIG are down 10% in 2016 and trading at 70% of book value, but AIG has already been quietly breaking itself up.
Earlier this summer I talked about Icahn slowplaying AIG; the idea being that a breakup would be the ultimate win, yet, Icahn has gone quiet with voicing his support for a breakup. That's in part because both he and John Paulson now have board seats at AIG. So, Icahn has either realized that it might be more difficult than he realized to breakup AIG, or the pushback from CEO Peter Hancock has forced him to lie in wait as he works on a plan to oust Hancock and install a CEO that would break up AIG.
The problem with AIG
Just like the big banks, AIG remains somewhat of a macro bet on interest rates. Without a major change in rates, AIG will be limited in the money it can make. But it's a slowly improving story nonetheless, making progress when it comes to slimming down and cutting costs.
The big catalyst I'm looking forward to is: Shareholder returns. AIG is planning to return $25 billion - roughly 40% of its market cap - to shareholders via dividends and buybacks in the next couple years. It's already paying a 2.3% dividend yield, topping the dividend at either C or BAC. Trading at less than book value, the buybacks could help close the trading gap.
So what's the problem? AIG still has a lot of haters thanks to the financial crisis, and who could forget their stock chart. So despite the progress, much of the market still has a sour taste in its mouth.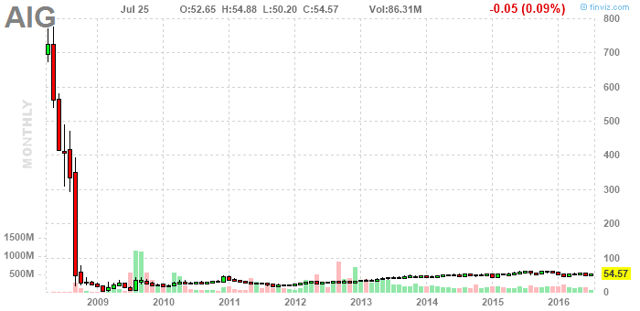 Then there's my own gripe with operating a life insurance and a property and casualty insurer under one roof. There's no synergies and it just clouds the books, creating a permanent valuation discount. The life insurance business is overshadowing AIG's bread and butter business of property & casualty.
P&C insurers like Chubbs (NYSE:CB) and Travelers (NYSE:TRV) trade at over 125% of book value. Meanwhile, AIG is stuck at 70%, which is still at a discount to low growth life insurers like Prudential (NYSE:PRU) and ING (NYSE:ING).
What I'd love
I'd love to see AIG make a bigger push back toward the property and casualty insurance market. Or, sell off the life insurance business. That, or a break up, would help Wall Street better understand the AIG business and lead to a re-rating multiples wise.
Lest we forget that AIG also has deferred tax assets, which it can use to juice margins by not paying taxes. Yet, those DTAs are one of the reasons that Hancock has refused to split the company, saying they might lose the DTAs if they breakup. Regardless, disposing additional legacy assets will help further free up capital; as well, moving away from riskier coverage areas like environmental will help reduce risk.
Don't sleep on Icahn
Icahn's whole thesis is to breakup AIG into three companies. He didn't get the breakup, but now has a board seat. He may well still be working quietly in the background - which is just another potential catalyst for AIG - but the two catalysts that are sure to play out over the next couple years are shareholder returns and cost savings.
The more I look at AIG, the more there is to like compared to other financials, namely big banks. The best way to think about it - there's more positives to AIG than negatives. Still, thanks to Icahn going quiet and the continued "misunderstanding" of AIG and its business, the stock will likely remain relatively flat for the rest of the year, but I'd be a owner if we get a chance to buy below $50 a share. Then, in 2017, the turnaround plan should start to show meaningful progression; as things could get interesting rather fast for AIG with the buybacks, tax savings and looming breakup potential. So while this is more of a next year opportunity for us, I'll be watching closely.
Disclosure: I/we have no positions in any stocks mentioned, and no plans to initiate any positions within the next 72 hours.
I wrote this article myself, and it expresses my own opinions. I am not receiving compensation for it (other than from Seeking Alpha). I have no business relationship with any company whose stock is mentioned in this article.