A decade of change
Under the lead of its CEO Stéphane Richard, Orange (NYSE:ORAN) has been through huge business and cultural changes.
The first challenge was to stabilize the operations in France. With the arrival of Iliad, first as Internet broadband provider in 2002, then as a 4th mobile operator in 2012, the prices have been under big pressure. Revenues in France declined and the profitability has been strongly affected. With the French government owning more than 20% of the capital and many employees still having the status of government employee (this population is now reduced, with the baby-boomers retiring. This actually helps to reduce the cost base), it was not an easy task to adapt the cost structure to the new environment, as it was impossible to lay off anyone.
France still represents more than 45% of the total sales
In 2015, Orange has generated EUR 40.2bn of sales (more than 45% of the Group total sales in France)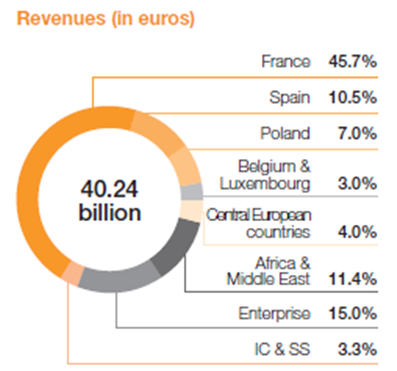 In the past years, Orange divested its operations in Switzerland and in the U.K., focusing its efforts in Europe in Spain and in Poland, where the company delivers a solid growth.
In parallel, Orange reinforced its positions in Africa, with multiple acquisitions. Africa is the area with the fastest growth for Orange, even if it represents less than 12% of the total sales.
The market is now more stable in France. Even if the four mobile operators didn't succeed to make a deal, there is a quite strong willingness to reduce the number of operators from four to three, and consequently release the pressure on prices.
Diversification to fuel the growth
Last year, Orange presented its new 5-year plan, Essentials2020, with the ambition to generate EUR 1bn from new services.
On the EUR 1bn additional revenues coming from these new services, we have roughly EUR 600m coming from IOT and M2M and we have EUR 400m coming from financial services. To achieve this target, Orange is in process to buy an online bank in France (Groupama Bank, which will be renamed Orange Bank)
Orange Money in Africa had 19 million customers at 30 June 2016 (+36% year on year).
Improving profitability
In 2015, Orange stabilized its adjusted EBITDA. This year and the following years, according to Essentials2020 plan, EBITDA should be back to growth. During the 1st semester 2016, the adjusted EBITDA decreased slightly (-0.6%). In the 2nd quarter, restated EBITDA rose 0.1% after falling 1.6% in the 1st quarter. The Group thus confirms its objective to achieve a full-year restated EBITDA for 2016 higher than that achieved in 2015 on a comparable basis.
In France, many staff will retire between now and 2020. And Orange already announced that a large part won't be replaced. It's a significant leverage to improve the profitability of operations in France.
Solid balance sheet and well-covered dividend
The level of debt decreased significantly in the past years. After selling its interest in EE, the ratio of net debt to restated EBITDA was 1.95x at 30 June 2016, versus 2.01x at 31 December 2015.
The dividend for 2016 has already been announced at 0.60 EUR per share (yield of 4.38%). This dividend is well covered by the free cash flows, with an estimated payout for this year at 85%.
With the improving balance sheet and cash flows, we can reasonably bet on an increase in dividend in the coming years.
Valuation
Based on analysts' estimates, Orange should deliver an EPS of 1 EUR in 2016, 1.08 EUR in 2017, 1.16 EUR in 2018 and 1.25 EUR in 2019.
With a current price at 13.69 EUR, forward P/E is 13.7.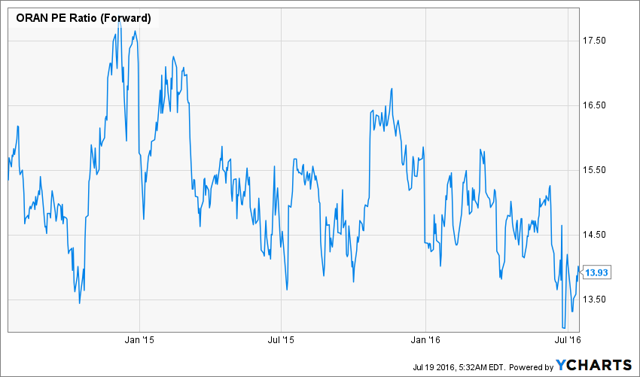 Conclusion
Orange is a safe play in the European telecommunication sector, with a 4%+ yield. It's a slow growth, but improving metrics should lead to higher valuation.
Disclosure: I am/we are long ORAN.
I wrote this article myself, and it expresses my own opinions. I am not receiving compensation for it (other than from Seeking Alpha). I have no business relationship with any company whose stock is mentioned in this article.