Oi's target: Get the court restructuring done by year's end. Unlikely, in our opinion.
Oi (NYSE:OIBR) (NYSE:OIBR.C) Brazil's new CEO, Mr. Schroeder, recently declared to Valor (subscription required) that "[t]he best time frame would be to try and conclude the approval [of Oi's court restructuring] by the year's end".
In theory, Brazilian bankruptcy law provides a very strict time frame that could allow for a quick conclusion for any Recuperação Judicial (RJ). Unfortunately, reality bites and a few past experiences prove the opposite, especially in light of complex situations and litigation between creditors.
Oi's expected timeline in court
Most of our analysis will be based on a great article, "Pitfalls in Brazilian Bankruptcy Law for International Bond Investors", by Jeffrey M. Anapolsky and Jessica F. Woods, that compares insolvency law in Brazil and the United States focusing on the perspective of international bondholders.
This article is a great source of information that might be of interest to Oi's bondholders because of the complexity of this specific case. We strongly suggest you read it in its entirety if you want to learn more about the obstacles that could make it difficult for international bondholders to see their rights fully recognized in a Brazilian court.
Let's start with a successful case, in terms of quick court resolution, that also gives us the opportunity to highlight some key deadlines: Varig.

Chart from "Pitfalls in Brazilian Bankruptcy Law for International Bond Investors", pg. 403.
As you can see, the plan was approved ahead of the 180-day deadline for the end of the stay period, although some amendments were adopted a couple of months after the plan approval.
If this was the case for all judicial reorganizations, Mr. Schroeder's words could be correct, and Oi could see the conclusion of its RJ probably by year's end.
Here is a tentative timeline for Oi's case, where we have also added (in Italic and blue color) some commentary about events that could interfere with the Brazilian court deadlines:
Unfortunately, more recent bankruptcy cases demonstrate that this strict deadline may be deferred for several reasons.
But first, some good news for creditors.
The average recovery rate for unsecured creditors under the prior insolvency regime was 0.2%
Brazil's new bankruptcy code, in part similar to the US Chapter 11, has led to several positive developments with respect to creditor recoveries in Brazilian corporate restructurings.
In the past, "the average recovery rate under the prior insolvency regime for creditors who did not hold tax or labor claims was 0.2%, as compared with a 26% average creditor recovery rate for Latin America as a whole and a 43% historical average senior unsecured creditor recovery rate in the U.S." (pg. 401).
This is not to say that the procedure is exactly creditor friendly, especially for foreign bondholders (pg. 398):
However, there continue to be several noteworthy differences between the U.S. and Brazilian insolvency systems that may generate unwelcome surprises to U.S. holders of Brazilian corporate bonds, including discrepancies surrounding: [I] the recognition of individual bondholders' claims; [II] the ability of creditors to organize and retain legal and financial professionals; [III] the process and timeline for negotiating, voting on, and confirming a plan of reorganization; [IV] the disclosure requirements for a debtor; [V] the procedure for selling the debtor's assets; and [VI] the roles of courts and trustees in facilitating the insolvency process.
In particular, Brazil's "2005 reform retained the concordata's basic structure comprised of three creditor constituencies: labor creditors (Class I), secured creditors (Class II), and a catch-all class generally populated by unsecured creditors (Class III)" (pg. 402)
To this respect, "Brazilian law does not provide a formal way for bondholders and other unsecured creditors to organize separately, creating a significant disadvantage for international bondholders" (pg. 416).
However, as we've already underlined in our previous articles, one of the main and most surprising differences between a US Chapter 11 and a Brazilian RJ lays in the fact that shareholders keep playing a key function in a Brazilian judicial reorganization, as they may strongly influence its outcome.
Brazilian law does not permit the cancellation of equity without the consent of shareholders
The 2012 Rede Energia S.A. bankruptcy is quite interesting, as it presents several similarities to the Oi's case - including the fact that a regulatory agency, ANEEL, played an important role in that proceeding.
While we will, later on, quote this RJ as a an example of a complex restructuring requiring more time in court than originally forecasted by the Brazilian legislators, first we will take from one of its key US bankruptcy filings an important concept that explains why shareholders keep staying on the driver's seat even in bankruptcy (pg. 48): "Brazilian law does not permit the cancellation of equity without the consent of shareholders."
Obviously, no wise shareholder would commit a financial suicide while it is to be expected that they will collectively try to maximize the share of the company that they may retain at emergence. This may also explain why some players have been recently accumulating Oi's shares in an attempt to give a desired direction to the company's restructuring efforts.
Lessons from the Rede bankruptcy proceeding
Rede filed for bankruptcy in November 2012. In September 2013, the court confirmed its reorganization plan - and that's already four months later that the 180 days forecasted by the general rules (link, pg. 1):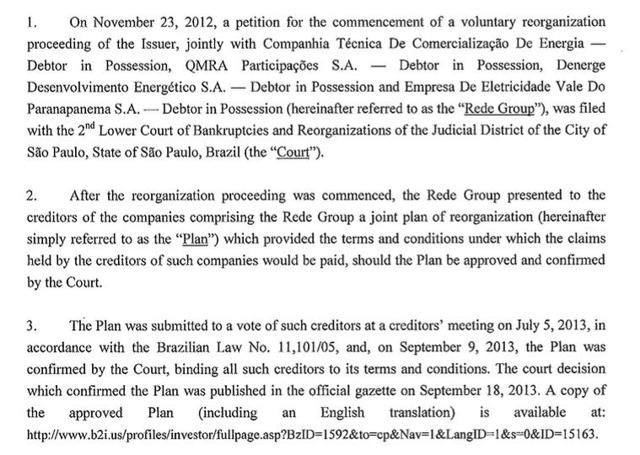 However, due to litigation arising because of the role played by the indenture trustee in this specific bankruptcy, the judge was forced to issue an order in November (one year after the start of the RJ), clarifying his previous decision (pg. 13):

One year after the start of Rede's RJ, even the presence of a final decision from the bankruptcy court superseding its own previous closing of the bankruptcy proceeding did not represent the final word on the company's restructuring.
As White & Case, also consultants to Oi, explains to the US bankruptcy court, further litigation (pg. 15) leads to different appeals to the court's decision: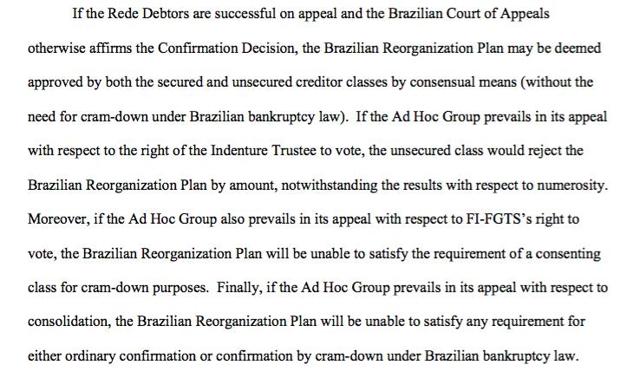 Bottom line: Don't expect an outcome by year's end. Too complex a case to call for a quick court resolution
Oi's debt issues remain extremely challenging due to its complexity and different debt holders have shown completely different expectations when it comes to a proposed recovery.
It is recent news that Aurelius has tried to "foil a fresh $19 billion debt restructuring proposed by the bankrupt telecom company's biggest creditors", the Moelis group.
More recent rumors report that Aurelius could even be buying Oi's shares to get the privilege of sitting at the negotiating table both as a shareholder and a debt holder:
Aurelius Capital Management is scooping up shares of Oi SA to bolster the hedge fund's position in negotiations to restructure $19 billion of debt at the struggling Brazilian telephone company, people with knowledge of the matter said.
Rumors of a new proposal by the Moelis group, including a R$ 1 billion investment in the company, have recently started spreading.
It is quite difficult to imagine Oi's bankruptcy as a smooth sail, and we believe management is underestimating the complexity of the task.
Here is a very short list of problems that would need to be addressed and resolved during the RJ:
Litigation among creditors and with the company about debt priorities;
shareholder fights targeting a renewal of the board of directors ;
presence of shareholders and debt holders (Tanure and Aurelius) with a history of court litigation;
ANATEL, the regulatory agency, playing an active role in the bankruptcy proceeding and being a large creditor, too; and
potential interferences to the RJ from the Dutch bankruptcy court that could lead to a trustee being appointed.
Bottom line, we wouldn't bet on a resolution by year's end, and we expect that our timeline will need to be extended due to litigation and the necessity to address some of the unresolved structural problems that led to this unfortunate outcome for both Oi's shareholders and bondholders.
Disclosure: I/we have no positions in any stocks mentioned, and no plans to initiate any positions within the next 72 hours.
I wrote this article myself, and it expresses my own opinions. I am not receiving compensation for it (other than from Seeking Alpha). I have no business relationship with any company whose stock is mentioned in this article.