Nevsun Resources Stock is Soaring: Here's Why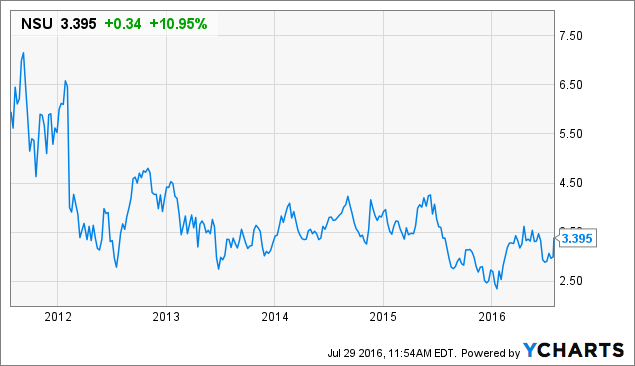 NSU data by YCharts
Nevsun Resources (NYSEMKT:NSU) stock is soaring Friday, over 10%, following the company's latest quarterly earnings report. It was certainly a positive report, but is the 10% gain justified? I'll discuss below.
Nevsun says it produced 21.6 million pounds of copper at cash costs of just $.92 per pound sold (averaged copper price of $2.11 per pound); so far this year, production is 55.8 million pounds at $1.04 cash costs, much better than guidance.
In addition, Nevsun says it sold 30,000 gold equivalent ounces from its ore stockpiles, bringing its year-to-date sales total to 50,000 ounces.
As a result of the strong production and lowered costs, and the sale of its gold stockpile, Nevsun says it generated net income of $18 million, or $9.6 million attributable to Nevsun shareholders ($.04 per share), easily beating expectations.
The company has also declared a $.04 per share quarterly dividend, in line with previous, and shares still yield over 4.5% as of writing. This is real good news for shareholders as Nevsun remains one of the highest-yielding commodity stocks on the market, even after its latest acquisition.
Nevsun's balance sheet remains a real strength of the company. This is important because it means Nevsun can continue paying a dividend to shareholders while exploring its Bisha and Timok projects.
Nevsun says it ended the quarter with working capital of $237.9 million, including $240.3 million in cash. Again, this comes after the company's $512.5 million acquisition of Reservoir Minerals (OTCPK:RVRLF), which was paid in both shares and cash. The cash balance of $240.3 million represents a $15 million increase following the Reservoir acquisition, however, so Nevsun continues to add to its cash hoard.
Make no mistake about it: this was a strong quarter for Nevsun. It's definitely good news following the acquisition of Reservoir and its increased cash offer of $75 million. I was disappointed in that increased offer as I felt Nevsun was already offering quite a fair price for Reservoir.
However, while the increased cash offer certainly stung a bit, you cannot ignore the massive upside in Nevsun shares here following this earnings report. The acquisition of Reservoir and its interest in the Timok project gives the company the potential to grow its copper production by 300% within five years, according to its corporate presentation. Turning into a multi-mine copper/gold/zinc producer should result in a share price re-rating and a higher valuation, and should allow the company not only to maintain its $.16 annual dividend, but grow it over time.
This earnings report was huge, actually, because steady production and cash flow from Bisha ensures that Nevsun will have the funds to continue exploring Timok and get this asset into production in just a few years. Higher zinc prices (currently around $1 per pound, up from $.70 in January) is also great news for the company as the zinc plant was just completed in June and zinc production has just begun. Tight zinc supply is a sign that prices could be headed higher, too.
Meanwhile, Bisha still has a ton of exploration upside as well, as the company just increased its exploration license to 814 square kilometers, up from 41 kilometers, a 1,891% increase in land. The Bisha district remains mostly underexplored and there are a few high-priority targets Nevsun will target shortly.
As a reminder, the Bisha district currently contains 40 million tons of measured and indicated resources, but the company feels the deposit has the potential to be just as large as similar volcanogenic massive sulfide (VMS) projects, Noranda and Flin Flon, which contains 200 million tons and 180 million tons of resources, respectively. The company has a $11 million drilling budget at Bisha and shareholders should keep a close eye on future drill results.
As for valuation, Nevsun is still pretty cheap as it trades at an EV/EBITDA of just 3.22. If the company earns $.16 in EPS this year, the stock carries a 2016 P/E of 20.93 based on its current share price, but earnings could be even better in the next few quarters with rising zinc and copper prices.
In conclusion, even though I'm still a bit upset over the increased cash offer for Reservoir, Nevsun just killed it this past quarter and the stock looks like a strong buy here based on its valuation, dividend yield, future growth potential and exploration upside.
Disclosure: I am/we are long NSU.
I wrote this article myself, and it expresses my own opinions. I am not receiving compensation for it (other than from Seeking Alpha). I have no business relationship with any company whose stock is mentioned in this article.