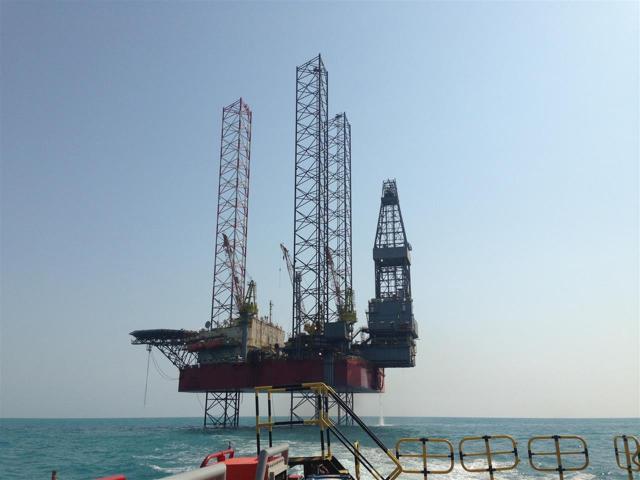 AOD I. Source: company's website.
Seadrill (NYSE:SDRL) has just announced three-year contract extensions for jackups AOD I and AOD II. The company stated that extensions come in a direct continuation of current contracts. The estimated backlog is $225 million.
The dayrate on these new contracts is roughly $103,000. This is lower than the previous dayrate of $125,000, so dayrate conditions continue to deteriorate. I believe that the news is characteristic of the new trend -- operators slowly start locking in low dayrates for the coming years. In this exact case, I had no doubts that Saudi Aramco will continue its work with Seadrill. The third jackup, AOD III, is working for Seadrill until October, and I expect that this contract will be extended as well.
The new Seadrill contract highlights the environment in which drillers will have to operate in the coming years. Fierce competition for jobs produces rock-bottom dayrates, and drillers don't have any pricing power. A perfect example of this phenomenon is the recent contract of Atwood Oceanics (NYSE:ATW), which agreed to a day rate of $190,000 for a rig that previously worked for $450,000 per day. It is already clear that any pickup in contract activity will not be followed by a respective pickup in dayrates.
Drillers will likely be forced to agree to multi-year contracts at low dayrates, so dayrates could easily stay low up until the next decade. Such a statement looks brutal, but, in my view, the new information that we get support this conclusion.
Now, let's get back from the big picture to Seadrill itself. The company's stock had a strong support around $3 in the last few weeks, and even the fast drop of oil prices did not put too much pressure on its shares. However, I don't think that this will last long. This three-year contract extension is hardly an upside catalyst for Seadrill.
The first reason for this is that it comes from Saudi Aramco -- a company that is expected to produce as much oil as it can as OPEC failed to coordinate any response to the oil price crisis. I would like to add here that I don't believe that OPEC will regain its strength in the coming years. The second reason why I don't think that contract extensions are upside catalysts are dayrates. Seadrill just locked in low dayrates for another three years. I don't think that shareholders should blame management for this -- there was probably no choice.
Anyway, I think that Seadrill's shares will catch up with oil prices soon. The new downside in oil is a big negative for the upcoming Seadrill restructuring. Oil failed to hang around $50, and, if the current trend is exacerbated by hedge funds trying to save their performance in the difficult market, we could easily see a double-bottom situation for oil.
This does not bode well for Seadrill's position in negotiations. The management realizes the challenges of the market hence the duration of the current contract and the recent dividend cut by Seadrill Partners (NYSE:SDLP), but it cannot change the incoming variables. Those include big debt and lack of new jobs.
I expect a significant downside move after Seadrill shares go past the $3 support, based on both technical factors as well as fundamental problems. I continue to expect that the ultimate result of the restructuring process won't be pleasant to Seadrill's ordinary shareholders. In my view, the current environment, which includes the significant devaluation of Seadrill Partners' shares and the downside in oil prices, present a good opportunity for a short play in Seadrill shares.
Disclosure: I/we have no positions in any stocks mentioned, but may initiate a short position in SDRL over the next 72 hours.
I wrote this article myself, and it expresses my own opinions. I am not receiving compensation for it (other than from Seeking Alpha). I have no business relationship with any company whose stock is mentioned in this article.