=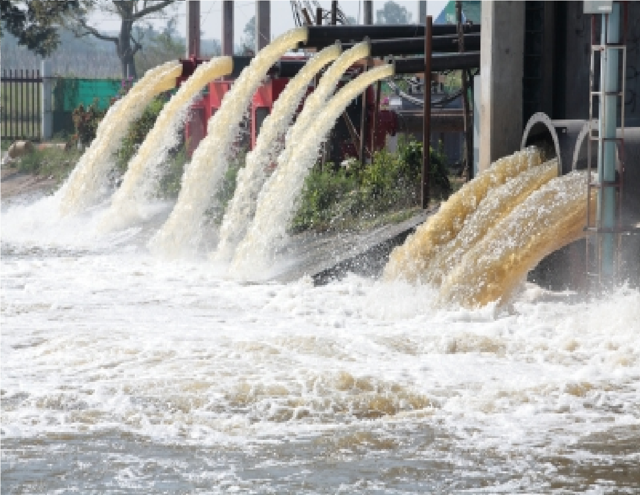 Source
Growing earnings has not been a problem for A.O. Smith (NYSE:AOS), a water and air technology company. From 2010 to 2015, earnings grew from $0.85 to $3.16. After A.O. Smith published its first quarter results, its compound annual growth rate based on full-year guidance was 26.7%.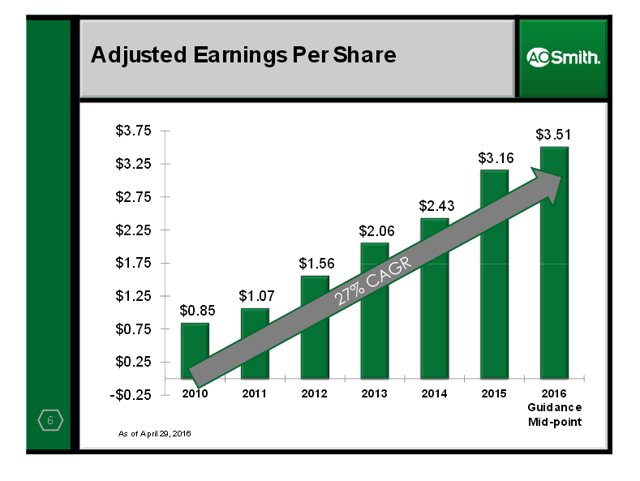 Source: Analyst presentation
The data was only valid for a quarter. It's not unusual for A.O. Smith to refine its full-year guidance every quarter. In 2015, the company updated (raised) guidance with each quarter's reporting and still managed to exceed the high end of its final range. The original guidance for 2016 was a range of $3.40 to $3.55. The first quarter update improved the low end of the range to $3.47 to $3.55 changing the midpoint to $3.51.
When the company reported second quarter results on July 26th, it updated its full-year EPS guidance to a range of $3.58 to $3.64. The midpoint improved a full dime to $3.61. With this increase, the company's CAGR also improved to 27.3%.
Revenue improved in the quarter due to higher product prices in the U.S. and Canada and higher sales in China. The cost of goods sold decreased due to lower material costs. The company reiterated its annual 8% organic growth potential for revenue.
China is expected to contribute 4.5% of the 8% target. In the past ten years, sales in China have grown at a CAGR of 25%. At year-end 2015, the country represented 31% of A.O. Smith's total revenue.
Water heater sales in China are forecast to grow at a 7% to 8% clip. In 2009, A.O. Smith expanded into water treatment. The water treatment business is expected to grow at 30% for the next several years. The company introduced air purification in 2015. The line should grow by as much as 40% per year after doubling in 2016.
In China, sales of water treatment products are growing faster on the commercial side than on the consumer side. The commercial water treatment model is typically a five-year lease which provides annuity revenue rather than a sale. Few Chinese households have water treatment products. The penetration of that line on the consumer side is a single-digit percentage.
Though water treatment offers significant upside potential in China, it is not solely a China story:
So, last year, in our branded business we sold about $110 million. We would expect to be close to 30%, although again, you have currency playing issues there. But, we are certainly expecting to be in that $135 million to $140 million range, I would say, for our business for water treatment. And that's after a fair amount of currency drag. You throw in, in Vietnam, we'll sell $3 million or so this year. India - we'll probably sell about $3 million this year. And Turkey we'll sell $5 million to $6 million this year. And then, our base legacy business that we bought will sell about $15 million.
The total projection for the water treatment product line in 2016 (based on midpoints where ranges were stated) tallies to $164 million. Using a 30% growth projection compared to the overall projected organic growth rate of 8% reflects the water treatment line should be a 10% contributor to total revenue before 2020.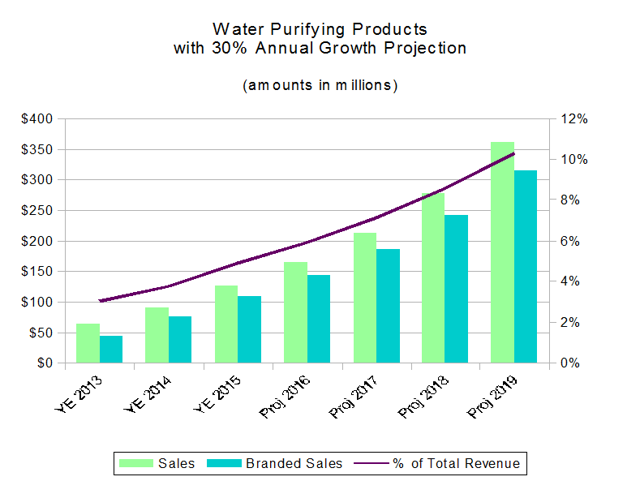 Source: Author estimates from company information
By 2020, the newer business lines, water treatment and air purification, should also be garnering higher margins. Negative currency impacts may still linger. But, there are a host of costs that should begin to fall away:
Expansion into smaller cities, referred to as Tier 2 and Tier 3, in China;
Expansion of the e-commerce platform;
Expansion and advertising of water treatment products for commercial business; and
Expansion and advertising of air purification products.
Longer-term, you should see an increasing leverage, an increasing profitability coming out of the China business as we continue to grow.
As well, performance in India should begin to improve and boost margins.
Considering the probable contribution of the water treatment line, it is reasonable to contemplate a significant acquisition. A.O. Smith has at least $1 billion in available capacity to devote to acquisitions:
We will look to continue to grow our core residential and commercial water heating, boiler and water treatment businesses throughout the world. We will also continue to look for opportunities to add to our existing operations in the high growth regions of China and India demonstrated by our introduction of air purification products in China in 2015.
Consider, for example, the Global Water Intelligence winner of the Breakthrough Water Technology Company of the Year award - Desalitech. Desalitech developed a closed-circuit reverse osmosis system for commercial application. In 2015, the company inked deals with Fortune 500 customers such as Coca-Cola (NYSE:KO), Southern California Edison and Novelis.
Desalitech describes its ReFlex system:
Desalitech's Reverse Osmosis systems are rapidly replacing traditional water purification methods, including reverse osmosis. Fortune 500 companies around the world rely on these robust and adaptive systems to streamline their operations while saving significant costs through maximum water recovery rates, lower energy consumption and lower maintenance requirements.
A.O. Smith's water treatment strategy aligns well.
The company continues to invest in its water treatment development labs in China, India, and the United States. In addition to concentrating on innovations in waste water recovery, extending membrane life, and component design and development, the team is expanding its efforts to include sensor technologies. To support this expansion, the company has brought on microbiologists and engineers with experience in materials science and sensors. With extensive engineering resources, plants that produce world class quality products, and strong distribution networks, the company has the infrastructure in place for further expansion. There also could be growing potential in "mature" economies where the need for reverse osmosis water purification increases as infrastructure deterioration continues.
Like A.O. Smith, Desalitech is taking advantage of commercial opportunities in China. In February, 2016, Desalitech won a deal to supply a ReFlex water treatment system to Novelis' new production facility in Changzhou.
China has set a high bar for water sustainability, regulating that new industrial facilities cannot discharge wastewater and must maintain ZLD (Zero Liquid Deal) operation.
For quite some time, A.O. Smith saw little opportunity on the acquisition front. But, in the last quarter's earnings call, it hinted things were picking up. Desalitech may well not be an acquisition or merger candidate. But, it still symbolizes there are exciting possibilities in the industry.
Disclosure: I am/we are long AOS.
I wrote this article myself, and it expresses my own opinions. I am not receiving compensation for it (other than from Seeking Alpha). I have no business relationship with any company whose stock is mentioned in this article.
Additional disclosure: I belong to an investment club that owns shares in AOS.