Buffalo Wild Wings (NASDAQ:BWLD) - Non-confrontational Campaign By Marcato Capital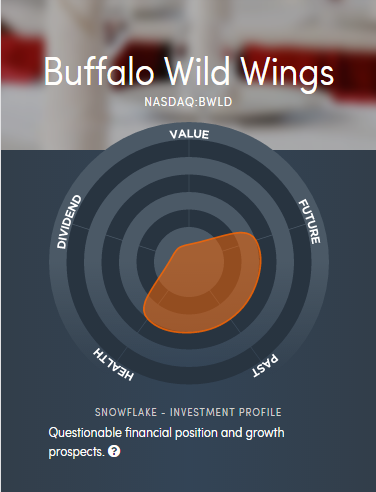 "A range of cold beer, hand-spun wings, and wall-to-wall live sports" is what this casual dining restaurant chain all about and most importantly they are in demand. Earlier this week, BWLD reported a 15% year-over-year growth for the quarter ended 30 June. While sales from existing company owned and franchise stores declined nearly 2%, revenue and earnings jumped 15% and 10%, respectively, driven by new store openings and acquisitions.
Prior to the earnings announcement, the hedge fund Marcato Capital, also the lead activist investor in BWLD, revealed 5.2% stake, announcing a campaign with an objective of engaging management and discussing general issues with board which can improve shareholder returns. Mick McGuire, former partner at Bill Ackman's Pershing Square, runs the hedge fund with nearly $3.5 billion under management.
The investors' sentiment has been positive for BWLD over the past two weeks: shares are up more than 20%. But the company still trades below its glory days of over $200 share price during late-2015. While the company is focused on controlling costs, Mr McGuire may turn out to be a useful advisor in achieving those goals. Currently, we are seeing it fairly priced with a free-cash-flow-value of $160; however, cost reductions and expansion can definitely improve the intrinsic value going forward.
Alliance Data Systems (NYSE:ADS) - Non-confrontational Campaign And Value-driven Investment By ValueAct Capital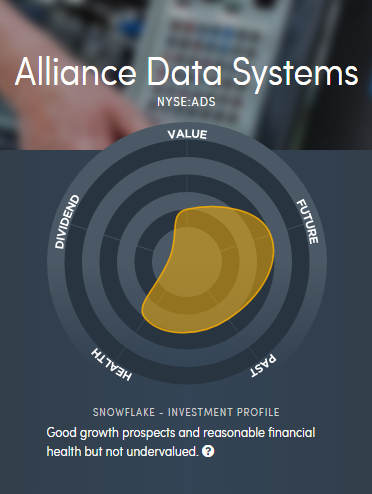 Next in line is big-shot activist hedge fund ValueAct Capital, who, earlier this month, reported a 6.8% stake in Alliance Data Systems-a Texas-headquartered loyalty and marketing campaigns solutions provider. ValueAct has played a key role in business realignment of the juggernauts like Microsoft and Rolls Royce. And most of its campaigns paid off well, as evidenced from the hedge-fund's nearly 75% win-rate.
While it cited primary reason behind the investment to be market-underpricing of the stock, ValueAct would definitely not refrain from influencing the management towards improving returns for shareholders. The stock is up over 10% since the announcement of hedge-fund's stake and nearly 20% - aided by the last week's revenue and earnings beat for the second quarter - from the hedge-fund's average purchase price in the 60-days prior to revealing its stake through the mandatory 13D SEC-filing.
Stewart Information Services (NYSE:STC) - Threat To Proxy Fight By Foundation Asset Management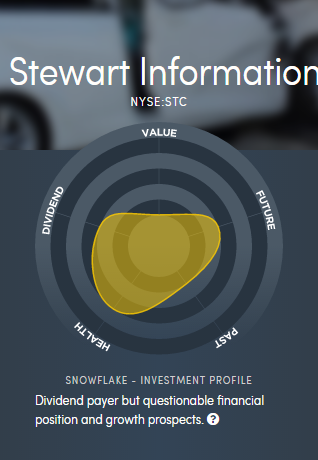 The last but also the most interesting among the lot is the New York-based Foundation Asset Management's latest threat to the proxy fight for a boardroom shake-up after the failure of its non-confrontational campaign, launched last month, to pressure STC to sell itself. Texas-headquartered STC is one of the leading real-estate title insurers in the US, it's a legacy business of the Morris family and is currently run by Matt Morris, great grandson of one of the founders: W.C. Morris.
The activist investor, with a 5.6% stake in the company, has been instrumental in the company's recent decision to get rid of dual-class share structure which has resulted in Morris family losing superior voting rights in lieu of $14 million cash. This has opened the doors for a boardroom shakeup if Foundation Asset succeeds in its ongoing campaign, which would require shareholders support.
Under pressure from Foundation and other activists, namely Bulldog and Engine Capital, STC have taken several cost reduction measures, which reflected in the second quarter earnings beat, reported last week. However, revenues fell short of the market expectations by nearly $80 million. Earlier, activists believed selling the company could fetch up to 50% premium. But, with shares up more than 25% over the last three months, shareholders might decide to stick with the current management instead.
Source: S&P Capital IQ, Simplywall.st
Disclosure: I/we have no positions in any stocks mentioned, and no plans to initiate any positions within the next 72 hours.
I wrote this article myself, and it expresses my own opinions. I am not receiving compensation for it. I have no business relationship with any company whose stock is mentioned in this article.