The GoPro growth story has been one reviewed thoroughly amongst Wall Street analysts and retail investors, having initially brought much enthusiasm in its rise, and recently much more pessimism in its crash. GoPro IPO-ed at the price of $24 in June 26, 2014, and peaked at $86 in October of the same year - astoundingly, the company's market value ballooned 391% in just 3 months; a classic example of Wall Street hype where growth expectations have far exceeded any reasonable premise. Labeled a "one trick pony," GoPro has lost much of its merit in Wall Street as its champion product (Wearable camera) matures along the cycle and incites fears of dwindling sales, largely aggravated by aggressive competition from the lower end.
GoPro has been an exploding and imploding stock since its IPO; the stock jumped 30% on its first trading day to $31 and peaked at $86 (94 on trading day), before collapsing down to around $10 per share recently. Its stock price has been harshly penalised for a mispricing stint of the Hero 4 Session that cost the company 61M in 2015 (21M in December 2015 and 40M for price protection related charges during September-December 2015) with the issue of over-inventory carrying on into 2016, as well as an overall market correction amongst American and Chinese equity markets. Taken from Yahoo Finance, investors who aren't too familiar with the company can get a general grasp of GoPro's tumultuous year with the figures below:
Peak: $86.97
Bottom: $8.88
Current: $11.52
50-day moving average: $11.02
200-day moving average: $11.48
52-week high: $65.49
Short float: 29.77%
An Intrinsic Valuation
Without the context of a financial forecast however, it is hard to see why this stock is undervalued; inspired from Professor Damodaran's model of GoPro, the DCF valuation was conducted on the basis of the following assumptions which can be viewed below in the valuation spreadsheet: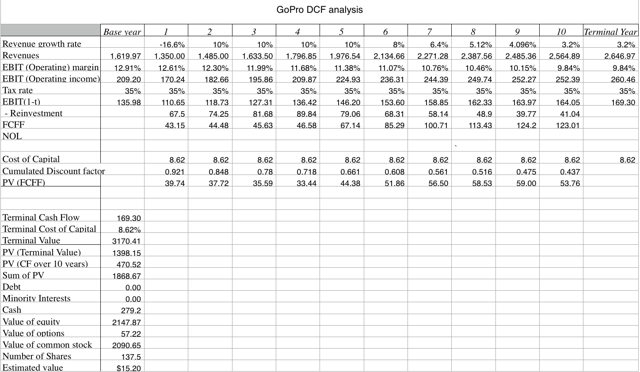 WACC/Cost of equity (since the company has near 0 debt) of 8.62%, based on the CAPM model.
Risk free rate: 1.52% (modelled after the current 10-year treasury yield)
Equity risk premium: 6.12%
Unlevered beta of 1.16
Tax rate: 35%
Revenue: Very moderate, in fact, conservative assumptions have been employed in my DCF model, where a revenue decrease of 16% has been accounted for in 2016 from the misplacing fiasco and over-inventory, with a revenue growth rate of 10% assumed for the next 5 years, that declines and terminates to 3.2% in year's 6-10. Whilst 3.2% may be slightly ambitious for an electronics company, GoPro may well have diversified more of its business to VR/Software/Media by 2020, to which 3.2% would be considered low. The rationale behind a very conservative 10% growth rate estimate is derived from researchers that postulate a 22% CAGR for the action camera industry, as well Professor Damodaran who himself assumes a 15% growth rate in his revenue estimations. For readers that are questioning why I'm adopting such a low growth rate - I'd like to remind you that the point of this article isn't so much trying to pinpoint GoPro's exact intrinsic value, but rather to argue that even in slow growth scenarios, the company is at least worth moderately more than what the market prices it to be.
Reinvestment: I have assumed that 1 dollar of reinvestment will be required to grow every 2 dollars of revenue. The basis for this assumption is taken from the industry's (consumer electronics) average sales-capital ratio which is 2.24. Given GoPro's premiere position within its niche market, i have assigned a slightly lower value of 2 dollars in sale for every dollar in capital for this DCF analysis.
Operating margin: 12.91% declining to 9.84% over years 1-10. Whilst the operating margin assumption does appear to start high, and resembles that of a smartphone company (typically earning 12-15% margins), GoPro is the premier action camera maker and demands premium pricing for its products. As time progresses, however, the operating margin drops to 9.84%, closer to the industry standard (Consumer electronics) of 9%. The reason for this decline is because even though GoPro demands premium pricing amongst its products, this will likely become diminished within an increasingly competitive environment in order to keep increasing its unit sales.
Value of options: Using the Black-Scholes option pricing model, Professor Damodaran assumes that the average stock price is $12.81, strike price is $12.19, with a 3.7 year expiration date, 45% standard deviation, 1.9% as the risk free rate, with 13,390 options outstanding - thereby, calculates the total value of all options outstanding to be $57.22.
Assuming these relatively conservative estimates and by benchmarking GoPro as a consumer electronics company, the DCF analysis implies a value per share of $15.20. This certainly does no justice to the potential developments into VR, media and live streaming that GoPro has planned. These developments can be reinforced by the supposed use of the Odyssey VR rigs in capturing the upcoming Democratic/Republican national conventions by large media houses (Bloomberg, Time), the increasing popularisation of Quik and Splice, as well as the Hero 4 Silver's 7th consecutive "best selling" status (according to NPD retail tracking service), according to 2016 Q2 earnings report.
Let's take a look at the current narratives surrounding the stock. The Bull Story:
GoPro's bull story is essentially composed of the following elements:
- GoPro's shares have dived mainly from a market-wide correction that was fuelled by the inflated Chinese equity market and fears over the interest rate hike. But like many panic driven sell-offs, an overcorrection may be due when the corrective movement was driven by strong negative sentiment (Wall street's wonder stock whose hype became its curse) more so than regressive fundamentals. Whilst the current macroeconomic outlook seems slightly disconcerting with reference to the imminent rate hike, the hike also reflects that the current economy is in a position to sustain tougher monetary policy.
- Whilst its hardware business is showing significant slowdown in growth, GoPro has been making strides to diversify into higher-margin businesses by acquiring/developing software companies in video editing and virtual reality such as Splice, Replay, Stupeflix, Vemory, Kolor and Jump - whilst the effects of such developments are subtle in the short term, they will pay off in the long term; at the same time, these apps open GoPro to a wider audience (Smartphone users) that like to edit videos via apps.
- With 280 million dollars in cash and marketable securities, 864 million dollars in assets, a total debt of 266M, its stock price cut 85% from its peak and a promising brand amongst a passionate community, GoPro has the flexibility to overcome its current headwinds and make a comeback. This is reinforced by the impending release of the Hero5, Karma Drone, Omni rig, Odyssey in 2H2016 (holiday season) that may provide the stimulus for a rebound.
The Bear Story:
GoPro's bear story is essentially composed of the following elements:
- Being the uncontested market leader (with a market share in the speculated range between 30-40%) in the action camera market from 2002 to the wake of 2013, the advent of a disruptive product or technology such as the Google Glasses or a similar product from a 'big player' (think Sony (NYSE:SNE), Microsoft (NASDAQ:MSFT), Apple (NASDAQ:AAPL)), which has yet to reach the broad consumer market - could wipe out the bulk of GoPro's market capture immediately for being a "one-product wonder."
- Whilst sales have rocketed since 2011 - with action cameras trending in a society that increasingly idolises fitness, adventure and documenting these experiences - GoPro's status as the market leader becomes increasingly contested by lower-cost alternatives from established industry players (think Sony, Xiaomi, Polaroid, HTC), upstarts (Garmin, DBPower, SJCAM, Lightdow), and potential new entrants, contributing to the increasing commoditisation of action cameras. This polarises prices, strains gross margins and places extreme pressure on GoPro to continue marketing itself as a premium brand.
- GoPro bears are skeptical regarding growth prospects in the action camera industry, and in particular, GoPro's role in it. Whilst speculations from researchers forecast a worldwide CAGR of 22% from 2016-2020, pundits question whether or not this market is 'actionable' for a company whose product's main selling features are its premium quality, status and durability. If the market does assume these growth rates, can GoPro capitalise on them?
- The macroeconomic outlook also presents several key risks - especially when we assume that the U.S. economy is highly cyclical and the last recession occurred in 2009. China's growth is slowing, Europe is in shambles, tensions within the Middle East and Eastern Europe are provoking ultra right-wing politics. Whether or not any of these macro developments is relevant to a small camera manufacturing company beats me, but they do contribute to overall sentiment within the bear narrative.
With such a clear discrepancy in the bull and bear narrative, how can we reconcile the two scenarios to reach a balanced conclusion? First and foremost, we must examine and evaluate:
- The sustainability of GoPro's competitive advantage - leading quality (extreme durability) products, loyal customers and brand assurance that drive up customer's willingness to pay.
- The legitimacy of GoPro's developments into the VR industry and its ability to capitalise on that.
- GoPro's ability to at least be able to grow its sales via premium action cameras and drone products against competitors that have cheaper offerings (DJI, Xiaomi, Garmin, etc.)
Takeaway
What made me interested in a company like GoPro was the soft power it invoked through the media and the passion of its users who document fun, exciting times through its camera. By far, GoPro is one of the rare companies that is able to create an athletic community that is so passionate about what they do, they post videos and inspire others to do the same with their lives - much like Nike (NYSE:NKE), GoPro's emotional branding carries with it a powerful force of inspiration and athletic identity. GoPro's ability to capitalise on its essence of being a voice of passion will truly dictate whether or not it can develop beyond being a mere hardware company. Because GoPro commands such powerful branding, I thought it partially exhibited strong taste-based loyalty that forms a part of its sustainable competitive advantage.
Many pundits have expressed skepticism regarding GoPro's management ability, citing Nick Woodman as a founder who was born with a silver spoon in his mouth - lacking in dedication to his company after buying a billion dollar yacht, a far cry from Steve Jobs. But let's not forget that out of all people, Woodman would be the most motivated person to steer the company in the right direction, holding a 26% equity stake within the company. From a personal motivation point of view, bears that provide ad hominem criticism should be taken with a grain of salt; this is particularly relevant for a stock whose rise and crash have drawn much public hatred. Management's commitment can be further evidenced by the recent influx in talent, with Daniel Coster (former Apple executive and veteran designer) heading the design team as well as Lauren Zalaznick (former NBC executive) joining the board, not to mention Jack Lazar, former GoPro CFO, leaving the team.
Another issue I would like to elaborate on is investor's concern over the recent loss-making quarters. More specifically, 2015Q4 and 2016Q1, 2016Q2 and most likely 2016Q3. I share the same concerns over whether or not GoPro will actually be able to break even based entirely on its fourth quarter this year, despite guidance provided by the recent quarterly report; if sustained losses do occur which drains the company's cash float - this will be terrible news for GoPro's shareholders. If GoPro is actually able to hit the upper bound of its $1.35-1.5Bn sales guidance this year, then the company will most likely return to profitability assuming 40% gross margins (40% would be a rational assumption if we consult the charts below; 2015Q4 was an exception with the pricing error, and 2016Q2 reaffirms a gross margin of around 40%) and operating expenses approximating $150 million in the fourth quarter (which has been in last year's fourth quarter and the year before that). If however, the company scores on the lower bound of $1.35Bn, then this year will be a loss making year that depletes GoPro's cash balance, which will put the company in a critical and risky position to start 2017.
GoPro is at a critical year where tremendous efforts have been undergone to diversify its business away from being a consumer electronics business to a technology and media business. While key strategic acquisitions have been made in terms of companies and human talent, it is hard to gauge whether or not GoPro can actually harvest these investments and reignite popular faith in its brand like before.
Despite the fact that these concerns remain, my position in this stock is a buy, simply because the market has been overly harsh on the stock - GoPro is still a great company, and its brand holds much promise. A DCF analysis using conservative figures with the assumption that GoPro is majorly a consumer electronics business is an understatement for its potential in VR, social media and sport streaming. Yet, its intrinsic value appears to float around a fair estimate of around $15 per share, valued on basic assumptions in it's core business of action cameras. With the advent of drones, VR rigs, and also the new Hero 5 model, they should serve at the very least, the means for a catalyst.
Without a doubt, I am most likely wildly off the course here given my inexperience in investing and business - but even so, the current price of $12.5 (after earnings report release) per share provides major room for positive adjustment, where most negative sentiment surrounding the company has been thoroughly priced in. Summarily, if GoPro continues its course of business with moderate performance in action cameras and drones, there should be at least around 25% upside to the stock. If it does well and continues to out-deliver, its upside potential knows no bounds. And in the off chance it fails to make the cut, I would not be surprised if the price drops to $5 per share.
Disclosure: I am/we are long GPRO.
I wrote this article myself, and it expresses my own opinions. I am not receiving compensation for it. I have no business relationship with any company whose stock is mentioned in this article.
Additional disclosure: Just a novice investor's analysis.