EU Referendum Results adversely affected the share price of all the big UK banks due to a deterioration of forecasts concerning their profits.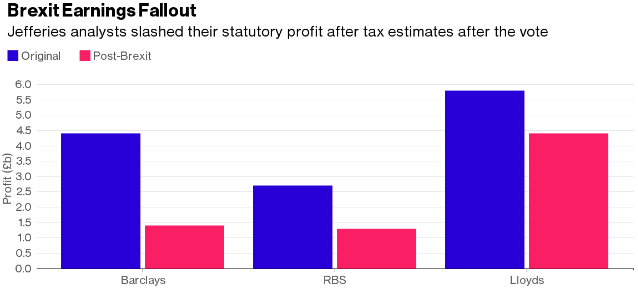 Main reasons for the formation of negative predictions have become concerns that banks will lose "passporting" rights to operate in the EU, a slowdown in the UK real estate market, as well as a probability increase of a further drop in interest rates. It is remarkable that Lloyds Banking Group's (NYSE:LYG) losses will be lower than its competitors in case of losing passporting rights, because is focused on the UK (NYSEARCA:EWU) customers, so there is no need for it to move the business in the EU to avoid a significant decline in profits.
Despite the fact that Lloyds has about 46% of its tangible net asset values in UK real estate, I think a fall in housing prices has exceptionally speculative nature and are not capable of causing much harm to LYG.
I believe that UK property prices will rise because it has a serious background. Economic activity in the UK construction industry greatly declined over the first half of 2016, but a value of such indicators as the unemployment rate and households debt to GDP are at pre-crisis levels.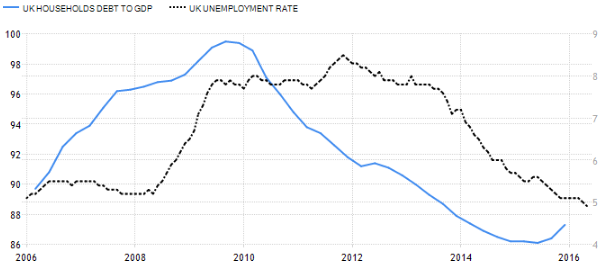 Source: TradingEconomics.
In aggregate, these facts indicate a presence of the favorable environment for the growth of demand for UK real estate. It should also be noted that the number of requests for real estate from foreign investors increased after the referendum.
Moreover, I think that one should not expect the decrease in interest rates because the consumer demand and lending do not falls. The biggest problem, in my opinion, is a fall of economic activity in the service sector, which constitutes the bulk of the UK's GDP. However, to sustain the business in the service sector, with the unchanging domestic consumption, fiscal incentives are likely to be more appropriate, as well as a package of non-standard monetary measures. In this regard, I think that interest rates will remain unchanged until the completion of the Brexit.
LYG decision to reduce staff by another 3000 will allow cutting in addition about 750 million pounds of costs. This estimate is based on a fact that the staff reduction by 2% (1,500) in 2015, led to the saving of 373 million pounds. The bank also announced a cut of its non-branch real estate portfolio by 30%. Thus, it will reduce its annual expenses by about 1,8 billion pounds until the end of 2017.
I believe that current concerns about conditions for the banking business in the UK are short-term due to their groundlessness and a speculative nature of market movements after Brexit vote. Therefore, considering a rise in dividend payments, the above cost cuts measures will allow achieving the target of a cost-to-income ratio of 45% (currently 47.8%) in 2018 rather than in 2019 as planned.
Conclusion
Hence, I think the growth of UK real estate prices and the lack of interest rates cuts in conjunction with cost cuts will significantly increase values of Lloyds's profitability indicators until 2019.
Consequently, I think that LYG is perfect for long-term investments.
Disclosure: I/we have no positions in any stocks mentioned, but may initiate a long position in LYG over the next 72 hours.
I wrote this article myself, and it expresses my own opinions. I am not receiving compensation for it (other than from Seeking Alpha). I have no business relationship with any company whose stock is mentioned in this article.