My high-yield holdings are yielding over 10% on cost and are mostly in corporate bonds, BDCs, REITs, and equities. They're also up 10% from when I purchased beginning in February this year. This is all good news, but I still have cash on hand and want to buy more high-yield assets.
I'm not selling anything I currently have, but I don't want to buy more, either. REITs are on a tear, BDCs are too volatile for me to allocate more (and the best are trading at unusually high premiums), and equities will probably become better value by the end of the year when the market panics about another macro event or another.
My favorite asset class - corporate bonds - are particularly unattractive right now, as the BofA Merrill Lynch US High Yield Option Adjusted Spread demonstrates: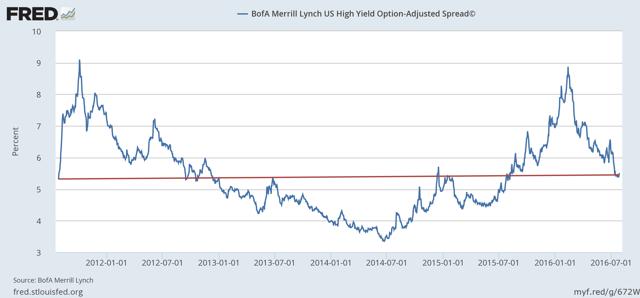 High yield isn't overbought quite yet, as we're just approaching levels we saw 5 years ago and the spread isn't nearly as low as it was over the last few years, when the corporate bond market got very weak. So it isn't time to sell, but it isn't really time to buy either.
So where can I go?
The Argument for Municipal Bonds
Tax-free municipal bonds have been an attractive option for retirees for decades thanks to the way the IRS treats them and their extremely low default rate. Far less than 1% of munis default, making them extremely safe despite their higher yields relative to U.S. Treasuries. But their yields remain unusually high despite their low risk. There are several theories to why this is the case, but in my opinion, it is largely because of the unsophisticated and risk-averse nature of municipal bonds' retail investor base.
High-profile defaults and debt restructurings like the recent Puerto Rico fiasco push a lot of investors out of the municipal bond market. Sensational news stories about weak revenues, high liabilities, and other financial problems at municipalities nationwide also drive a lot of cash out of the municipal bond market.
Still, in good times and bad, munis have had one of the lowest credit risks of any asset class. As Moody's has shown, municipal bond default rates have been 0.015%: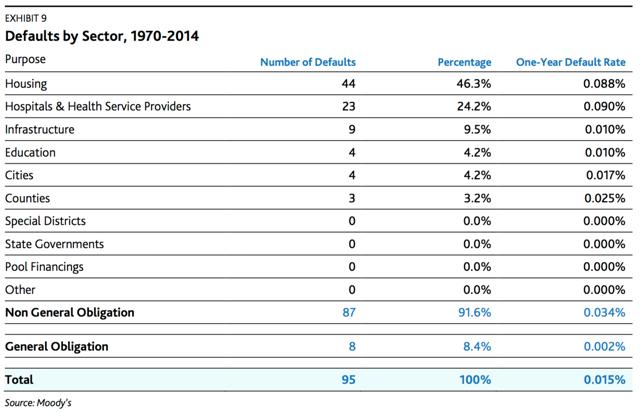 Admittedly, that's much higher than your chance of getting struck by lightning, but in the financial world, a 0.015% chance of default is microscopic, yet a municipal portfolio can get you a yield over three times the yield of long-term U.S. Treasuries.
Additionally, when you consider the tax-exempt status of muni bonds, they become even more attractive. Depending on your tax bracket, tax-free munis can easily earn you yields on par with junk bonds, where default rates are over 100x higher. So why not buy some muni bonds now?
The Argument Against Munis
One problem with municipals right now is that they've gone up in cost. The iShares S&P National AMT-Free Municipal Bond ETF (NYSEARCA:MUB) is up 2.5% year-to-date: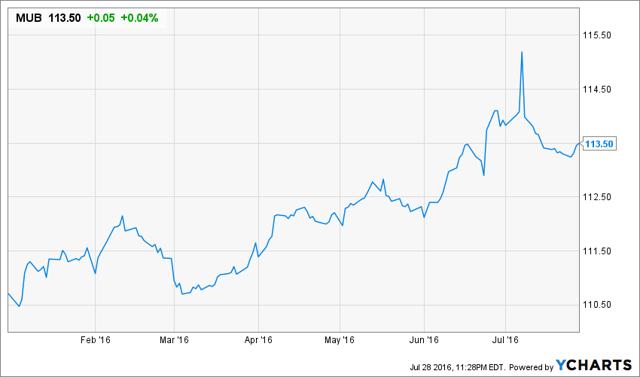 Meanwhile, the muni funds I am about to recommend have already gone up significantly more (see next section). Municipal bonds have been driven up as the market returned to them, realizing they were oversold in the various panics of 2013, 2014, and 2015. Defaults aren't spiking, some municipalities are seeing sharply rising revenue bases, and the risk of rising interest rates from the Fed (a relatively minor problem for munis compared to corporates) is less immediate than it seemed in the past. All of this has helped municipal bonds and funds holding them rise in 2016.
That means it isn't the perfect time to buy munis, but it's still a good time to buy them, especially in a well-managed municipal bond fund. Here's why.
Growing NAVs, dividend coverage, and cheap leverage
I have created a portfolio of three municipal bond funds with the following characteristics:
1. Growing NAV over the lifetime of the fund
2. Trading at a discount to NAV
3. Historically strong management, avoiding yield traps like Puerto Rico's bonds Yields over 5%
Here is the portfolio, with incomes on a hypothetical $100,000 investment:
| | | | | | |
| --- | --- | --- | --- | --- | --- |
| 100000 | Allocation | Dividend Income (yearly) | Dividend income (quarterly) | Dividend income (monthly) | Discount/Premium |
| NVG | $33,333.00 | $1,866.65 | $466.66 | $155.55 | -6% |
| VKQ | $33,333.00 | $1,933.31 | $483.33 | $161.11 | -2.8% |
| NPI | $33,333.00 | $1,739.98 | $435.00 | $145.00 | -6.2% |
| TOTAL | $99,999.00 | $5,539.94 | $1,384.99 | $461.66 | |
Nuveen Dividend Advantage Municipal Income Fund (NYSEMKT:NVG) yields 5.6% and trades at a 6% premium, while NAV has grown by about 10% in the past year. The fund first impressed me by its avoidance of Puerto Rico a couple of years ago, when the risks were increasingly noticeable but still not at a tipping point. Similarly, Nuveen's Premium Income Municipal Bond Fund (NYSE:NPI) has a 6.2% discount, a 5.2% yield, and has grown NAV over 10% in the last year, and has also avoided Puerto Rico.
My third pick, Invesco Municipal Trust (NYSE:VKQ), has a smaller discount, at just 2.8%, but a higher yield at 5.8%. While I am concerned that the fund has not grown NAV since inception and a 5% growth to NAV over the past year underperforms the Nuveen funds, it is still growing and distributions remain covered by NII. Additionally, the fund's holdings are of a high credit quality, convincing me that the fund's past NAV declines are unlikely to happen in the near term: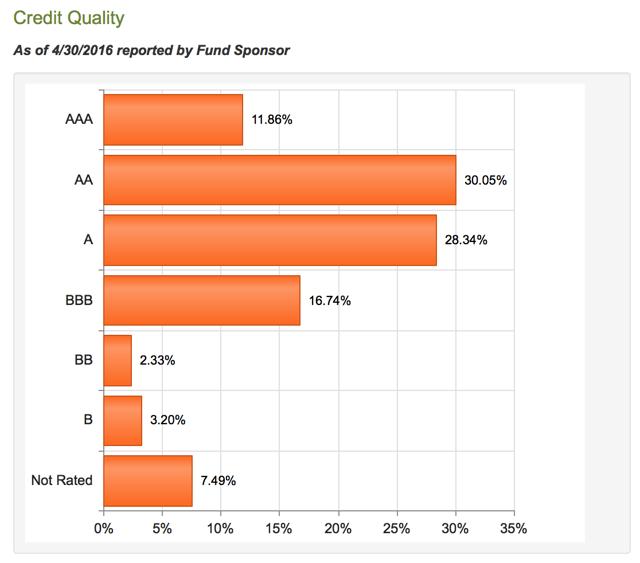 Source: CEFconnect.com
The credit profile of NVG and NPI are similar:
NVG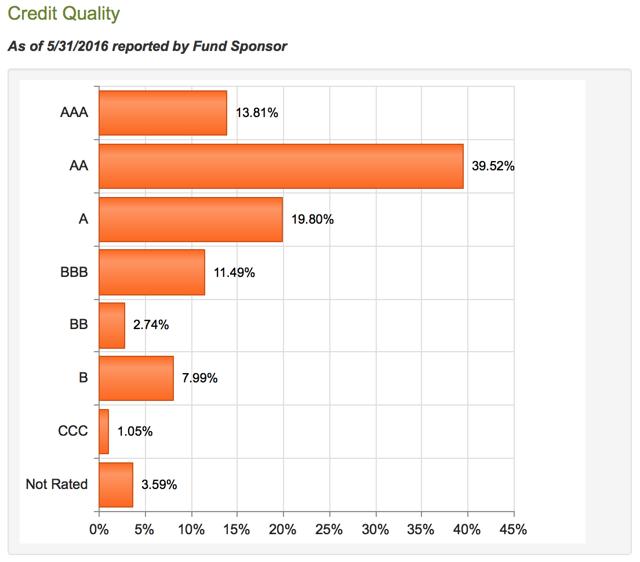 Source: CEFconnect.com
NPI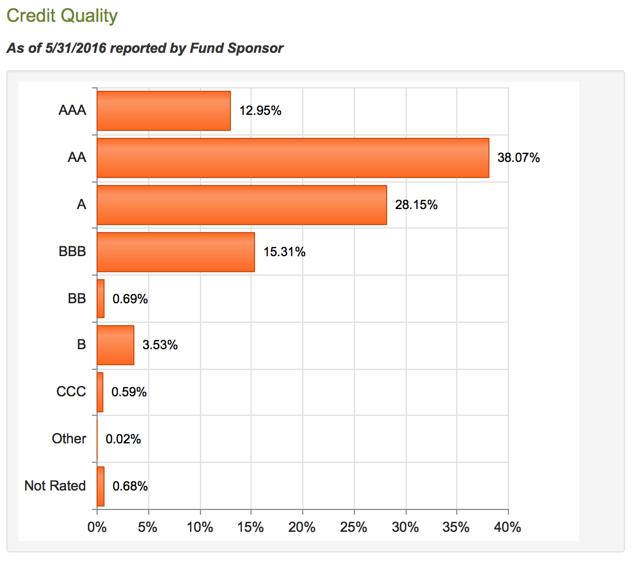 Source: CEFconnect.com
The most significant differences to see here are that VKQ has avoided CCC-rated municipals despite its higher dividend, and overall CCC exposure across the portfolio of these three funds is less than 1%. NVG's high allocation to B-rated and unrated municipals is why I won't throw all of my money in that fund, just as VKQ's weak NAV growth makes me hesitate to put all my money there.
Similarly, NPI's lower dividend yield is what drives me to diversify a bit away from that fund, although from a risk standpoint, it is clearly the safest and the most attractive at its current price point. If an investor is willing to sacrifice a small bit of yield and just wants to buy one municipal bond CEF, I would recommend this one.
Conclusion
Municipal bonds are an attractive buy right now despite their price appreciation in 2016. The tax-free income, high yield nature, and low default rates of munis are all reasons to have conviction behind buying munis right now. While the ETFs tracking this market offer low yields, and buying individual issues can be risky, a diversified leveraged CEF can offer investors a higher yield with low risks, as the growing NAV of these CEFs demonstrates.
I'm not putting all my money in muni bond CEFs, but they are one of two asset classes I would buy right now, as the broader stock market continues to make records and get more expensive.
Disclosure: I/we have no positions in any stocks mentioned, and no plans to initiate any positions within the next 72 hours.
I wrote this article myself, and it expresses my own opinions. I am not receiving compensation for it (other than from Seeking Alpha). I have no business relationship with any company whose stock is mentioned in this article.