On Friday morning Chevron (NYSE:CVX) reported second quarter and H1 results that widely missed estimates for the bottom line, despite beating revenue estimates. It's not easy to find anything good in the second quarter's numbers.
Let's first start with production numbers: Liquids production dropped by 33,000 barrels a day, which means a 2% decline yoy. Even worse, natural gas production dropped by 213 million cubic feet per day, a 4% decline yoy -- despite Chevron's very high capital expenditures over the last years and the promised production growth Chevron's total oil-equivalent production was down three percent year on year to 2.528 million barrels a day. The six month average also is lower than the H1 number from 2015, so the second quarter was not an outlier.
In combination with lower average realized prices this lead to a huge revenue decline on a year on year basis: Realized liquids prices dropped from $50 per barrel to $38 per barrel in the US, and from $56 per barrel to $40 per barrel ex-US. Natural gas prices were down as well, dropping 12% ex-US and 35% in the US, thus the revenue decline of 28% (to $29.3 billion) is not very surprising.
The net loss can be explained by two things: Higher upstream losses and lower downstream earnings, which seem to have surprised analysts, as they were looking for a positive bottom line.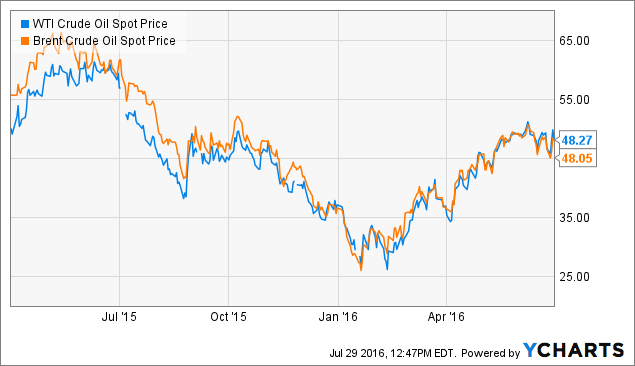 The cost cutting in the upstream sector was not significant enough to prevent huge upstream losses, as US upstream reported losses of $1.11 billion and International upstream lost $1.35 billion -- this not only represents higher losses than in last year's second quarter (which could be expected due to oil prices being lower, as seen in the above chart), but upstream losses in the most recent quarter were also higher than in the first quarter, which is surprising, as oil prices increased sequentially (as seen in the above chart).
Chevron's downstream operations which helped tremendously in last year's second quarter, were not as profitable in this year's Q2: Downstream earnings were down more than 50% from $3.0 billion to $1.3 billion. This was due to significantly lower crack spreads: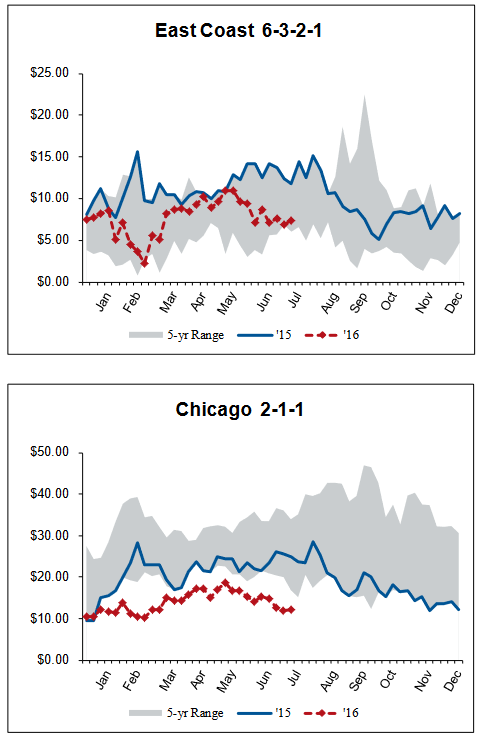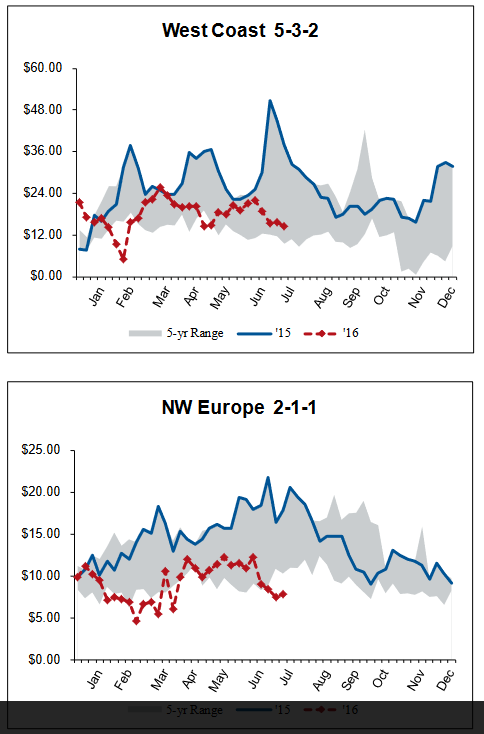 Source: Howard Weil
We can see that crack spreads were down significantly in key markets such as the US East and West Coast, Europe and Chicago, Thus it is not surprising that Chevron's downstream operations took a big hit. The crack spreads for July are not looking better, crack spreads have dropped from the April - May level, which does not bode well for Chevron's third quarter results either.
Adding it all up, Chevron's higher upstream losses and lower downstream earnings lead to a net loss of $1.5 billion, versus positive income of $600 million in last year's second quarter. It is noteworthy that Chevron's Q2 net loss was even higher than Q1's net loss, despite crude price increases between the two quarters. This reflects operational problems Chevron has, including (but not limited to) difficulties with the ramp-up of operations at Gorgon in Australia.
Chevron also continues to burn through cash at a very unpleasant pace, operating cash flows totaled just $3.7 billion in the first half of 2016, whereas capital expenditures came in at $12.0 billion -- this means Chevron burned $8.3 billion in just six months, not including the company's dividend payments yet (which consumed another $4.0 billion). The combined cash burn (free cash flow deficit + dividend payments) thus was $12.3 billion in just the first half of the current year -- equal to a very unhealthy annual burn rate of almost $25 billion. If Chevron does not right its ship and gets its operations and costs under control, the dividend might not be safe for a long time.
Takeaway
Chevron's net loss surprised analysts, which had estimated a small positive bottom line, but production declines in combination with lower oil prices and lower crack spreads were too much for Chevron to digest.
Since oil prices have started declining again, now more than 20% below the Q2 high, and crack spreads heading lower as well (due to an enormous supply glut in the gasoline market) Chevron's Q3 could be pretty bad as well. Chevron should start getting its costs down and getting its operational problems under control, since the current cash burn rate is unsustainable in the long term.
Author's note: If you enjoyed this article and would like to read more from me, you can hit the follow button at the top of the page, right next to my name and icon, to get informed about new articles.
Disclosure: I/we have no positions in any stocks mentioned, and no plans to initiate any positions within the next 72 hours.
I wrote this article myself, and it expresses my own opinions. I am not receiving compensation for it (other than from Seeking Alpha). I have no business relationship with any company whose stock is mentioned in this article.