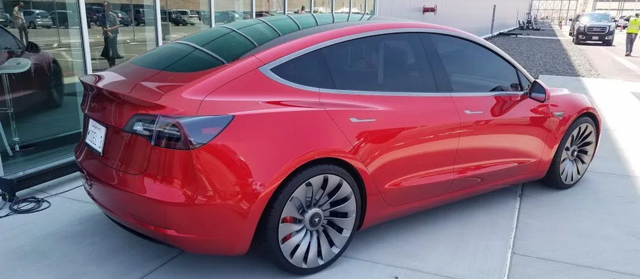 Tesla is starting to build a reputation when it comes to reservations
Important Update:
According to a poster at Electrek, the Schaubel interview used by WDR5 radio was taken from a previous NPR interview of his. This would put the interview in the past (right after the unveiling of the Model 3) and justify the 325,000 reservations.
Also according to Electrek, it reached out to a Tesla spokesman who confirmed that reservations are still 373,000.
This means that the drop to 325,000 is now far from a certainty. However, it does not fully remove doubts regarding what the real number of reservations is, now.
This is so because:
It seems highly unbelievable that such a number would remain perfectly constant at 373,000.
There hasn't actually been an official communication from Tesla on this.
The reaffirming done to the NY Times and Electrek might well have been in the form of "the official (officially sanctioned) number is still 373,000" which isn't the same as saying that it's actually still 373,000.
Unless Tesla officially discloses the actual reservation number, for me uncertainty remains. Indeed, I find it as strange that the number hasn't gone down, as it not having gone up.
In the end, the Model 3 reservation number is not important for the bearish thesis on the stock. The bearish thesis on Tesla is that it isn't profitable and burns money even before it's facing competition. So, when competition arrives, things will get worse and Tesla is likely to have failure risk. This thesis is valid with 300k Model 3 reservations as it is with 1 million, because it's very unlikely that Tesla will be able to sell the Model 3 profitably at the prices it proclaimed (starting at $35,000).
The number of Model 3 reservations is more relevant just to show how little transparency Tesla exhibits.
I felt it was important to add this new information to this article.
----------------------------------------
With Tesla (NASDAQ:TSLA), you don't have to wonder why some metrics are disclosed at one point, and not another. The motive is always the same: As soon as the metrics don't serve the official story, you stop hearing about them.
So, if you want to know what's happening, you sometimes have to think about what's missing from the news. And what has been missing from the news? It's simple: Tesla Model 3 reservations data.
The last time Tesla spoke about these was when it was raising more equity, back in May. At the time, Tesla disclosed that it had 373,000 net reservations for the Model 3, down from proclamations of "almost 400,000" the month before.
Since then, however, you haven't heard from Tesla on this data again. Obviously, with Tesla, that can only mean one thing: disclosing the present number wouldn't further the official story.
You haven't heard from Tesla, that is, until today - and in a devious way. You see, while Elon Musk seems very good at controlling the message, others aren't nearly as proficient. For instance, JB Straubel, Tesla's CTO, doesn't seem to have yet been properly indoctrinated. So today, when speaking to WDR5 radio station (a German radio station), Straubel let the bomb drop.
JB Straubel stated that "today we have over 325,000 reservations for Model 3" (minute 1:47). Of course, it's obvious that "over 325,000" is the same as "close to 325,000". And 325,000 is a lot lower than May's 373,000.
In short, Tesla saw reservations for the Model 3 drop by nearly 50,000 over a three-month period. This is clearly a very material number, especially today where Tesla is essentially trading on the Model 3 story since everything else is coming significantly below expectations. But again and as always with Tesla, what's material is in the eye of the beholder, and for TSLA, any negative development never seems to reach the "materiality" threshold.
Moreover, there's something else which is curious. One week ago, the NY Times had a story on TSLA titled "Elon Musk of Tesla Sticks to Mission Despite Setbacks". In the original text of this story, the reporter claimed Tesla had 315,000 reservations for the Model 3. This was later revised to the May number, 373,000. The article now includes this:
Correction: July 24, 2016

An earlier version of this article misstated the number of preorders Tesla has for the Model 3. It is 373,000, not 315,000.
This raises the possibility that the 315,000 number is, indeed, the present level of reservations. Why? Because it would be roughly consistent with the decline rate for the points in time where we have data. For instance:
On April 15, the number was almost 400,000. Let's say 395,000.
On May 15, the number was 373,000, so down roughly 20,000-25,000 in one month.
On June 30 (assuming Straubel was talking about quarter-end), it would then be ~330,000. 1.5 months passed from the previous reading, so this corresponds to a decline rate of 28,000/month.
On July 24, it would then be 315,000. So another 15,000 less over 24 days, or an approximate 19,000/month decline rate.
In short, all the figures seem likely to belong to the same Model 3 reservations "decline curve".
Anyway, what's important here is that Tesla has seen a very material development. Model 3 reservations have seen a material reduction, dropping by nearly 50,000 over the last three months. Tesla has not communicated this material development to the market, and while it was able to withdraw mention of it on the NY Times, no such thing can be done to a radio transmission.
As such, Tesla should inform the entire market of this development, and not just German listeners to that particular radio.
An Aside - Confusion With The Panasonic Gigafactory Investment
Today, there was talk about Panasonic (OTCPK:PCRFY) committing $1.6 billion to the Gigafactory as if it was some kind of news. It isn't, these news were out on January 7, and were just re-confirmed during today's Panasonic earnings call. Nothing new here.
Some confusion also came from a $3.9 billion Panasonic debt issue. Somehow, some Tesla fans seemed to think the $3.9 billion was mostly for Tesla. It isn't, there's no change to Panasonic's posture - Panasonic is still claiming $1.6 billion in investment over several years, even if now more front-loaded. The Gigafactory cut of that loan issue just represents "most of the strategic investments" which are to be financed by the issue, but those strategic investments are only one of several uses which the full amount will see.
Conclusion
Due to a JB Straubel interview in a German radio program, we now know Tesla's Model 3 reservations have been declining significantly.
This is a material event. An event which when properly disclosed is likely to have a negative impact on Tesla's share price. Under any circumstance, those holding or buying Tesla stock under the Model 3 reservations story should exercise caution because the numbers still being made public by TSLA (as when correcting the NYT) are very different from the actual numbers it holds.
Disclosure: I am/we are short TSLA.
I wrote this article myself, and it expresses my own opinions. I am not receiving compensation for it (other than from Seeking Alpha). I have no business relationship with any company whose stock is mentioned in this article.