Facebook May Have Reported Great Earnings, But It's Not Off the Hook
While Facebook (NASDAQ:FB) may have turned in an impressive quarterly report card, the company could be on the hook for quite a bit of dough when it comes to the Internal Revenue Service.
The IRS has been hounding Facebook for quite some time, actually. In 2013, it began looking into its finances from 2010. Although Facebook has handed over some information, the social media icon has largely dodged the IRS, failing to hand over most of the requested information. Most recently, the company skipped its seventh summons in regards to the IRS.
Its refusal to play ball, so to say, likely hasn't left a great taste in the IRS's mouth. As a result, it has slapped Facebook with a notice of deficiency of $3 billion to $5 billion, plus interest and penalties.
Likely to no one's surprise, the company plans to challenge the notice in court.
To explain why the IRS is hounding Facebook, simply put, is because the company (while using Ernst & Young as its advisor) has reportedly undervalued its property when it transferred some of its holdings to Ireland.
Understandably, when the company was transferring its assets, it wanted to do so at the lowest possible value, in order to pay the lowest amount of taxes. If I had to guess, some sort of middle-ground settlement will likely emerge as a result.
With sales growth of almost 60% in the most recent quarter and over $23 billion in cash and short-term investments on the balance sheet as of last quarter, Facebook likely isn't sweating too much over the potential outcome.
Still, you'd have to assume a multi-billion hit for a company will likely be a turnoff for some investors, assuming that were to happen, of course.
Talend Debuts for Trading, Climbs 41%
Shares of France-based software vendor called Talend (NASDAQ:TLND) debuted for trading on Friday. The stock opened for trading at $27.66, vastly above the $18 per share pricing that was set on Thursday night. Closing at $25.50, shares were up more than 40% in its first day of trading.
The company priced above its expected range of $15 to $17, showing investor demand was high. The extra 53% opening-price pop showed that demand clearly remains strong going into the weekend. For a good breakdown on the company's numbers, check out Don Dion's piece, here.
The IPO market has not been the same as it has in recent years. It has been relatively quiet and it didn't help that markets got off to a rocky start in the beginning of the year. With the heightened volatility, a lot of young companies were scared away from the public market.
It also doesn't help that unicorns - companies like Uber (UBER), Airbnb (AIRB) and Snapchat (CHAT) - are withholding from the public markets as well, opting to raise money on their own.
Perhaps persuading Talend to go through with the IPO was the major success from Twilio (NYSE:TWLO). The company priced its IPO at $15 per share, but opened at nearly $24 per share. That was the end of June. Now the stock's trading north of $40.
Talend picked a good day to go public too, because…
The QQQ ETF Powered Toward New 52-Week Highs
The PowerShares QQQ Trust ETF (NASDAQ:QQQ) got a spark this week (and over the past few weeks) as its biggest components all moved higher following earnings.
This week alone, Apple (NASDAQ:AAPL), Facebook, Alphabet (NASDAQ:GOOGL) (NASDAQ:GOOG) and Amazon (NASDAQ:AMZN) completed the "earnings sweep" - beating on earnings per share and revenue expectations. Ten days ago, Microsoft (NASDAQ:MSFT) swept earnings as well.
Arguments about valuations and lowered expectations can be made until investors are blue in the face. But the fact remains the same: the five largest companies in tech (and five of the six largest companies in the U.S.) all beat expectations and all of them moved higher as a result.
That's got to bode well for stocks, right?
It should for the QQQ Fund, the widely-tracked ETF for tech stocks, (although it does have some other exposure to other sectors too).
The ETF is pressing new 52-week highs, and while it appears to have succeeded in setting a new 52-week closing high, the elusive new highs failed to materialize Friday. It's now just a stone's throw away.
Ironically though, the one thing that's probably really stopping this ETF from being higher is one of the components that's helping boost it toward new highs: Apple.
The tech giant accounts for more than 10% of the ETF and while shares are up roughly 6% this week, they are still down 21.5% from their all-time highs and 15% over the past year. At the same time, the other four stocks mentioned are at or near 52-week or all-time highs at the moment.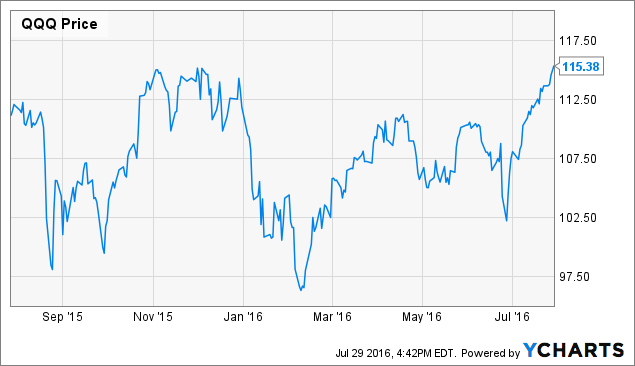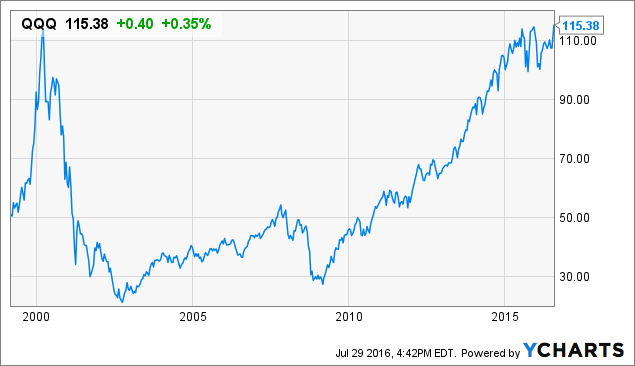 PlayStation Shares Details Over Its VR System
Virtual Reality has been an increasingly-talked-about technology that many are expecting to boom into a large market by the end of the decade. The IDC expects the industry to generate hardware sales of more than $2 billion this year on sales of roughly 9.6 million units. By 2020, it expects 110 million units to sell, boasting a five-year CAGR of more than 180%.
Getting involved from an investing standpoint isn't as clear, but Facebook's acquisition of Oculus VR in March of 2014 for $2 billion really gave the industry a boost.
While CEO Mark Zuckerberg has spoken bullishly on the industry, calling it the "next major computing and communications platform," he also said it could take up to 10 years before VR is able to reach the mass market for consumers.
That's not stopping a number of new companies from popping up in the VR space. Some are for real estate, others give high-level sports teams (mainly pros and college programs) the ability to train using VR and some are game makers. Notably, Sony (NYSE:SNE) is one of them.
The company, which is up some 9% Friday after it surprised investors with a first-quarter profit, shed some light on its PlayStation VR, set to debut on October 13th.
According to a document released by the company, users are asked to have about 60 square feet of available space; forming a rectangle roughly 10 feet long by 6 feet wide, with the user placed basically in the middle. Sony also suggests sitting for as much of the VR experience as possible. Many have pushed back, arguing that sitting does not lead to an experience that's quite as immersive, while others have cited nausea due to sitting and using VR.
Some alternatives have popped up, like Virtuix Omni (some of you may remember it from Shark Tank). The private company is actually raising funds via SeedInvest, allowing non-accredited investors to get in on the action. As for product, it makes a non-motorized, omni-directional treadmill that allows VR users to move, walk and run in any direction, eliminating many of these problems.
Perhaps the product and others, would be a good alternative for console-based VR games. In any regard, VR is still a very young technology, which looks primed to get off to an explosive start later this year and going toward the end of the decade. The solutions and products that await us should be quite exciting.
Disclosure: I/we have no positions in any stocks mentioned, and no plans to initiate any positions within the next 72 hours.
I wrote this article myself, and it expresses my own opinions. I am not receiving compensation for it (other than from Seeking Alpha). I have no business relationship with any company whose stock is mentioned in this article.