As Richard Russell, arguably the best Dow Theorist of my lifetime, wrote years ago:
"Most people have a hard time envisioning change, and they are almost incapable of envisioning major change. Most people are guided by their experience of the immediate past. If the past was good, they believe the future will be good. If the past was rotten, they believe the future will continue to be rotten. Yet anyone who has studied the history of the stock market knows this is not true."

Looking back and reflecting on the new highs that the market has achieved, reminded me about commentary I read back in January 2015.
I borrow passages from the article that Josh Brown put together where he speaks to investors fears of new highs.
"Just reading or hearing the term itself engenders a certain kind of hysteria in people. It suggests that things are about to tip the other way any second, as we all carry within ourselves a cognitive defect known as the Gambler's Fallacy. We innately believe that random occurrences are meant to balance out over short periods of time. That ten straight coin flips landing on heads virtually assures that a tails flip will be next, despite the fact that the next flip is its own event and nothing that came before it matters. That the roulette wheel "shouldn't" be able to land on black or red more than five or six times straight, despite the fact that it most certainly can and will."

"It is tempting to hear about previously unheard of prices for individual stocks and to reflexively declare that they are due to tip back over and bring order to the chaos they've wrought in our perfectly ordered minds. If only the world worked this way, predictions would be a snap. Anytime we saw something unprecedented take place, like a stock trading at prices it had never seen before, all we'd have to do is bet the other way! But, in fact, behavior like this would quickly wipe our capital out, completely and permanently."
There is more meaning in an all-time high than meets the eye. It comes with these thoughts and attributes. As it signifies that:
when a stock hits an all time high it means that people were willing to pay a price that no one before them has ever paid.

no one has a loss in the stock or is "waiting to get back to even so they can sell".

a host of people who had been waiting for that pullback to get in are now ripping their own skin off in aggravation.

it is now thought of as the new favorite stock of those who are long, one that they will not easily part with because it is now "one of their winners" and it "has been good to them".

the people who "bought small" are angry even though they are up, these are the people sitting just below the latest offer price like the crocodile loitering below Captain Hook's gangplank, just waiting for it to get a bit lower to take the next bite.

every single analyst downgrade or estimate revision lower or silly piece of neutral commentary has been instantly invalidated, it all meant nothing and was a waste of ink.

everyone who sold along the way, in varying degrees of course, was wrong, even if they were up big. Remorse sets in, and they too wait for the next chance to take another bite.
Mr. Brown eloquently finishes up by telling us all that:
"And so while our DNA and 100,000 years of evolutionary programming may lead us to believe that a new all time high is a precarious perch and presages an imminent turn in the other direction, it isn't ever quite that simple. Many new all time highs are merely stepping stones toward the next set of new all time highs, after all."
In my view a brilliant discussion by Josh on human behavior and the stock market. Preconceived notions and our human frailty take us down certain paths that lead us to mistakes, over and over. It is no coincidence then that the top callers are back out after taking some time off during the sideways action that the S&P was trapped in for well over a year.
For what it is worth, Goldman Sachs expects a potential 5%-10% sell-off ahead on rising election uncertainty, elevated valuations (a median P/E of 18.1 is in the 97th percentile dating back to 1976) and a seasonal dip in buybacks, which in their view have been the sole source of demand for U.S. shares.
They also issued an earlier warning back in May and the dip in buybacks was supposed to kill the rally back in March. While there are concerns present, I can tell you that the idea that corporate stock buybacks are propping up this stock market has been disproved many times over.
These types of market calls are accepted now. The typical mindset, which Josh Brown showed to be flawed, says the stock market is supposed to go down now because it has just gone up. Well, maybe so, but when it's being called for over and over, and the market resists, there is clearly something wrong with that analysis.
Getting back to the typical mindset of what an overbought market is supposed to do, LPL Research completed a study that will surprise most. The chart in that document clearly indicates that strength can and does beget more strength. The market returns going out 3-9 months after an overbought condition are quite positive.
In building a near-term strategy, it might be better to use what typically has happened, rather than what you think is going to happen.

Economy
The latest Duke/CFO Magazine outlook survey states that businesses blame their reservation to spend on policy uncertainty. With nonresidential fixed investment in the U.S. at a 6-year low and capital spending plans for the next 12 months their weakest in 6½ years.
The Dallas Fed's Manufacturing Activity Index beat expectations. While the headline index has read below 0 (contraction) since the last month of 2014, it's now closer to flat than it has been since moving below zero.
Richmond Fed's survey of Manufacturing and Services industries showed improvement in that district. Manufacturing stayed true to form with the rest of the recent cyclical data showing jumps in every category and some interesting expectations results as well. Services was more muted. Overall, a positive report.
Chicago PMI for July was a pleasant surprise with a reading of 55. That number is surpassed only by the yearly high from last month of 56.8.
U.S. Markit Services PMI came in lower than expected at 50.9. Economists were looking for a reading of 52. Markit chief economist Andrew Harker expressed his disappointment:
"A bit more encouraging was the rebound in business confidence following June's survey low, suggesting that a return to stronger growth will be possible once the current soft patch comes to an end. Whether this will be before the presidential election or not remains to be seen, however."
Advance second quarter GDP was reported lower than the estimates at 1.2%. The initial revision of first quarter GDP was revised down to 0.8%. In the 29 quarterly Advance GDP reports since the second half of 2009, only nine have been better than expected, while 20 have missed the mark. I suggest everyone look into the details regarding the consumer before any conclusions are reached.

New home sales jumped to their highest level in eight years. The Census reported 592,000 new homes were sold in the month of June, versus the 560,000 consensus expectation. The May reading was also revised up to 572,000. Brett Ryan, a U.S. economist at Deutsche Bank Securities Inc. commented:
"The grinding recovery continues. The fundamental underpinnings are still really supportive for housing, so it should be a steady contributor to growth over the next year or so."
Pending Home Sales index ticked up slightly month over month after a disappointing May reading that reversed the highest print since 2006 in March. Pending Home Sales signal an existing home sales print in the neighborhood of 5.46 million for the month of July.

Global Economy
As we've seen since 2014, there are big differences between demand driven price collapses and supply driven price collapses. The former leads to real contractions in output and consumption of the underlying commodity. The latter does not, and that's been absolutely true this time around. For all the long winded concerns, Chinese commodity demand and Chinese raw commodity imports are at all-time highs.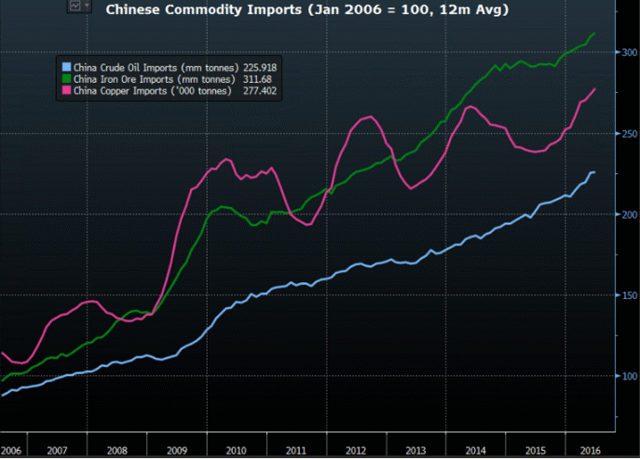 Source: Bespoke
While that suggests that China may be doing just fine, a recent report out of the EU isn't so encouraging. As expected, the British decision to leave the EU is having an impact.
The first economic data that we've received as a way to measure the impact of Brexit came out on July 21st and it was weak. The chart below shows that the U.K. Composite PMI has turned negative. That typically is the forerunner of GDP growth contractions.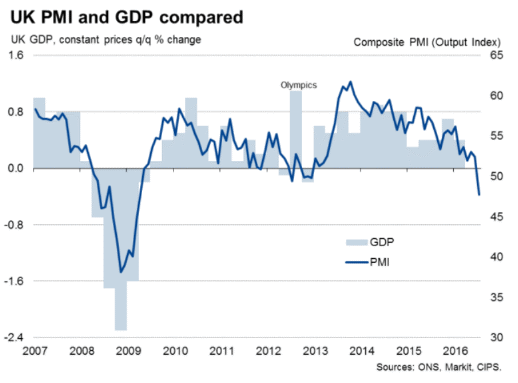 The Wall Street Journal reported that the Confederation of British Industry, an employers' lobby group, said its regular survey of sentiment in the sector showed the fastest decline in optimism among manufacturing executives since 2009, reflected in a sharp pullback in investment intentions.
A conflicting BoE report that came out a day or two later saw no sharp slowdown in the wake of Brexit. Confusing to say the least, so the final verdict may not be in just yet.
The remainder of the Flash PMIs from Markit for the other EU members were more positive than those of the UK. Of the 6, Manufacturing and Services for each, 5 beat expectations, and half rose sequentially. All with the exception of French Manufacturing are also at levels higher than their counterparts in the U.K.
The situation in Europe seems much more stable than the U.K., per the Markit surveys. Below is a chart of the Citi Economic Surprise Index for G10 economies. Like data in the U.S., economic data in most of the world's largest economies has been a pleasant surprise in July. Back in late June, the index was as neutral as it gets. In the span of the month, though, it has moved to its best level in nearly two and a half years.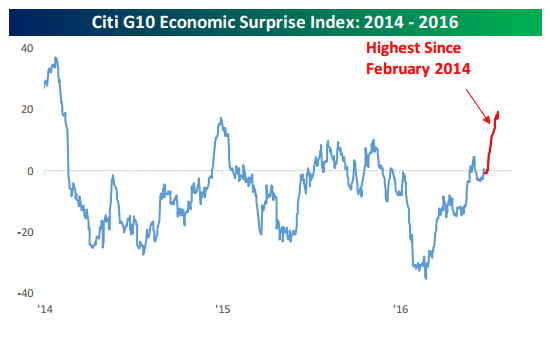 Source: Bespoke

Earnings
The same question is asked every week.
"How can the S&P 500 be trading at all time highs when earnings have been declining for so many quarters?"
There's no denying the fact that earnings have been on the decline in recent quarters. Driven mostly by weakness in the Energy sector, trailing four quarter earnings of the S&P 500 have declined for six straight quarters.
Based on current analyst estimates for the second quarter, that streak is forecast to come to an end in Q2, but it has been quite a period of weak earnings. In fact, there has only been one streak since 1940 where earnings declined for a longer period of time (Q2 07-Q1 09) and just one streak that was as long (Q4 1950-Q4 1952). The prevailing wisdom is that given the contraction in earnings, one would expect to see the equity market decline with them.
However, when we look at prior periods throughout history where the trailing one year earnings of the S&P 500 declined for at least four quarters, equities actually did pretty well.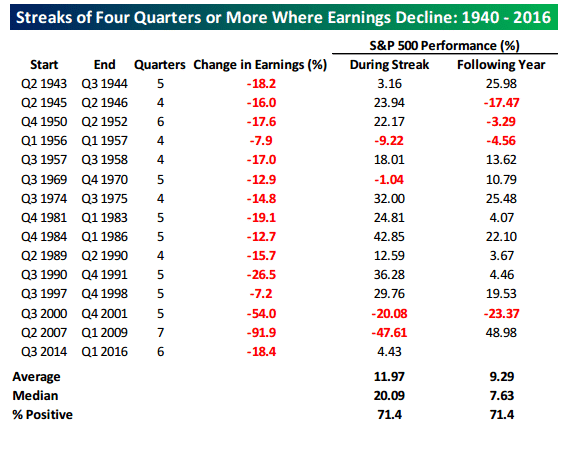 Source: Bespoke
As shown in the table above, the S&P 500's average return during these earnings droughts was a gain of 11.97% (median: 20.09%) with positive returns over 70% of the time.
Why? The stock market is forward looking. The S&P 500's performance in the year after the end of an earnings drought bears this out. In the year during which the S&P 500 comes out of its streak of declining earnings, the S&P 500's average and median returns are actually weaker than its performance during the actual period of weak earnings.
In fact, out of the 14 prior periods highlighted, the S&P 500 performed better during the period of declining earnings than in the one year after the streak of weak earnings ended. That is because the stock market has already priced the rebound in, as it is one step ahead of the investor that is looking at what is happening around them today.
The skeptics have totally missed this, and with that they have ignored what the market has told us, missing the gains as well.
Last week I mentioned the earnings picture and characterized what could be in store:
"Because if earnings do continue to improve, we could easily see an earnings driven continuation of the bull market."
Mr. Richard Bernstein who has correctly called this entire bull market, compiled the following to bolster the idea of what transpires after an earnings trough.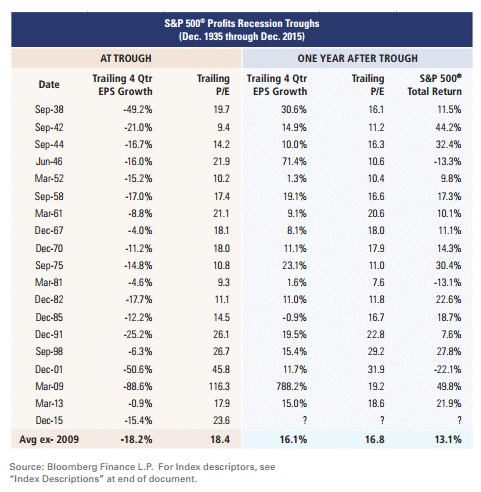 It is just more evidence of how the stock market looks ahead while most investors continue to look over their shoulder.
Factset Research reports:
"With 63% of the companies in the S&P 500 reporting earnings to date for Q2 2016, 71% have reported earnings above the mean estimate and 57% have reported sales above the mean estimate."
At the sector level, the Health Care (81%) and Information Technology (79%) sectors have the highest percentages of companies reporting earnings above estimates.
Thomson Reuters data:
Forward 4 quarter estimate: $126.45 down from last week's $126.70 but up from late June when it was $122.76.

P.E ratio: 17.2(x)

SP 500 earnings yield: 5.81% just for some perspective, in the late 1990's the SP 500 earnings yield fell to 1% or so.

Year over year growth of the forward estimate: +1.08%, and still in the disappointing range of expectations.

The Political Scene
LPL Financial reports that the stock market may have already predicted the winner of the next Presidential election.
Federated Research notes:
In the 16 presidential contests since 1950, bond yields have tended to rise after the incumbent party loses and fall after it wins. Notably, bond performance has been positive in the election year and the year following when incumbent Democrats win compared to when they lose. So far this year government bond market performance is consistent with an incumbent Democratic victory. Nearly 6 in 10 Americans disapprove of the FBI decision to exonerate Clinton, yet an equal 60% of voters say the outcome will have no impact on their vote.
Can one party really buy an election? This article on fundraising and spending data from Bloomberg tells readers all they need to know. The fundraising differences between the two candidates are remarkable.
As we saw during both parties' nomination fights, dollars haven't been a great predictor this cycle. Regardless of impact on the outcome, the disparity in fundraising and spending is unlike anything that has been recorded in recent history.
I look at the upcoming election differently that others. Even if I was 100% sure that I knew the eventual winner, no one including myself knows how the stock market will react. A plethora of factors leading up to the election could easily impact what the markets will or will not do.
So for now, attempting to include the outcome as part of an investment strategy going forward is a waste of time and energy. It will become a wait and see moment to determine if any knee jerk market reaction brings investors opportunities.

The Fed
The Fed held their FOMC meeting this past week and a key phrase was added:
"Near-term risks to the economic outlook have diminished."
Recall that global risks had prevented the Fed from raising rates last September and a reduction of those risks preceded the December hike, while a return of risks led the Fed to delay in recent months. One could therefore interpret this as paving the way for another hike. The FOMC is keeping its options open for September, although December seems a little more likely. In short, I don't see anything happening until then.
The WSJ noted in a recent article that:
"Federal Reserve officials are looking more confidently toward an interest rate increase before year end, possibly as early as September."
Although market expectations for a rate increase from the July meeting are very low, some think those expectations rise precipitously in the back half of the year bolstered by Fed commentary in their post meeting policy statement indicating:
"The economy is on a more solid footing than appeared to be the case, setting the state for raising rates if the data hold up in the months ahead."
Reuters reported a growing belief among U.S. investors that September is now in play for a hike combined with expectations of further easing in international markets to drive the U.S. dollar to its highest level in four months.
Either way, a rate hike at this time that is prompted by improving economic conditions will not end this bull market.

Sentiment
According to the weekly survey from AAII, bullish sentiment declined from 35.43% down to 31.25%, marking the 39th straight week of below average bullish sentiment. I am not too surprised. The strong July rally couldn't boost sentiment above 40%, and now with the sideways action the past two weeks, I didn't expect bullish sentiment to rise.

Crude Oil
WTI broke through the lower end of its downtrend and pierced a significant pivot point ($43) that dates back to last year. From there the price dropped straight to the support level residing at the 200 day moving average.
Price pressure this week came from the weekly inventories report which showed that inventories for crude oil and gasoline both surprised to the upside. Demand remained strong but with product inventories piling up and refinery utilization on a normal seasonal trend, the record gasoline sales still isn't enough to bolster prices.
With Friday's close of $41.52, WTI is now off about 19% from it's high in early June, and is teetering just above bear market levels.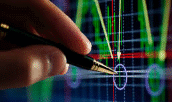 The Technical Picture
The S&P and the DJIA have already made new all time highs, while the Nasdaq and the NYSE have yet to do so. If the bullish scenario continues to unfold it will need the NYSE to join in and make a new high as well. But for that to happen it will need to rise another 4.5% from current levels. Extrapolating that to the S&P 500 suggests this move takes that index to the 2250-2275 level.
What I will also be watching closely is the NASDAQ Composite. IF it can better its closing high of 5,218, it would be another huge bullish signal.
We now have three weeks of trading since the breakout without any signs of market weakness. That presents more evidence suggesting the breakout and subsequent rally is genuine. This buoyant market picture is clearly evident in the daily chart of the S&P.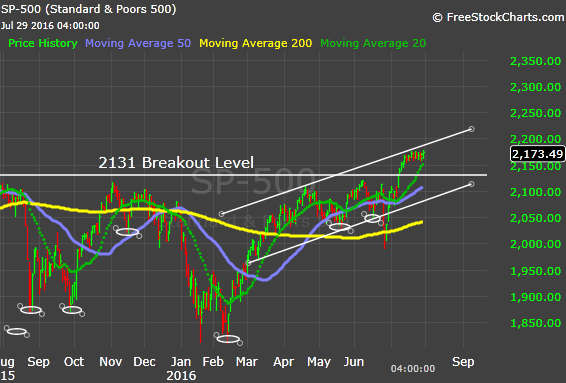 Charts courtesy of FreeStockCharts.com
Market breadth is measured in a number of ways, and one of those is by measuring the percentage of stocks hitting new highs. When equities are rallying, you want to see the list of new highs expanding. Conversely, when the market is in a downtrend and you are looking for signs of exhaustion. You want to see the percentage of stocks making new lows shrink.
That's exactly what we saw in February when the S&P 500 made a new low, but the net number of stocks making news lows shrunk from 36.9% of the index to 19.4%. Likewise, when the S&P 500 broke out in the last month, the percentage of stocks making new highs hit the highest levels in over a year (+17.7%). For the S&P 500 as a whole, breadth has been confirming price action, and that is bullish.
Friday's market action was the 12th day the S&P has remained in a 20 point, (1%), trading range. The 2177 pivot has been a tough one to crack. Apparently this market has been waiting for some sort of catalyst to clear the range. If none develops, a pullback here won't be a big surprise. Short term support is at the 2131 and 2085 pivots, with resistance at the 2177 and 2212 pivots.

Individual Stocks
This week I will spend time explaining portfolio changes I plan on making regarding investments in the Oil and Gas industry. Specifically, the companies in the E&P sector. For those that are overweight energy now because they added more exposure at the lows find themselves in an excellent position. There are a host of E&P names that are up 20% or more off the lows.
However, many investors did not delve into the sector earlier due to a variety of factors, the primary one being fear of what had already taken place.
That fear was well founded as we all witnessed the carnage that the first quarter of 2016 presented, where we saw 13 year low oil prices near $25/Bbl.
Oil prices swiftly climbed back above $50/Bbl in June for the first time since July 2015 on expected, as well as unexpected, global supply disruptions coupled with strong demand.
While the price of WTI has weakened over the near term, I see it is a time to look at what is going on both on the technical and fundamental side of this issue. On the fundamental side, I have formed a thesis that oil bottomed in the first half of 2016, with the expectation that we will see a strong second half of this year as global demand growth outpaces global supply.
In my view, that suggests WTI can average $60-$65/Bbl in 4Q16 and 1Q17. As such, investors would be well served to position themselves in E&P stocks ahead of a strong recovery in oil prices in the back half of the year. I also understand how difficult it is to first, predict the price of crude. Secondly, get the timing correct in anticipation of what I believe may be higher prices.
My conclusion is reached from past experience and confirmed by the sheer fact that the E&P industry itself is still hesitant to sign off on oil price recovery. Therefore, keep in mind that operators will start by walking before they run. That's fine, it may be better to be a bit early than way too late.
In keeping this backdrop in mind, I decided to come up two ways to allocate exposure to E&P stocks over the next 2-3 months, dependent primarily on one's expectations for oil prices over the next 6-12 months. In this analysis, I consider both a bullish oil price suggesting full "risk on", versus the relatively more bearish views on the price of crude. The question to answer for yourself is, which way do you believe oil is going?
If someone wishes to say that my analysis is not really taking a true committed stance, they are correct. I know my limitations as I haven't been good at calling the price of the underlying commodity. As mentioned, trying to get the timing correct on my idea for higher oil prices, isn't as easy as it may appear.
I only have to look back at how I approached the sector this time last year to see the good and bad in my research. While the overall list of stocks did outperform by a wide margin, that was despite my incorrect call on the price of WTI. A testament to staying with what I believed was quality in the sector at that point in time. It is also a vote for staying with a plan. Those 2015 selections were able to withstand the price of $26 that WTI traded at earlier this year, and have come out the other side of that event with a profit.
This time around my strategy will be to take a measured stance by using companies I have selected by categorizing them into two groups. The first are more speculative stocks that will produce hefty gains if the price of oil moves higher in the near term, but may sit or drift even lower if oil remains at current levels or a bit lower due to their existing leverage.
I offset those selections by adding companies that have proven reserves in high quality acreage here in the U.S. They possess excellent balance sheets that have already shown they can withstand prices staying at these levels for a while.
I've whittled it down to two names in the risk on category, Oasis Petroleum (NYSE:OAS) and Whiting Petroleum (NYSE:WLL). The more conservative names with better balance sheets are Concho Resources (NYSE:CXO), Continental Resources (NYSE:CLR), Marathon Oil (NYSE:MRO), Newfield Exploration (NYSE:NFX), Parsley Energy (NYSE:PE), Pioneer Resources (NYSE:PXD), QEP Resources (NYSE:QEP) and RSP Permian (NYSE:RSPP).
One look at the charts, shows that despite the weakness in WTI lately, many of the stocks have maintained their short term uptrends. However, continued weakness may change that short term look. Not so with the other two as it is more of an unclear message, due to that near term uncertainty for WTI.
Just as I did last July, my plan is to put together a basket of these stocks to reduce my overall risk. The laggards from last year will be sold off, some of the gains trimmed and put to work in the new names as good entry points are presented. Given the continued weakness in crude oil again this week, I will be treading lightly.
Also note that the next two weeks are a seasonally weak period for energy stocks. That is why I will be patient in looking for good entry points. My commentary on the sector should not be taken as a green light to enter the sector haphazardly. Always complete extensive research and be prepared to buy in increments.
My personal preference is to purchase individual stocks instead of ETFs as I use covered call writing as part of my plan. I also have the ability to sit back and actively manage that situation. The ETF's are a way to passively manage the situation and may be more suitable for most. However, you can see the difference in the July 2015 portfolio selections versus the major energy ETFs. Also keep in mind that the portfolio results shown do not include dividends.

Five weeks ago global markets were more chaotic than perhaps any other time since the Financial Crisis in 2008 in the aftermath of the Brexit referendum. The sell-off from that Friday followed through to the following Monday, taking the S&P down a whopping 113 points. As if that move wasn't major enough, the rebound that followed was nearly as monumental. In the span of 10 trading days, the S&P regained the lost 113 points and added 60 more for good measure. A 5.3% loss followed by a 8.5% gain.
Bespoke reminds us that the 5.7 point ten day move in the index's Overbought/Oversold reading was only eclipsed one other time in the S&P 500's history, and that was 8/23/1982. If you know anything about market history, you know that August 1982 was a good time to get long equities.
Experiencing a bull market is experiencing a period of time where things are getting better. The forward looking aspect of the stock market along with its ability to climb that wall of worry takes over.
This time around however the economic recovery has been so slow and tepid, many signs of improvement have been dismissed. That has been turned into the breeding ground for the masses that have doubted the stock market because they have doubted the recovery.
It then becomes easy for anyone to look, and then find those old worn out warnings on why the stock market has to go down. The result, is that the negativity around us has been widespread throughout. However, history has shown when that occurs, market returns are better. There are a multitude of reasons for that. The primary one being human emotion.

Looking back at history as a guide, and looking at ALL of the data are proven ways to approach investing successfully. The equity markets don't care about the "absolute" of good or bad conditions, but about things being better or worse, the "change" in direction.
Best of Luck to All!
Disclosure: I am/we are long CXO, QEP, WLL.
I wrote this article myself, and it expresses my own opinions. I am not receiving compensation for it (other than from Seeking Alpha). I have no business relationship with any company whose stock is mentioned in this article.
Additional disclosure: I may initiate positions in any of the stocks mentioned in this article in the next week or so.