Oil prices have taken another beating recently, driven by fresh data provided by the EIA (Energy Information Administration). In what follows, I will dig into the data the EIA presented and detail my own thoughts on it and what it means for investors in companies like Memorial Production Partners (NASDAQ:MEMP), Approach Resources (NASDAQ:AREX), and Legacy Reserves (NASDAQ:LGCY), as well as for the United States Oil ETF (NYSEARCA:USO) and other oil-related ETFs.
Bad inventory data
According to the EIA, crude oil stocks for the week grew (for the first time in 10 weeks), rising by 1.6 million barrels from 519.5 million to 521.1 million. This was actually worse than the 827 thousand barrel draw estimated by the API (American Petroleum Institute) a day earlier and was far removed from the 2 million barrel drop analysts had been anticipating. In the graph below, you can see the trend that crude stocks have taken over the past 52 weeks.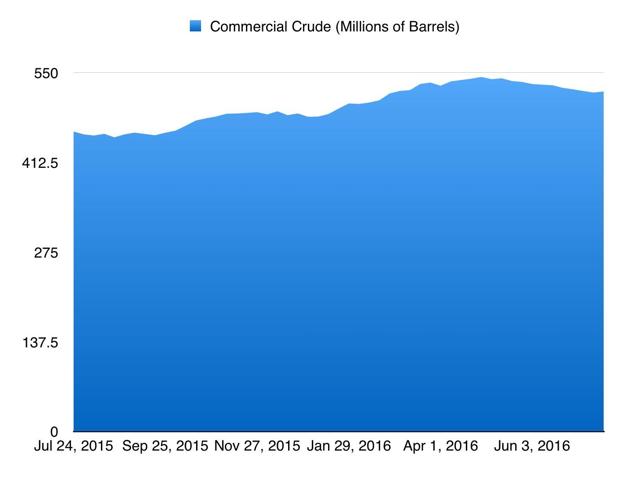 In addition to seeing crude stocks increase, the EIA reported a build of 0.5 million barrels, rising from 241 million to 241.5 million in motor gasoline, which I consider the second most important (behind crude) area to keep track of. Propane/propylene stocks grew by an impressive 2.2 million barrels, rising from 87.4 million to 89.6 million. The "other" category of petroleum products grew by 2.3 million barrels, rising from 279.2 million to 281.5 million. It would appear that some of the increase in glut came from an increase in net imports for the week, which grew by 1.568 million barrels all-in-all.
Fortunately, there were some positive developments in inventory data, with fuel ethanol stocks falling 0.8 million barrels from 21.2 million to 20.4 million, and with distillate fuel stocks falling 0.8 million barrels from 152.8 million to 152 million. Kerosene-type jet fuel managed to tick down a modest 0.4 million barrels from 41.9 million to 41.5 million as well, but the largest decliner was residual fuel, which reported a decline of 2.1 million barrels, falling from 42.1 million to just 40 million. Even in spite of all of these positive developments, however, total crude plus petroleum product stocks ticked up 2.6 million barrels, climbing from 1.385 billion to 1.3876 billion, creating an overall bearish picture.
Production and demand are still important though
Based solely on the inventory data, there's no denying that the picture was bad but we should remain cognizant of other factors as well. During the week, production of crude in domestic markets averaged 8.515 million barrels per day, an increase of 21 thousand barrels per day (or 147 thousand for the week) over the prior week. However, this appears to have been driven by another wild swing from Alaska, something investors shouldn't be too worried about. In the Lower 48 states, production actually fell another 12 thousand barrels per day (or 84 thousand for the week), coming in at 8.033 million barrels per day. In the graph below, you can see the past 52 weeks of production data.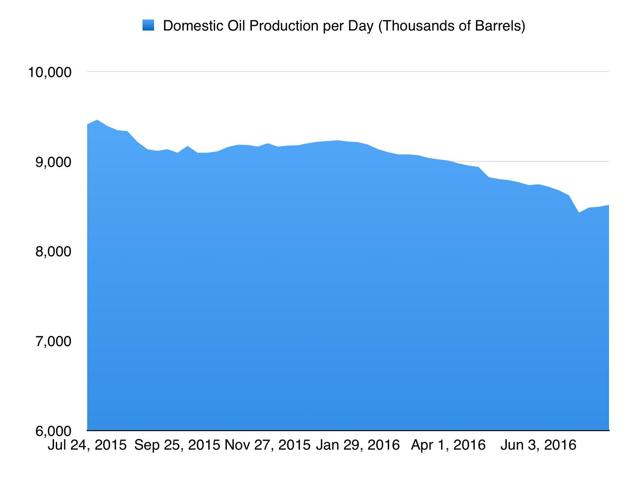 In addition to production falling where it counts, we also enjoyed strong demand during the week when it came to motor gasoline. According to the data provided, motor gasoline demand averaged 9.797 million barrels per day, a modest increase over a week earlier and 4.9% above where it was the same time last year. Using the four-week average, demand came out to 9.752 million barrels per day, an increase of 2.6% compared to the 9.506 million barrels per day seen the same time a year earlier. Distillate demand did come in lower during the week but the four-week average is up a modest 0.2% year-over-year.
Some hope for rig counts?
Unlike in the prior week, where Baker Hughes (BHI) reported a major increase in the oil rig count, the oil rig count this week grew by just 3 units, rising to 374. This represents a decrease of 43.7% compared to the 664 units seen the same period a year earlier. Although any increase in the rig count is negative for long-term investors, the composition was certainly positive. Most regions saw the total rig count (oil and gas since regional data is not broken up in the weekly report) either drop or stay flat and the only meaningful increase came from the Permian, which saw the rig count rise by 4 units. As I've shown before, if we need the rig count to rise, the Permian is the best place for it to happen due to its low production rate per rig. Meanwhile, the oil rig count in Canada grew by 12 units to 60, but are still down 46.4% from the 112 they stood at a year earlier.
Takeaway
At this moment, the pessimism from investors is palpable and it's hard to argue why they are wrong. In fact, short-term, it seems the market is at their mercy but we also need to be cognizant of the bigger picture. With global demand coming in stronger this year and with non-OPEC (mostly U.S.) production expected to fall materially this year, it's hard to be anything but bullish in the long run.
Disclosure: I am/we are long AREX, MEMP, LGCY.
I wrote this article myself, and it expresses my own opinions. I am not receiving compensation for it (other than from Seeking Alpha). I have no business relationship with any company whose stock is mentioned in this article.
Additional disclosure: I own LGCYO, not LGCY