Introduction
In a recent article titled Benchmarking The Gold Majors I looked at the cost effectiveness of the 15 largest, publicly traded gold majors, based on my cost methodology for analyzing gold & silver miners. I loosely defined gold majors as miners whose primary business is gold mining and have at least 1 million ounces of annual production.
When I performed my exhaustive review of these majors, I also compiled data on their largest mines. I defined "large mines" as those with proven and probable ("P&P") reserves exceeding 4 million ounces and higher grade mines with P&P reserves exceeding 3 million ounces. The idea was to get a snapshot of how much of each miner's production was connected to these larger flagship mines.
I now have a database of the largest mines for the gold majors. I recently honed this data down to just include the largest producing mines. There ended up being 30 mines that fit this criteria. In this article I will present some of the data to see what we can glean from it.
Before we proceed, I want to clarify that this is not a list of the largest gold mines in the world. This is only a list of the largest producing gold mines owned by the 15 gold majors.
The Largest Producing Mines
The following table introduces these mines:
| Owner | Mine | Location (Country) | P&P Gold Reserves |
| --- | --- | --- | --- |
| Gold Fields (NYSE:GFI) | South Deep | South Africa | 37,257,000 |
| Newcrest (OTCPK:NCMGY; OTCPK:NCMGF) | Lihir | Papua New Guinea | 29,000,000 |
| Newcrest | Cadia | Australia | 28,000,000 |
| Newmont (NYSE:NEM) | Carlin | USA | 16,780,000 |
| AngloGold Ashanti (NYSE:AU) | Mponeng | South Africa | 12,740,000 |
| Newmont | Boddington | Australia | 11,730,000 |
| Barrick Gold (NYSE:ABX) | Cortez | USA | 11,129,000 |
| Goldcorp (NYSE:GG) | Penasquito | Mexico | 9,870,000 |
| Kinross (NYSE:KGC) | Paracatu | Brazil | 9,645,000 |
| Barrick / Goldcorp | Pueblo Viejo | Dominican Republic | 8,960,000 |
| Barrick Gold | Goldstrike | USA | 8,539,000 |
| Kinross | Tasiast | Mauritania | 8,219,000 |
| Sibanye (NYSE:SBGL) | Driefontein | South Africa | 8,101,000 |
| Eldorado (NYSE:EGO) | Kisladag | Turkey | 7,398,000 |
| Gold Fields | Tarkwa | Ghana | 6,746,000 |
| Newmont | Ahafo South | Ghana | 6,640,000 |
| Randgold (NASDAQ:GOLD) | Loulo-Gounkoto | Mali | 6,100,000 |
| Sibanye | Kloof | South Africa | 5,881,000 |
| Anglogold Ashanti | Obuasi | Ghana | 5,740,000 |
| Newmont | Twin Creeks | USA | 5,420,000 |
| Harmony (NYSE:HMY) | Kusasalethu | South Africa | 5,275,000 |
| Anglogold Ashanti | Moab Khotsong | South Africa | 5,270,000 |
| Newmont | Phoenix | USA | 5,130,000 |
| Anglogold Ashanti / Randgold | Kibali | Congo | 4,770,000 |
| Agnico-Eagle (NYSE:AEM) | Kittila | Finland | 4,354,000 |
| Barrick Gold | Turquoise Ridge | USA | 4,214,000 |
| Agnico-Eagle / Yamana (NYSE:AUY) | Canadian Malartic | Canada | 3,862,000 |
| Harmony | Tshepong | South Africa | 3,768,000 |
| Newmont | Tanami | Australia | 3,460,000 |
| Agnico-Eagle | LaRonde | Canada | 3,108,000 |
These 30 mines have combined P&P reserves totaling 287.1 million ounces of gold. Here are some additional key points regarding the production and reserves of these mines:
The 287.1 million ounces of gold reserves contained in these 30 mines is exactly 50% of all the P&P reserves of the 15 gold majors.
These 30 mines theoretically have enough gold to supply the world for 2.2 years at current demand levels.
These 30 mines produced 13.2 million ounces of gold in 2015, which was exactly 10% of world demand.
At 2015 production levels, these 30 mines have a collective mine life of 35.5 years.
The average grade of the P&P reserves in these mines is 4.1 grams/ton ("g/t").
The average grade of the gold produced in 2015 was 3.5 g/t. This may point to the fact that the gold majors were not, as a whole, "high grading" their mines in the 2015 low price environment. An individual miner that is high grading its mines could thus suffer competitively against the peer group in the coming years. (For an example of a major high grading, refer to this recent article that I wrote.) More on this later in the article.
Here is the breakdown of where these mines are located:
South Africa (7)
United States (6)
Australia (3)
Ghana (3)
Canada (2)
Brazil (1)
Congo (1)
Dominican Republic (1)
Finland (1)
Mali (1)
Mauritania (1)
Mexico (1)
Papua New Guinea (1)
Turkey (1)
The deep underground mines of South Africa and the large gold mines of Nevada dominate this list.
High Grading Going On?
I mentioned that from a high level, high grading did not appear to be going on, however, digging deeper into the database reveals some interesting facts.
I took the 2015 production grade for these mines and subtracted the P&P reserve grade to get a differential between the grade being dug up in 2015 versus the overall mine grade. Only 7 of these mines had a differential that was >= .3 g/t. Here they are:
| Company | Mine | P&P Reserve Grade | Production Grade | Production Grade Differential |
| --- | --- | --- | --- | --- |
| Barrick | Turquoise Ridge | 15.3 | 18.8 | + 3.5 g/t |
| Barrick | Goldstrike | 3.6 | 6.0 | + 2.4 g/t |
| Barrick / Goldcorp | Pueblo Viejo | 3.0 | 4.9 | + 2.0 g/t |
| Newcrest | Cadia | .5 | 1.1 | + .6 g/t |
| Goldcorp | Penasquito | .5 | 1.0 | + .5 g/t |
Investors who own Barrick, Goldcorp, or Newcrest, might want to investigate the differentials for the company's other mines. When grades are coming out of the ground that are twice the reserve grade, such as at Goldstrike, there just might be some high grading going on. In future years, costs may start to surprise to the upside for these miners.
Interestingly, the major mines at Agnico-Eagle and Newmont all have negative differentials, so these two miners look like they are definitely not high grading. In future years, their costs may surprise to the downside as less dirt needs to be moved to produce the same amount of gold.
Analyzing Costs
The average reported cash costs for these mines in 2015 was $714 per oz. The average reported all-in sustaining cash costs ("AISC") in 2015 (excluding Kinross which does not report AISC), was $891 per oz. The fact that the average reported overall cash costs for the gold majors in 2015 were $685 per oz. and the average reported overall AISC in 2015 were $908 per oz., could lead us to conclude that size does not necessarily equate to profitability.
In the following table, I rank these 30 mines by their 2015 reported cash costs: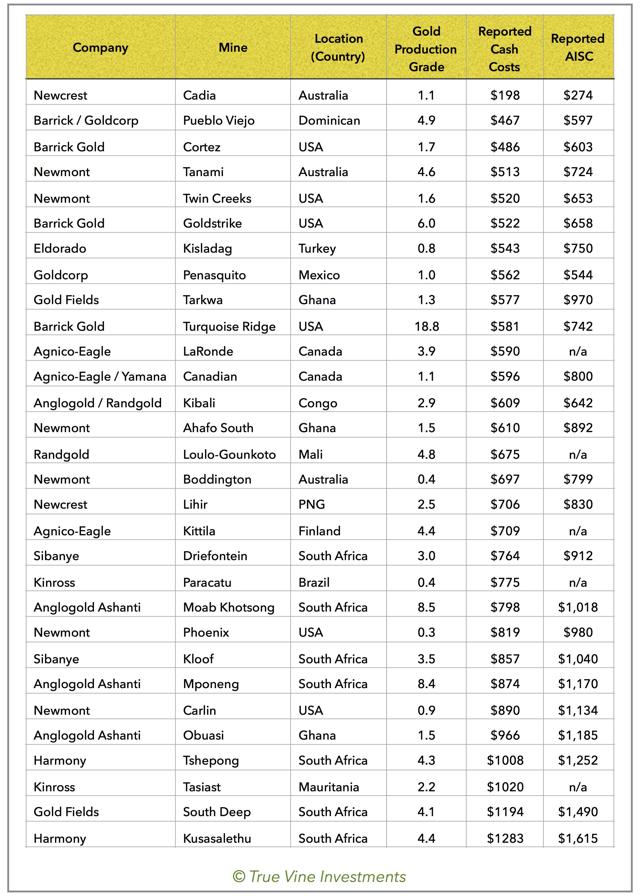 What can we learn from this? Here are some of my key takeaways:
The two lowest cost mines, Newcrest's Cadia and Barrick/Goldcorp's Pueblo Viejo, are both major producers of both gold and copper. I dug into Cadia's numbers. If you subtract out the copper by-credits, the cost advantages of the mine cause it to fall to the middle of the pack. To the extent that a major gold mine also produces significant amounts of copper and/or silver (e.g., Goldcorp's Penasquito), significant cost advantages can be realized through the production synergies.
Barrick's Cortez, which produced 1 million ounces in 2015, looks like the lowest cost pure gold mine of the group. Notably, the production grade of the mine was only 1.7 g/t, but it still had lower costs than Barrick's high grade Goldstrike (6 g/t) and Turquoise Ridge (18.8 g/t) mines. Also, Cortez had a negative grade differential in 2015, so this came without high grading.
Despite very high grades and large amounts of P&P reserves, South Africa's deep underground mines generally operate at much higher costs. It is important to note that this is just the economic cost. There are plenty of other risks involved with mining gold deep under the ground in South Africa-for the companies and the workers. The cost factor is one reason why I would never even consider investing in a South African miner.
The fact that Agnico-Eagle has 3 of the top 18 mines, is likely a primary reason why the company trades at such a premium multiple to its peers. The following chart shows this (I'm not sure what is going on with Eldorado, but given my cost efficiency research this looks like a good short candidate or a great pair trade against one or all of its peers, especially considering the new level of political risk in Turkey where its flagship mine is located):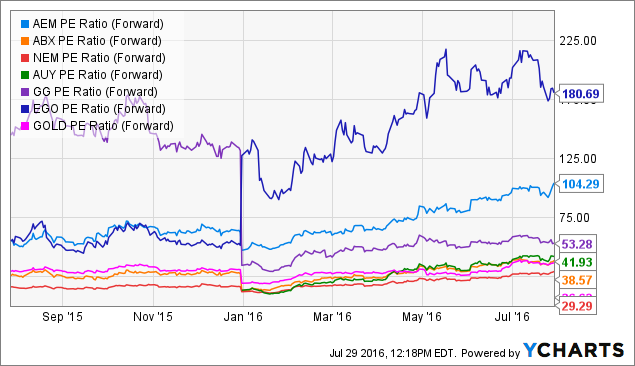 AEM PE Ratio (Forward) data by YCharts
By far, the most important takeaway is to understand that grade does not necessarily equate to the best mine when it comes to generating cash flow for shareholders. A large mine with a mediocre grade can be a real cash cow for investors. There are plenty of examples of this in the table above.
Conclusion
Depending upon your outlook for gold prices, the cost data for these large mines also leads to additional takeaways. I recently published my price forecast for gold. The supply and demand fundamentals for gold are deteriorating rapidly so bulls should take note. My analysis here shows me that the best mines can keep on producing gold profitably at much lower prices, which is also not supportive of supply destruction. Also, the highest costs mines in the above table tend to have lower production. Furthermore, in a rising U.S. dollar environment, local currency costs at many of these mines can fall further.
Next, I am going to shift my research focus to primary silver producers (big and small), compiling data similar to what I did for the gold majors. It will include all the major silver producers. If you have a favorite junior silver producer you would like to see, drop me a note and I will include the company if it fits my criteria, which it most likely will.
Important Regulatory Disclosure
I am an investment adviser and owner of True Vine Investments, a Registered Investment Advisor in the State of Pennsylvania (U.S.A.). I screen electronic communications from prospective clients in other states to ensure that I do not communicate directly with any prospect in another state where I have not met the registration requirements or do not have an applicable exemption.
Any investment advice or recommendations involving securities referenced in this article is general in nature and geared towards a readership of sophisticated investors. This article does not involve an attempt to effect transactions in a specific security nor constitute specific investment advice to any particular individual. It does not take into the account the specific financial situation, investment objectives, or particular needs of any specific person who may read this article. Individual investors are encouraged to independently evaluate specific investments and consult a licensed professional before making any investment decisions.
All data presented by the author is regarded as factual, however, its accuracy is not guaranteed. Investors are encouraged to conduct their own comprehensive analysis.
Positive comments made regarding this article should not be construed by readers to be an endorsement of my abilities to act as an investment adviser.
Disclosure: I/we have no positions in any stocks mentioned, and no plans to initiate any positions within the next 72 hours.
I wrote this article myself, and it expresses my own opinions. I am not receiving compensation for it (other than from Seeking Alpha). I have no business relationship with any company whose stock is mentioned in this article.
Editor's Note: This article discusses one or more securities that do not trade on a major U.S. exchange. Please be aware of the risks associated with these stocks.