While at first glance there was a slowdown in new rigs added this week, a closer looks reveals that rigs continued to be added at the same pace in the one region that counts the most, the Permian. The rig count was also affected by some declines in the Barnett shale, which is very gassy, and Alaska.
Crude oil prices (NYSEARCA: USO) remained unchanged after the report, following a decline of 7% during the week due to concerns about rising gasoline inventories.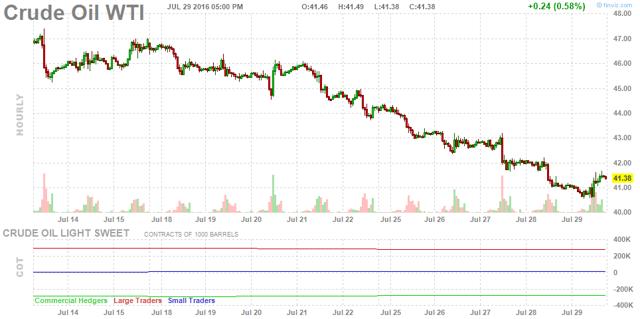 Source: Finviz.com
Data: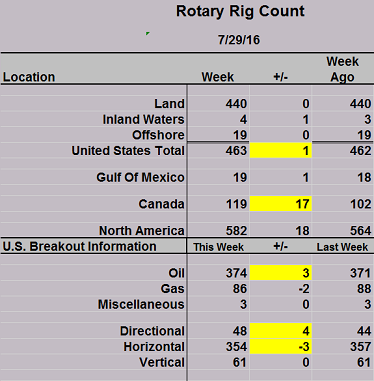 Source: Baker Hughes
* Total U.S. oil rig count increased by three following a fourteen rig increase last week. This brings the total oil rig increase for the last five weeks to 58, of which most rigs have been either horizontal or directional. Changes in the rig count were spread amongst basins with only the Permian registering a material change for the week.
* Horizontal rigs decreased by three, although directional rigs increased by four.
* Natural gas rigs decreased by two.

Source: Baker Hughes, Orangutan Capital
* Four new rigs in the Permian; the most established oil-producing basin in the country. In the near term, additions to the rig count in the Permian are more important than additions to any other basin since productivity per well tends to be much higher. In total, the rig count in the Permian has gone up by 30 during the last seven weeks.
* A three rig decrease in the Barnett and a one rig increase in the Haynesville basin. Both are very gassy.
*A two rig decrease between the DJ-Niobrara and the Eagle Ford basins, which are primarily shale plays.
Conclusion:
This week brought a slowdown in new rig additions, although with continued drilling in the Persian basin, where rigs at this stage of the count matter the most. In general, there has been a shift in market sentiment during the last two weeks driven by a surge in inventories of gasoline and other refined products. However, we think that producers will be unable to stop themselves from adding new rigs and that new drilling will remain strong during the remainder of the summer.
Disclosure: I/we have no positions in any stocks mentioned, and no plans to initiate any positions within the next 72 hours.
I wrote this article myself, and it expresses my own opinions. I am not receiving compensation for it (other than from Seeking Alpha). I have no business relationship with any company whose stock is mentioned in this article.