Shares of Ford (NYSE:F) fell more than 8% after the company reported disappointing second quarter profits. Sales increased 6%, beating expectations by $3.18 billion, but EPS came up short by $0.08. Deliveries fell slightly, from 1,696,000 to 1,694,000, as the company lost market share in all regions except North America. Global market share now stands at 7.5%, versus 7.8% last year. But it was the profit figures that worried investors most. Due to rising incentive programs in the US and increased competition in China, automotive operating margin fell from 8.4% to 7.7%. After several years of strong growth the US car market appears to be softening, and manufacturers have responded with more aggressive promotions and discounts to protect share. In China pricing pressures have increased as well, due to slowing demand and new product launches from competitors. Ford's share of the Chinese auto market fell to 4.4% in Q2, down from 5.3% last year. Management warned of excess capacity and pricing pressures when formulating its 2016 outlook at the end of last year, but conditions have gotten worse than expected. Despite admitting that risks to the outlook have increased, management has not altered its forecasts for FY16. We think sales and margins for 2016 will show little-to-no improvement over last year.
Ford still believes that FY16 automotive revenue, automotive operating margin, and automotive EPS will be better than or equal to last year. Figures 1 and 2 show the outlook for each segment, and the assumptions built into those forecasts.
Figure 1: 2016 Outlook

Source: 2015 10-K
Figure 2: Planning Assumptions and Key Metrics

Source: 2015 10-K
In order to meet last year's results, Ford will have to generate sales of $140 billion and an operating margin of 6.8%. Ford had a strong first quarter, and seemed to be on track months ago. The problem is that demand was not as robust as Ford anticipated in many of its markets in Q2, nor pricing as strong, and the company now believes that the second half of the year will be "much weaker than normal".
Ford warned about excess capacity and pricing pressures at the end of last year when discussing key factors impacting the auto industry:
Excess Capacity. According to IHS Automotive, an automotive research firm, the estimated automotive industry global production capacity for light vehicles of about 119 million units exceeded global production by about 31 million units in 2015. In North America and Europe, two regions where a significant share of industry revenue is earned, excess capacity as a percent of production was an estimated 7% and 22%, respectively, in 2015. In China, the auto industry also witnessed excess capacity at 54% of production in 2015, as manufacturers competed to capitalize on China's future market potential. According to production capacity data projected by IHS Automotive, global excess capacity conditions could continue for several years at an average of about 33 million units per year during the period from 2016 to 2020.

Pricing Pressure. Excess capacity, coupled with a proliferation of new products being introduced in key segments, will keep pressure on manufacturers' ability to increase prices. In North America, the industry restructuring of the past few years has allowed manufacturers to better match production with demand, although Japanese and Korean manufacturers also have capacity located outside of the region directed to North America. In the future, Chinese and Indian manufacturers are expected to enter U.S. and European markets, further intensifying competition. Over the long term, intense competition and excess capacity will continue to put downward pressure on inflation-adjusted prices for similarly-contented vehicles in the United States and contribute to a challenging pricing environment for the automotive industry. In Europe, the excess capacity situation was exacerbated by weakening demand and the lack of reductions in existing capacity, such that negative pricing pressure is expected to continue for the foreseeable future.
Generating growth in weak pricing environments requires growing volumes, but this is difficult to do when demand slows. The domestic auto industry has grown at a rapid pace for years, and there is no longer much fresh demand left. It is therefore unlikely that the promotions taking place across the auto sector will spark any material increase in demand. Economic conditions remain weak around the world, with GDP growth in many markets lower than what Ford had built into its FY16 forecasts. The company's expectations of "benchmark profitability in North America", growth in the Middle East and Africa, and higher profitability in the Asia Pacific (driven by growth in China), don't seem realistic. Operating margin in North America fell from 12.2% to 11.3% year over year, and while the company is on track to meet revenue guidance thanks to a strong first quarter, flat volumes and continued pricing pressures throughout the remainder of the year will prevent Ford from showing much, if any, improvement over last year. The situation is similar over in China, where Ford has relied on discounts to maintain market share. Q2 represented the first loss in Asia-Pac in 13 quarters, and China was largely responsible. It is odd that management revised its risk profile to the FY16 outlook (Figure 3), without adjusting its forecast.
Figure 3: Risks to Full Year Outlook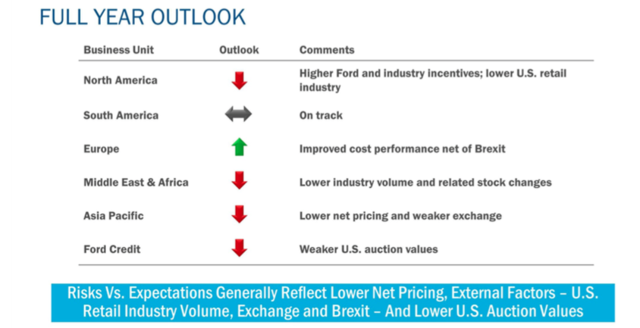 Source: 10-Q
Management now believes that the North America, Middle East & Africa, and Asia Pacific regions are all at risk for meeting expectations (Figure 4).
Figure 4: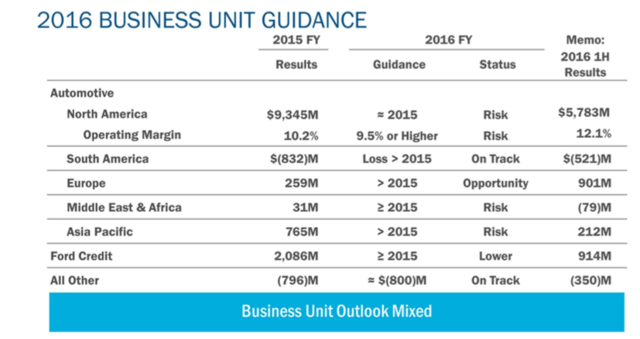 Source: 10-Q
Conclusion
Global car demand has slowed and excess capacity is a problem. Pricing will continue to be a headwind, and Brexit will likely weigh on sentiment throughout the year. Management acknowledges that conditions have gotten worse and that risks have increased, but the firm has not budged on guidance. We expect sales and margins to come in at the low end of expectations and show little-to-no improvement over last year.
Disclosure: I/we have no positions in any stocks mentioned, and no plans to initiate any positions within the next 72 hours.
I wrote this article myself, and it expresses my own opinions. I am not receiving compensation for it (other than from Seeking Alpha). I have no business relationship with any company whose stock is mentioned in this article.