The GDP report headline for the second quarter, appeared to be a disappointment - at least at first glance. The Bureau of Labor Statistics reported that GDP inched up just 1.2% at an annualized pace - and downgraded the first quarter's modest expansion to just 0.8% from the 1.1% previously reported.
Uncovering the good news
Still, the report wasn't as soft as it sounds if you dig beneath the surface. One factor that some economists (including myself) prefer to strip out is the contribution of inventories to growth. What gets added in one quarter gets taken away in another, as stockpiles that get added are eventually sold. When you strip out the dip in inventory accumulation, the measure known as "real final sales of domestic product" climbed at a more respectable 2.1% pace, higher than in the previous two quarters.
There was more good news in the GDP report, as consumer spending surged at a 4.2% pace, up from 1.6% in the first quarter. And consumers spent more on durable (and often discretionary) goods, with that spending skyrocketing at an 8.4% annualized pace. Clearly, consumers are buoyed by lower unemployment and rising incomes.
Now, I know what you are saying, that consumers' incomes really aren't growing. Well, they are, if you strip out inflation. The Bureau of Labor Statistics reports a measure of real weekly earnings, which have actually grown quite nicely in recent periods, thanks to low inflation, as seen in the nearby graph.

Now, about that low inflation
The GDP report contains the inflation measure preferred by the Fed, which is tied to personal consumption expenditures. As you probably know by now, the Fed wants to see inflation of 2% - or at least the expectations that it will soon get there - before raising rates. The headline figure is 1.9% - the highest since an identical reading in the second quarter of 2014.
While Fed fund futures place a low odds of the Fed moving in September (or even by December, for that matter), the post-meeting statement from the Fed earlier this week arguably does open the door for a move in September, without committing the Fed to action. (After all, there are two employment reports for the Fed to parse between now and then.)
However, rates are extremely low, and the Fed may feel that emergency-level rates are no longer sufficiently justified given strong consumer spending and a relatively healthy labor market, with the Bureau of Labor Statistics reporting 287,000 new jobs created in June. Indeed, the Fed dropped the word "underutilization" from its characterization of employment conditions and instead replaced it with language indicating "some increase in labor utilization in recent months." And the unemployment rate of 4.9%, as reported by the BLS, is within the range of so-called "full employment" referenced by the Fed of roughly 4.7% to 5.0%. Additionally, the Fed noted a slight shift in its balance of risks, noting, "Near-term risks to the economic outlook have diminished."
On the other hand, why might the Fed want to keep borrowing costs low? One issue is that capital expenditures by businesses in new equipment, technologies and facilities - a primary ingredient for productivity gains, which are necessary to increase consumer incomes and corporate profits at the same time - have gone lacking. In the GDP report, we see that the category known as "nonresidential fixed investment" declined at a 2.2% rate in the second quarter, after falling in each of the prior two quarters.
Theoretically, low rates can compel businesses to borrow to invest in capital equipment and structures. But that's not quite what has been happening. Businesses have instead used some of those borrowed funds from bond issuance to buy back shares and pay dividends, enhancing their share price but not necessarily aimed at investing in their operations. According to Ned Davis Research, the "repurchase yield" is 2.45% as of June 2016, while the dividend yield is 2.2%. Add the two together, and the total shareholder yield is 4.6%. If companies are simply returning funds to shareholders, rather than investing it in their operations, does the Fed really need to provide more accommodation?
There is one other consideration
And that is that the Fed needs the cooperation of the bond market to lift longer term yields to preserve the net interest margins of banks. Because banks usually borrow at (lower) short term rates and lend at (usually higher) longer term rates, they profit from this difference. Today, however, the net interest margin has consistently shrunk, which could erode the profits of banks - unless they charge borrowers a higher markup or pay their depositors less. Consider the nearby graph on net interest margins, which could argue against hiking short term rates quickly if long rates don't also move up.

And why might the Fed not succeed at raising longer term rates in tandem with short term rates? Extraordinarily low rates - including negative rates on longer term bonds - in much of Europe and Japan, is a gravitational force that pulls U.S. rates lower.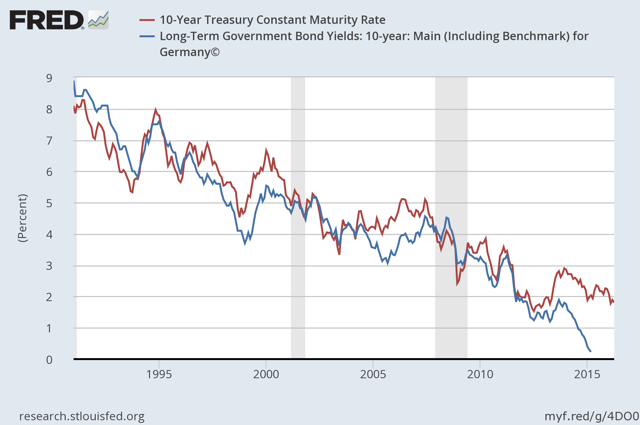 Because of these factors, while the Fed may consider raising rates, it also needs to consider a host of second-round ramifications that are outside of its control. In the end, when the Fed says it is "data-dependent," it really does mean what it says. It's just that the data is far more complex than what the simple employment and inflation metrics might otherwise indicate at first blush.
Disclosures
Investing involves risk, including possible loss of principal, and investors should carefully consider their own investment objectives and never rely on any single chart, graph or marketing piece to make decisions. The information contained in this piece is intended for information only, is not a recommendation to buy or sell any securities, and should not be considered investment advice. Please contact your financial adviser with questions about your specific needs and circumstances.
The information and opinions expressed herein are obtained from sources believed to be reliable, however their accuracy and completeness cannot be guaranteed. All data are driven from publicly available information and has not been independently verified by United Capital. Opinions expressed are current as of the date of this publication and are subject to change. Certain statements contained within are forward-looking statements including, but not limited to, predictions or indications of future events, trends, plans or objectives. Undue reliance should not be placed on such statements because, by their nature, they are subject to known and unknown risks and uncertainties.
© 2016 United Capital Financial Advisers, LLC. All Rights Reserved
Disclosure: I/we have no positions in any stocks mentioned, and no plans to initiate any positions within the next 72 hours.
I wrote this article myself, and it expresses my own opinions. I am not receiving compensation for it. I have no business relationship with any company whose stock is mentioned in this article.