Headline second quarter advance GDP estimate is 1.2 %, up from last quarter's downward revised 0.8 %. Yet the year-over-year GDP growth declined from 1.6 % to 1.2 %. The real story is the backward revision of data starting in 2013 which now correlates to Econintersect's economic forecasts.
There was a significant change to the GDP numbers since 2013.
My position was that the economy has been decelerating since the beginning of 2015 - and now GDP is telling the same story.
Econintersect published its economic index for August showing improvement - but not yet breaking the long term downward trend which began at the beginning of 2015.
Comparison before GDP revision: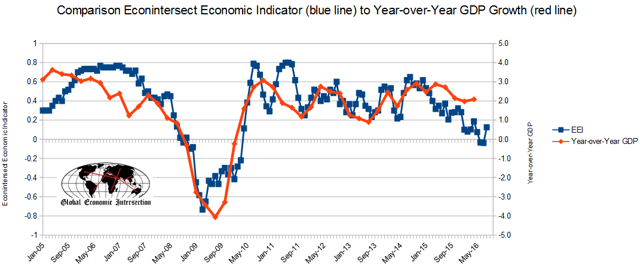 Current Comparison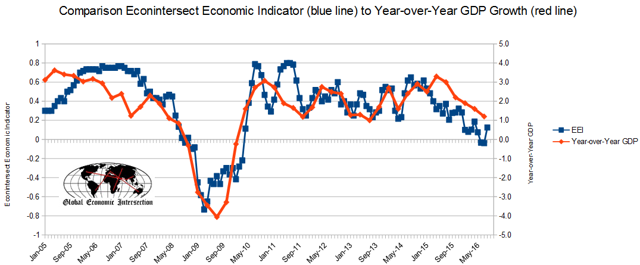 My opinion is that we have reached the trough in the current economic cycle, and that a MODEST acceleration in economic growth is the mathematical result. However, since the trough is not being analyzed in hindsight, there is little to say if the trough will be of short or long duration.
And consider that the resulting "better" data is relative, and that the USA in not close to returning to the growth of the "good ole days".
My usual weekly wrap is in my instablog.
Disclosure: I/we have no positions in any stocks mentioned, and no plans to initiate any positions within the next 72 hours.
I wrote this article myself, and it expresses my own opinions. I am not receiving compensation for it. I have no business relationship with any company whose stock is mentioned in this article.