It was just another happy day in the second longest bull market in history. U.S. stocks as measured by the S&P 500 Index touched a new all-time intraday high on Friday at 2177.09. With the wind still solidly at the back of U.S. stock investors after so many years, it seems absolutely nothing can go wrong. Don't worry, be happy.
Momentum
One of the hallmarks of the bull market over these last several years has been relentlessly strong momentum. And positive momentum has certainly been at work over the last few weeks since the dreaded 'Brexit' announcement turned out to be not so much.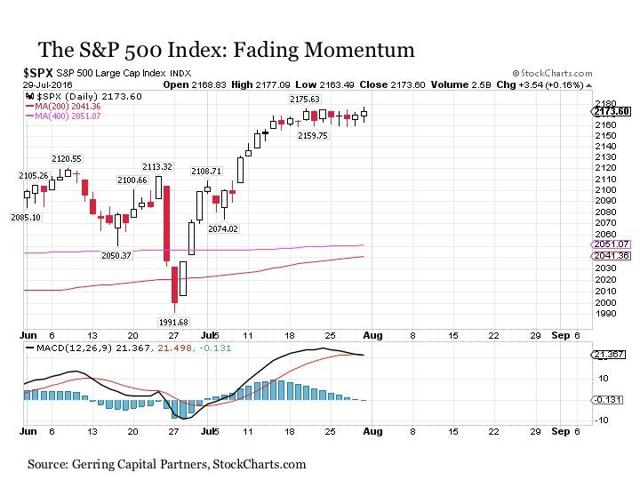 It was just seven trading days ago on July 20 when the S&P 500 Index (NYSEARCA:SPY) last set a new all-time intraday high at 2175.63. In the time since, momentum on the S&P 500 Index has peaked and started to roll over. In fact, just as the S&P 500 Index set a new all-time intraday high, it was accompanied by a bearish signal line crossover as the 12-day exponential moving average (EMA) crossed below the 26-day EMA for the first time since June.
Despite some early signs that momentum is weakening, such technical signals can be unreliable, particularly at extremes in momentum readings. The market could certainly continue higher from here even if momentum continues to fade.
Don't worry, be happy.
Valuation
Stocks are continuing to push upward into already historically high valuations. For while the price, or "P", on the S&P 500 Index has actually held fairly steady in a tight range for the past three weeks, the earnings, or "E", on the index continue to fall. Thus, the P/E ratio on the stock market continues to get bigger and bigger even if the S&P 500 Index continues to stand still.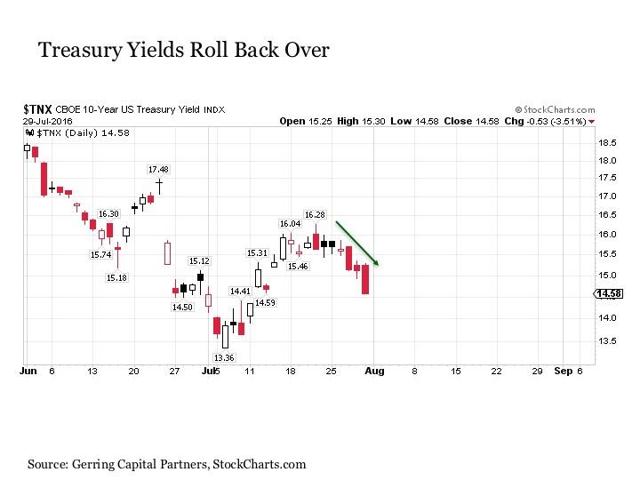 But Treasury yields (NYSEARCA:TLT) after a recent bounce higher have turned back to the downside over the past week, helping to justify these historically high valuations. And never mind that the Treasury yield curve is now the flattest it has been since 2007 despite the fact that the front end of the curve is still effectively pinned near zero percent, which needless to say is an ominous comparison. The equity risk premium is still solid from a historical perspective, and stocks are still the best stop for yield in an income starved market. There is, after all, no alternative, right?
Don't Worry, be happy.
Economy
All I kept hearing in early 2016 was that "growth is expected to get better in the second half of the year". But a good deal of the wind came out of the economic sails on Friday with the first release of 2016 Q2 GDP. Overall, the economy grew much less than the 2.5% consensus forecast on the first look, with inflation adjusted GDP increasing by just 1.2% on an annualized rate. Although the consumer continued to spend, business came up well short of expectations due in part to the strong dollar and uncertainties associated with the global economic outlook. This suggests that expectations for a more robust pick up in economic activity for the second half of the year may also fall short of expectations. Prepare to hear the switch soon flipped to "growth is expected to get better in the early part of next year".
These initially disappointing GDP readings are problematic for the stock market. GDP growth is an important driver of corporate earnings growth, which in turn is an important driver for stock prices. So if GDP growth is coming in much slower than expected, it is likely to only drag further on corporate earnings forecasts that are already deteriorating on a weekly basis.
But the worse than expected GDP data is likely to work against any inclination the already skittish U.S. Federal Reserve might have had about raising interest rates, which is bullish for stocks. In fact, if the economic data gets weak enough, we might even see a fresh round of stimulus, which would be even more bullish for stocks. Good news is good news, bad news is good news and really bad news is even better news.
So don't worry, be happy.
Oil
Following a spectacular rally from mid-February to early June where it doubled in price from its lows, oil (NYSEARCA:USO) has definitively rolled back over. After failing at its downward sloping 400-day moving average on West Texas Intermediate Crude, it is now down -20% since through Friday's close. In the process, it has slashed through key support levels at its 50-day moving average as well as the $42.50 per barrel range. By the end of the day on Friday, oil (NYSEARCA:OIL) was perched on its 200-day moving average after having spent a good part of the day below this key technical level.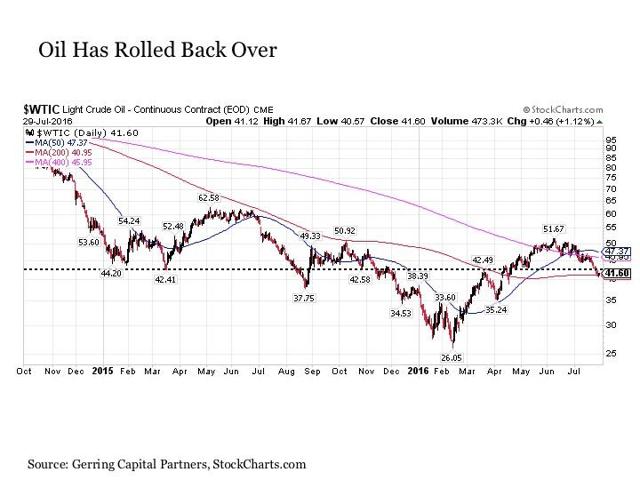 The renewed weakening oil price is troubling not only for what it may imply about global economic demand, it is also places new pressure on a corporate earnings outlook that was supposed to be improving on a sustained rebound in oil prices (NYSEARCA:DBO). And if oil prices continue to deteriorate, the pressure will resume on the energy sector (NYSEARCA:XLE) to further cut capital spending, which would have feed through effects on the earnings of those various industrials (NYSEARCA:XLI) that are reliant on demand from the oil patch. Given that these sectors make up a meaningful proportion of total corporate earnings, this has the potential to only add to the deterioration in the earnings outlook if it continues much longer.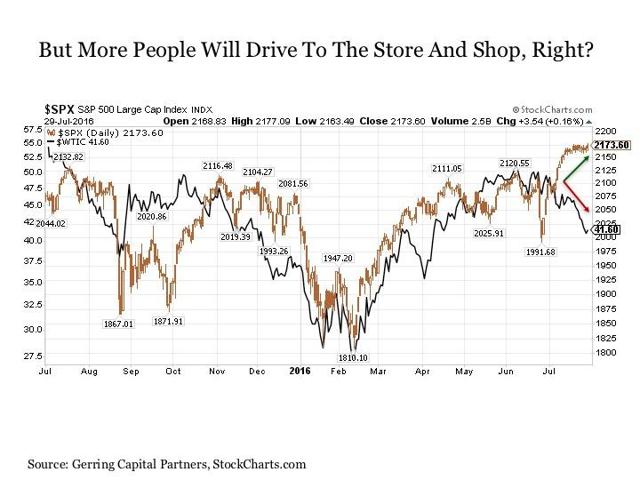 The decline in oil prices also has the potential to directly drag on stock prices if a recently high correlation relationship between stocks and oil resumes. Both stocks and oil have moved in tandem over the past year up until the last few weeks. Whether this relationship is rejoined in the coming weeks remains to be seen, but fundamental forces certainly support a reunion with stocks falling to the downside.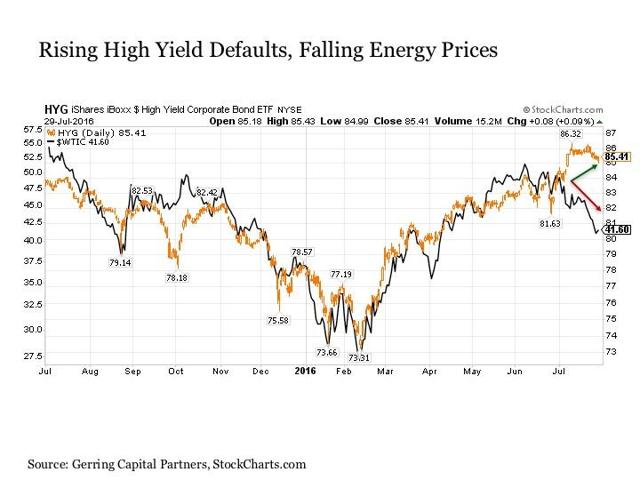 How about high yield bonds (NYSEARCA:HYG)? High yield corporate bond (NYSEARCA:JNK) default rates have now soared above 5% and are projected to continue rising through the remainder of the year. Much of the damage has come from the energy patch thanks to the already precipitous decline in oil prices. Yet during this latest decline in oil prices, high yield bonds have hardly noticed until perhaps the past few days.
But a case can certainly be made that oil supply and demand fundamentals are improving, so perhaps it will be oil catching up to stocks to the upside instead. And maybe we'll soon once again dust off the narrative that low oil prices will cause everyone that has already migrated to Amazon.com (NASDAQ:AMZN) anyway to put away their laptops, load up the SUV and head out to the malls, which is bullish for stocks. As for high yield bonds, the thirst for yield remains unquenchable for investors, and many of these more leveraged companies have made good progress in cleaning up their balance sheets, presumably the same way that Linn Energy (LINEQ) and so many others had before. And so what if 5% or 7% of high yield companies are defaulting, as there always the other 90% plus that are still kicking off interest payments, right?
Don't worry, be happy.
European Banks
A key lesson learned from the financial crisis a decade ago is that the global financial system is highly interconnected. So the recent challenges in the European banking system has been notable. This has become particularly acute since the 'Brexit' vote that supposedly was overblown and is nothing to worry about today.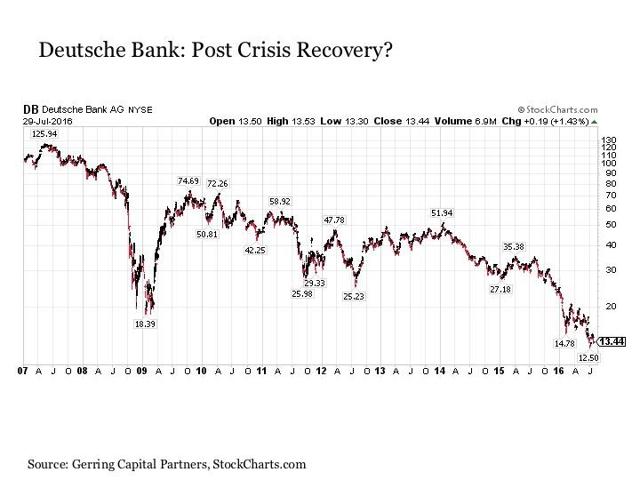 A bank that has been particularly notable in its recent weakness is Deutsche Bank (NYSE:DB), which has a derivative book that is purportedly so big that it is equivalent in the size to total worldwide global gross domestic product. Not only is the stock now -90% below its highs from prior to the financial crisis in 2007, but it is also now more than -25% below its crisis lows from early 2009. And while the U.S. stock market party rages on, Deutsche Bank shares have rolled back over definitively in the past week and are heading back toward lows from early July.
But the latest results from the stress tests conducted by the European Union's European Banking Authority were announced on Friday, and it was determined that most of the institutions in the 51 bank survey would pull through a future crisis scenario. Whew! Now I feel better, because I've never known one of these stress tests to determine that an entity would pass only to see it implode not long after.
Don't worry, be happy.
China
The latest signals out of China suggest that current growth may be worse than expected. As a latest example, Coca-Cola (NYSE:KO) announced its latest earnings results this week and its results out of China were dismal. And Moody's Investors Service indicated this week that the pace of increased indebtedness in China continues to exceed that of nominal GDP thanks to ongoing shadow banking activity in the country.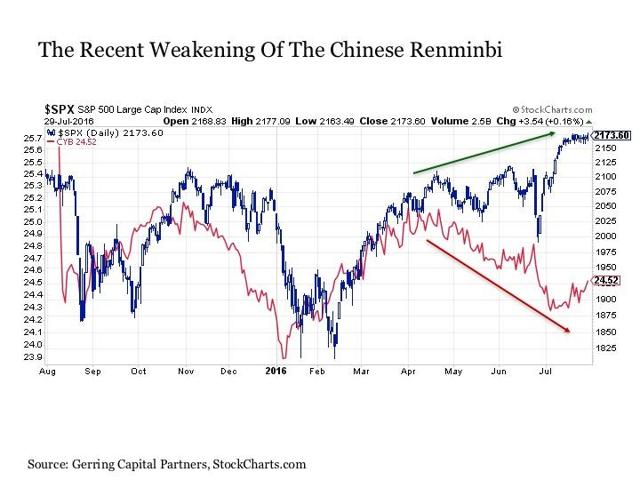 Adding to the fundamental issues are the technical challenges presented by the weakened Chinese Renminbi currency (NYSEARCA:CYB), which had been highly correlated with the S&P 500 Index until a recent divergence starting in April. As their currency weakens, China (NYSEARCA:FXI) is effectively able to export deflation to the rest of the world. And if corporations are forced to lower prices to sell their products, this narrows profit margins and places downward pressure on corporate earnings. Such are the fundamental reasons why the recent divergence between the S&P 500 Index and the Chinese currency might rejoin with the S&P 500 catching up to the downside.
But this is old news, right? China (NYSEARCA:ASHR) has had a lot of debt to go along with their ghost cities for years. And while their reduced demand for commodities has put a beating on emerging markets (NYSEARCA:EEM), it only means a plus for U.S. consumers that can stretch their dollar even further.
Don't worry, be happy.
If only it was this simple when it came to investing in financial markets.
The Bottom Line
The U.S. stock market touched new all-time highs once again on Friday. And as long as stocks remain boundlessly optimistic, it makes sense to maintain an allocation to U.S. stocks to participate in the ongoing upside of the second longest bull market in history.
But at the risk of bringing everybody down, while it may indeed feel like good sense to not worry and simply be happy, the underlying backdrop for the U.S. stock market is increasingly filling with downside risks that are compounding on themselves with each passing trading day.
The stock market may remain happy and continue to shake all of these forces off for the foreseeable future. But the way to truly not worry and be even happier is to carefully manage your risk. For just like life in general, investing will bring its inevitable periods of trouble along the way. But instead of telling yourself not to worry and trying to find ways to cheer yourself up when the market has gotten you down, monitoring your risks and adjusting as necessary in advance can enable you to stay happy by avoiding trouble altogether and meaningfully reducing the need to worry at all.
So continue to own winning U.S. stocks, but consider whether it is wise at this juncture to be all in. Be open to hedging in other uncorrelated asset classes that might hold up well if U.S. stocks finally run out of gas. And consider the merits of potentially holding at least some cash. After all, a +0.1% return in cash can suddenly look quite attractive when U.S. stocks have fallen by -10% or -20% or more. And there is no better time to have some cash on hand when stocks have gone on sale, even if it is in the midst of a bull market that ends up continuing higher and higher into the future.
So don't worry and be happy, not by giving in to complacency, but instead by taking sensible steps in advance from a risk control perspective so that you can continue to enjoy stocks setting new all-time highs while also providing yourself with the chance for happiness if stocks finally end up giving into fundamentals and rolling back over to the downside in a meaningful way.
Disclosure: This article is for information purposes only. There are risks involved with investing including loss of principal. Gerring Capital Partners makes no explicit or implicit guarantee with respect to performance or the outcome of any investment or projections made. There is no guarantee that the goals of the strategies discussed by Gerring Capital Partners will be met.
Disclosure: I am/we are long TLT.
I wrote this article myself, and it expresses my own opinions. I am not receiving compensation for it (other than from Seeking Alpha). I have no business relationship with any company whose stock is mentioned in this article.
Editor's Note: This article covers one or more stocks trading at less than $1 per share and/or with less than a $100 million market cap. Please be aware of the risks associated with these stocks.