Lannett is Surging Back
Following a dismal 2015, Lannett (NYSEMKT:LCI) has managed to engender an extraordinary return to popularity in 2016. Lannett is both a developer and manufacturer of generic pharmaceutical products in a variety of forms. After marked expansion from 2005-2010, the company also obtained its own distribution channels for oral capsules, tablets, and solutions. The company also has proprietary production of certain active pharmaceutical ingredients (API) through its Cody Laboratories subsidiary. Through the Jerome Stevens Distribution Agreement, Lannett is also able to solely distribute various pharmaceutical drugs, without manufacturing them on its own platforms.
As of November 25, 2015, Lannett accomplished its goal of acquiring Kremers Urban Pharmaceuticals Inc. ("KUPI"), the U.S. specialty generic pharmaceuticals subsidiary of global biopharmaceuticals company UCB S.A. As of December 2015, the acquisition has been completely integrated into the company. Along with an expanded manufacturing capacity due to the addition of a 300,000 square foot manufacturing facility in Seymore, Indiana, Kremers Urban provides Lannett with a stronger product pipeline (11 products pending with the FDA) and greater research capabilities (17 drugs currently undergoing development). By continuously investing to pursue economies of scale and advancing margins across multiple product categories, Lannett is positioning itself for a reemergence as a topline pharmaceutical firm.
Acquisitions and Growth
In November 2015, Lannett launched its initiative to acquire Kremers Urban. The move brought about grand changes in the company's structure, introducing an added portfolio of 17 high-value products and increasing manufacturing capacity by more than 3 billion doses:
(source: Lannett Company)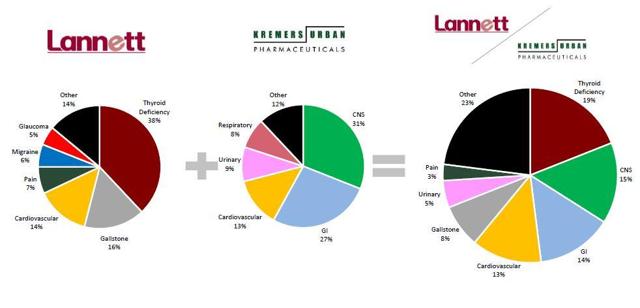 From a fundamental standpoint beyond growing the product line, the Kremers acquisition has allowed Lannett to foray into an area of drug development that it previously had not had access to: specialty products whose production processes cannot be easily reproduced. In fact, Lannett will be cutting roughly 20% of its workforce to readjust to the new paradigm in the company.
With the acquisition of Silarx in June 2015 as another important, yet more minor, strategic interchange, it has become clear that Lannett is focused on expanding its current product portfolio within tax-favorable jurisdiction:
(source: Lannett Company)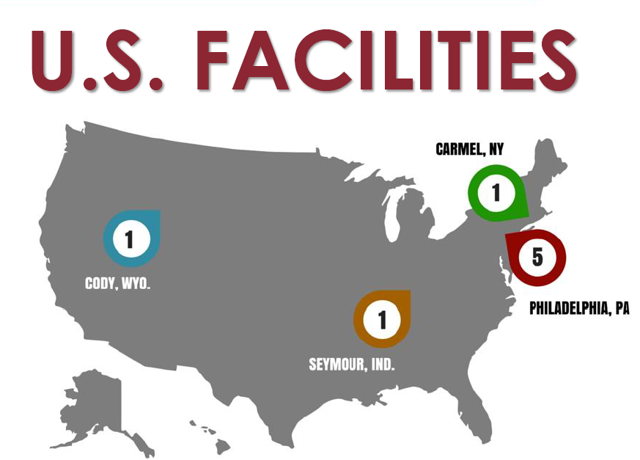 As shown above, "Lannett now holds pharmaceutical manufacturing facilities in Philadelphia, Pennsylvania, Cody, Wyoming, Carmel, New York, and Seymour, Indiana" as of June 2016. It is clear that with a $1.23 billion acquisition overriding the traditional company structure and an influx of new products adding to heightened Research and Development expenditures, a certain degree of risk has been provoked in Lannett's growing operations.
However, closer study finds that vertical integration with Kremers would allow for greater cohesiveness and efficiency in Lannett's overall production. For example, Lannett can take its products from Hydromorphone tablets or Cocaine HCI Topical Solution produced in Cody, Wyoming, as raw, powdered forms to be put in finished capsules in laboratories in Seymour obtained through the Kremers acquisition. Such procedures are expected to accumulate cost savings of over $40 million a year for the company's manufacturing arms. Compared to competitors who solely distribute or solely manufacture their pharmaceutical products, Lannett manages to keep efficiency in its coordinated plants at a maximum even while maintaining a far-reaching marketing branch.
Finally, Lannett has mastered how to milk its products:
(click to enlarge)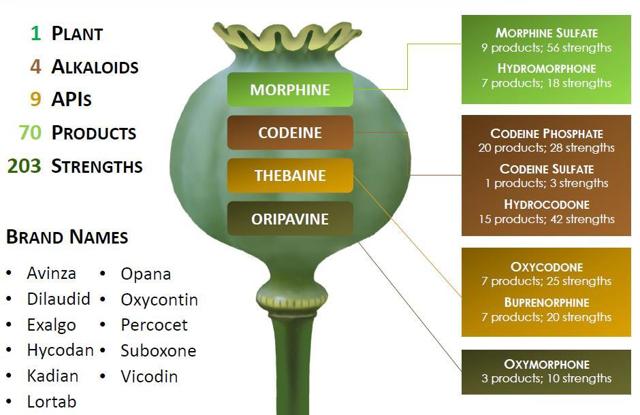 With a current total of 102 marketed products, Lannett has differing dosages, strengths, and variations of key products for treatment of various disorders. Take, for instance, its Levothyroxine tablets.
According to the 10-K report,
"In addition to generic Levothyroxine tablets, Lannett markets what are called Unithroid tablets, a branded version of Levothyroxine, which is produced and marketed with 11 varying potencies used to treat hypothyroidism and other thyroid disorders. Levo stubbornly remains the most prescribed drugs in the U.S. and is used by over 13 million patients of various ages and demographic backgrounds."
Even with such a startling portfolio of existing products, Lannett has 31 more drugs currently in research and development, as well as 32 products currently pending approval from the FDA. The recent distress over the stock has centered on the loss of one of Kremers' key customers in the midst of the acquisition process, accounting for $87 million out of the expected additional $800 million of revenue the deal has brought in; such news sent shares down nearly 20% over a three-day trading period. However, based on the overview of the Lannett's leading position in product markets and its astounding pipeline, such fears have allayed in the near term. In fact, over the past three months, the stock has jumped 50% from $20 per share to over $30 per share. The reasoning for such a heroic return to investor credibility is the FDA's approval for 3 major products within the last month alone. Meanwhile, the Kremers acquisition has finally begun to take effect by boosting "accretive to adjusted EPS in 2016 by high single digits, and is expected to further increase 20% to 25% in fiscal 2017."
Growth and Financial Outlook
From introductions of products such as Levothyroxine in 2005, OB-Natal in 2008, and Morphine Sulfate in 2011 (the three largest products in Lannett's mix), the firm has been able to consistently increase sale volumes:
(click to enlarge)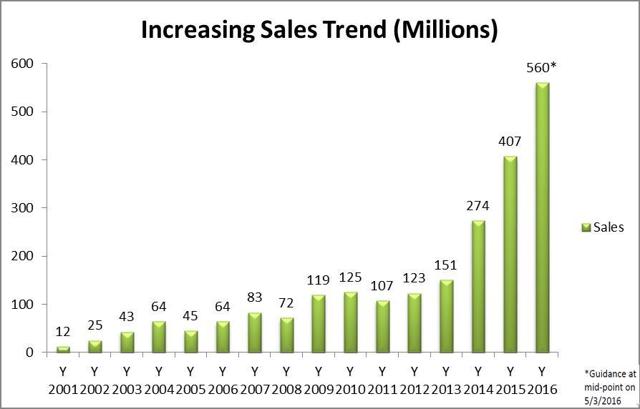 With the recent acquisition of Kremers and Silarx, an abundance of expansionary products are going to be within Lannett's grasp. Management has so far achieved a Compound Annual Growth Rate (CAGR) of 29% since inception, and expects Kremers to add an additional 6 to 15% to sales going forward. From a more near-term perspective, net sales alone have increased 65%:
Yet more importantly, when excluding the effects of amortization of purchased intangible assets, acquisition and integration expenses, and restructuring expenses, operating income at a current margin of 32.01% has increased by 19%:
Finally, from an evaluative standpoint against competitors, Lannett manages to shine above similar pharmaceutical companies and big name brands:
| | | | | | |
| --- | --- | --- | --- | --- | --- |
| Company | PEG Ratio | Operating Margin | P/E Ratio | Price/Cash Flow | ROA |
| Lannett | 0.6 | 32.01% | 15.3 | 11.6 | 6.79% |
| Supernus Pharmaceuticals (NASDAQ:SUPN) | 0.8 | 11.90% | 59.3 | 54.1 | 10.83% |
| Aceto Corp. (NASDAQ:ACET) | 0.9 | 11.88% | 17.8 | 13.8 | 8.11% |
| Akorn (NASDAQ:AKRX) | 2.8 | 30.11% | 25.8 | 16.0 | 8.10% |
| Catalent (NYSE:CTLT) | 2.4 | 11.92% | 15.0 | 8.8 | 6.72% |
| Johnson and Johnson (NYSE:JNJ) | 3.6 | 25.51% | 23.3 | 24.8 | 11.20% |
| Pfizer (NYSE:PFE) | 4.2 | 19.86% | 30.1 | 17.2 | 4.71% |
| Novartis (NYSE:NVS) | 4.9 | 16.87% | 30.2 | 17.8 | 5.01% |
| Roche (OTCQX:RHHBY) | 2.9 | 27.89% | 24.3 | 17.0 | 11.97% |
For its superb operating margin and price to free cash flow multiple, Lannett has an astoundingly low P/E ratio. The stock is relatively cheap when compared to its peers, and is only now exiting oversold territory in the markets.
| | | | | | |
| --- | --- | --- | --- | --- | --- |
| Company | Revenue Growth Rate (3Y) | EBITDA Growth Rate (3Y) | EPS Growth Rate | Quick Ratio | |
| Lannett | 36.30% | 141.90% | 206.70% | 2.74 | |
| Teva Pharmaceutical (NYSE:TEVA) | 4.80% | 10.70% | 4.80% | 1.01 | |
| Mylan (NASDAQ:MYL) | 5.40% | 5.20% | 3.80% | 1.13 | |
| Centene (NYSE:CNC) | 31.30% | 115.10% | 454.00 | 0.89 | |
| Gilead Sciences (NASDAQ:GILD) | 41.70% | 55.60% | 60.60% | 2.52 | |
As shown above, compared to two acquisition-focused pharmaceutical companies, Teva Pharmaceutical and Mylan, Lannett experiences a meteorically higher revenue and EBITDA growth rate. Management has consistently proven that it can integrate targets smoothly into the operational structure of the firm, even while firms like Teva often make far more expensive purchases. Meanwhile, compared to two high-growth firms, Centene and Gilead Sciences, not only does Lannett surpass them in terms of EBITDA growth, but it also manages to do so while maintaining a superior quick ratio. Such a metric suggests that the firm does not undertake a balance sheet loaded with debt in order to pursue growth, while other firms are not as risk-conscious.
As briefly mentioned previously, Lannett has received four product approvals for Potassium Chloride ER Capsules, Sumatriptan Nasal Spray, and Temolozomide Capsules for the beginning of calendar year 2016. Within the months of June and July 2016 alone, the company has received approval for Fentanyl Patches, Paroxetine Extended Release Tablets, and Diazepam Oral Solutions. The combination of all of such products allows access to a market procuring $1.2 billion of revenue, according to the IMS, with "total U.S. sales in 2015 of Fentanyl Transdermal System products at Average Wholesale Price being more than $650 million alone." In short, Lannett has clearly shown success with its existing product line, and is only expecting to expand its reach in medical markets in the fourth quarter of 2016.
Catalysts
In addition to a superior product pipeline, the clearest industry related movement benefiting Lannett on a more long-term basis is the aging baby boomer population:

As shown above, courtesy of the fantastic report from Sabi on baby boomer generation trends, the baby boomer population above 75 years old is expected to constitute more than 71 million individuals by 2020. With a rise in senior citizens comes a rise in healthcare expenses, with prescription drug spending growing a massive 12.2% to $297.7 billion in 2014 and has continued growing by 5% margins in 2015 and 2016. Unfortunately for these seniors, and fortunately for Lannett, more and more boomers are experiencing greater health deteriorations than previously recorded: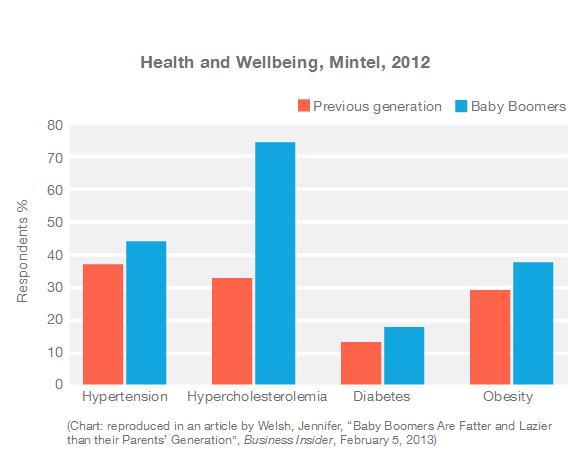 Lannett stands to benefit from these catalysts far more than brand producers for a few reasons. For one, brand products require extensive budgets needed to pay for sales representatives who contact physicians and hospitals directly; such marketing tactics only fall in favor with doctors who are already familiar with the product. Secondly, generics, such as those produced by Lannett, are far more easily distributed. Whether it be through drug wholesalers (McKesson, Cardinal, and AmerisourceBergen), chain drug stores (Walgreens, CVS, RiteAid), or mail-order pharmacies (Express Scripts/Medco, OPTUMRx, Caremark), Lannett will be able to easily disburse incoming products onto the market.
Yet more importantly, the pharmaceutical industry has introduced a new product approval process, known as the Abbreviated New Drug Application (ANDA). ANDAs not only require no preclinical/clinical data, but also require less development time and money due to only having a need to show "bioequivalence". With more than $81 billion of brand drugs coming off patent through 2020, and Lannett's generics often costing 80-85% less than the brand, Lannett stands to truly benefit from its industry positioning:
\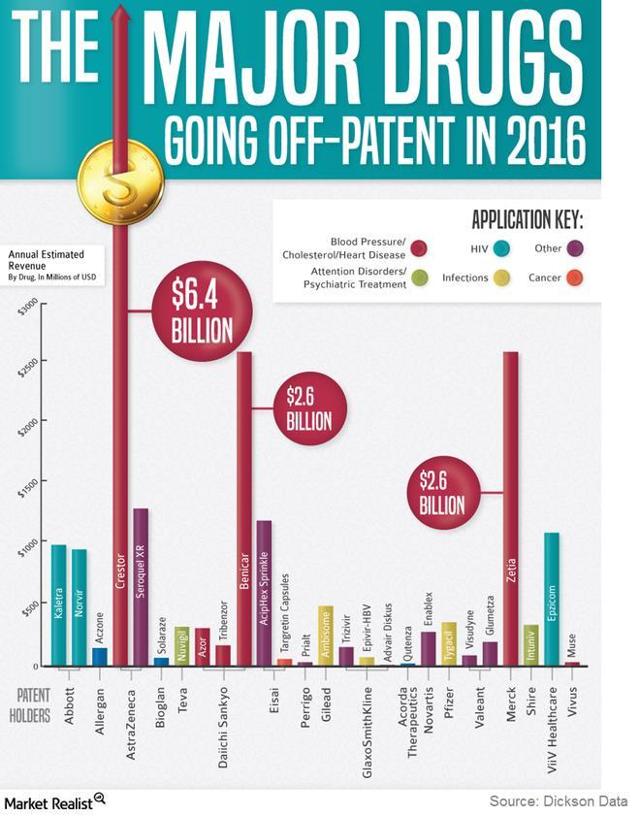 Risks
Certain risks do prevail in regards to Lannett's operations. Namely, the rise in company debt following the purchase of Kremers and Silarx has caused hefty interest rate payments that weigh down on earnings and income.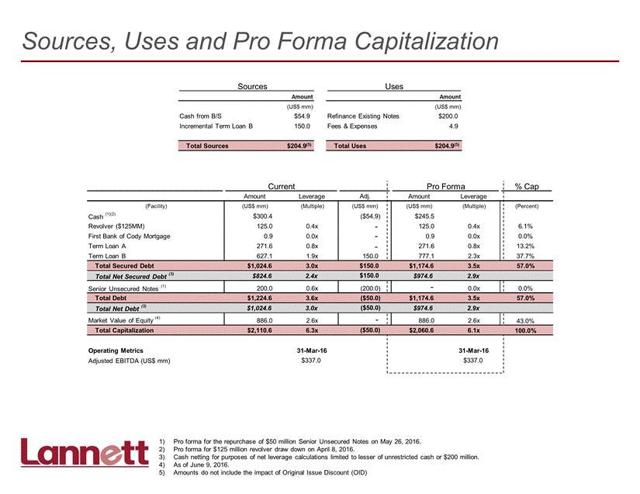 Should interest rates materially rise, certain floating rate loans extended to Lannett would be adversely affected; considering excess income is crucial in the pharmaceutical industry to be used in the pursuit of research and development, Lannett might no longer have as powerful a product pipeline in the future as it had pre-acquisitions. However, it is necessary to remember that Lannett currently has an interest coverage of 3.5, and has taken steps to delever its balance sheet.
According to PR Newswire, Lannett announced that it completed the repurchase of all of its 12% Senior Notes due in 2023, which totaled $250 million. Not only does this save the company $170 million in cash interest over the life of the loans, but it also shows that Lannett is acutely aware of the damage that interest payments have caused to its net income. As management continues to keep a close eye on the balance sheet and restructure loans under more favorable terms, there will only be improvements in Lannett's financial stability going forward.
Finally, it is true that Lannett's top five products constitute more than half of its total sales. However, in April, Lannett announced an expanded collaboration with a "strategic partner" to co-develop generic insulin for the $21 billion US market. Combined with the aforementioned approval of seven major products by the FDA in 2016, the company has overtly diversified its product base to insulate operations from the vagaries of price-changes in top products. Finally, after Lannett follows through with its corporate restructuring involving all major plants and 20% of the workforce, the more "streamlined manufacturing, packaging, and distribution process" all point to only further efficiency in performance in the future.
Final Remarks
Overall, Lannett stands to benefit from favorable global demographic conditions as well as a resoundingly powerful product pipeline. Even more so, with its recent acquisitions and continual attention to risk management, I have set a price objective of $40.00 by year end. Assuming that a position is entered today, this would translate into a 33% gain for 2016. With the current conditions of the specialty pharmaceutical market causing more causalities than heroes for equities in the space, such a return is highly appealing. Although it has fallen out of favor in 2015, Lannett has returned with a vengeance to climb the ranks of the pharmaceutical industry and reinstate its place as a leading manufacturer and distributor of therapeutic and medicinal products.
Appendix:
LANNETT COMPANY, INC.
CONSOLIDATED STATEMENTS OF OPERATIONS
(UNAUDITED)
(In thousands, except share and per share data)
Three months ended
Nine months ended
March 31,
March 31,
2016
2015
2016
2015
Net sales
$
163,712
$
99,352
$
397,204
$
307,561
Settlement agreement
(23,598)
-
(23,598)
-
Total net sales
140,114
99,352
373,606
307,561
Cost of sales
75,345
23,694
155,964
73,094
Amortization of intangibles
7,278
20
11,079
61
Gross profit
57,491
75,638
206,563
234,406
Operating expenses:
Research and development expenses
16,495
9,159
32,092
23,358
Selling, general, and administrative expenses
16,157
11,617
46,359
32,923
Acquisition and integration-related expenses
1,473
587
23,000
2,656
Restructuring expenses
4,749
-
4,749
-
Total operating expenses
38,874
21,363
106,200
58,937
Operating income
18,617
54,275
100,363
175,469
Other income (loss):
Investment income (loss)
204
(8)
69
895
Interest expense
(26,988)
(8)
(38,820)
(119)
Other
(46)
(26)
(76)
(6)
Total other income (loss)
(26,830)
(42)
(38,827)
770
Income (loss) before income tax
(8,213)
54,233
61,536
176,239
Income tax expense (benefit)
(2,743)
17,973
20,270
60,208
Net income (loss)
(5,470)
36,260
41,266
116,031
Less: Net income attributable to noncontrolling interest
20
27
55
55
Net income (loss) attributable to Lannett Company, Inc.
$
(5,490)
$
36,233
$
41,211
$
115,976
Earnings (loss) per common share attributable to Lannett Company, Inc.:
Basic
$
(0.15
)
$
1.01
$
1.13
$
3.25
Diluted
$
(0.15
)
$
0.97
$
1.10
$
3.13
Weighted average common shares outstanding:
Basic
36,495,961
35,880,954
36,398,030
35,715,061
Diluted
36,495,961
37,210,138
37,383,742
37,082,138
Source: 2016 10-Q
LANNETT COMPANY, INC.
CONSOLIDATED STATEMENTS OF CASH FLOWS
(UNAUDITED)
(In thousands)
March 31,
2016
2015
OPERATING ACTIVITIES:
Net income
$
41,266
$
116,031
Adjustments to reconcile net income to net cash provided by operating activities:
Depreciation and amortization
20,075
4,020
Deferred income tax expense (benefit)
(123)
828
Share-based compensation
8,423
4,729
Excess tax benefits on share-based compensation awards
(1,565)
(7,802)
Loss (GAIN) on sale of assets
92
(15)
Loss on investment securities
209
(592)
Amortization of debt discount and other debt issuance costs
7,555
61
Settlement agreement
23,598
-
Other noncash expenses
111
-
Changes in assets and liabilities which provided (used) cash, net of acquisition:
Accounts receivable, net
50,903
(18,390)
Inventories
13,280
2,370
Prepaid income taxes/Income taxes payable
(14,707)
(1,371)
Other current assets and other assets
(9,675)
(2,663)
Accounts payable
(5,405)
(3,988)
Accrued expenses
(1,826)
(58)
Accrued payroll and payroll-related expenses
(24,720)
(4,798)
Rebates payable
(376)
1,331
Royalties payable
2,176
-
Restructuring liability
3,085
-
Accrued interest payable
10,823
-
Net cash provided by operating activities
123,199
89,693
INVESTING ACTIVITIES:
Purchases of property, plant and equipment
(16,647)
(22,580)
Proceeds from sale of property, plant and equipment
16
76
Purchases of intangible assets
-
(300)
Acquisition, net of cash acquired
(929,581)
-
Proceeds from sale of investment securities
32,406
61,334
Purchase of investment securities
(32,107)
(36,662)
Net cash provided by (used in) investing activities
(945,913)
1,868
FINANCING ACTIVITIES:
Proceeds from issuance of debt
910,610
-
Repayments of debt
(34,225)
(96)
Proceeds from issuance of stock
3,788
4,164
Payment of debt issuance costs
(32,716)
-
Excess tax benefits on share-based compensation awards
1,565
7,802
Purchase of treasury stock
(1,197)
-
Distribution to noncontrolling shareholders
(20)
(15)
Net cash provided by financing activitie
847,805
11,855
Effect on cash and cash equivalents of changes in foreign exchange rates
15
(231)
NET INCREASE IN CASH AND CASH EQUIVALENTS
25,106
103,185
CASH AND CASH EQUIVALENTS, BEGINNING OF PERIOD
200,340
105,587
CASH AND CASH EQUIVALENTS, END OF PERIOD
$
225,446
$
208,772
SUPPLEMENTAL DISCLOSURE OF CASH FLOW INFORMATION:
Interest paid
$
20,357
$
123
Income taxes paid
$
35,128
$
60,750
Issuance of unsecured 12.0% Senior Notes to finance KUPI acquisition
$
200,000
$
-
Issuance of a warrant to finance KUPI acquisition
$
29,920
$
-
Acquisition-related contingent consideration
$
35,000
$
-
Disclosure: I/we have no positions in any stocks mentioned, and no plans to initiate any positions within the next 72 hours.
I wrote this article myself, and it expresses my own opinions. I am not receiving compensation for it (other than from Seeking Alpha). I have no business relationship with any company whose stock is mentioned in this article.
Editor's Note: This article discusses one or more securities that do not trade on a major U.S. exchange. Please be aware of the risks associated with these stocks.