While Under Armour's (NYSE:UA) rise in the NBA has been widely covered, the company has infiltrated the basketball market at all three levels. This off season, UA has made serious moves to disrupt the California market even further.
Earlier in the year, Under Armour made headlines by locking up the CAL Berkeley and UCLA apparel deals, two of the most high profile college basketball programs on the west coast. UA already has a significant presence with Curry in Northern California. UCLA and Cal Berkeley are certainly programs to watch, and their recruiting has significantly improved in recent years. Under Armour is set to help boost these programs even further.
UCLA will be Under Armour's flagship program on the West Coast and they have a lot of big time players coming in the new few years. The impact that the apparel companies have on determining where big time players go is an under looked phenomenon that plays a large role in the recruiting process, and ultimately the brand down the line.
UAA
Under Armour entered the grassroots basketball scene just a few years ago, and has take it by storm with its Under Armour Association league, heavily competing for top youth players amongst their competitors Adidas(OTCQX:ADDYY) and Nike(NYSE:NKE). Relationships between top athletes at the high school level and apparel brands is a topic that goes under the radar but it is indeed prevalent.
The ultimate goal? To get NBA player endorsements and sell shoes. The big brands hope the can build a relationship early, so then when they do have a potential endorser headed for the NBA they will have a loyalty to the brand. With Steph Curry's success on the court translating to big sales in the basketball footwear space, it is no surprise that UA wants to find the next big star. With Curry's reported $14 Billion in value he creates for the brand, this is a very big deal.
Under Armour Footwear has been on a roll recently. In Q2 footwear sales were up 58% Y/Y, bringing in $258M in sales. Analysts have cited this increase largely credited to Curry's performance on the court, as we are seeing a sort of "Michael Jordan" effect on the brand. That is simply how important key endorsements are for a burgeoning athletic apparel company. The next wave of endorsements should cement Under Armour's presence in basketball as legitimate and not just a current fad.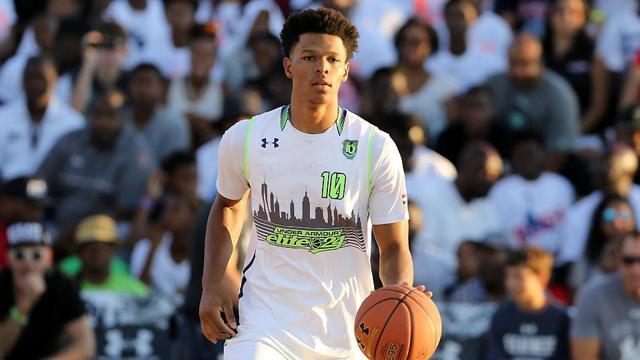 Under Armour paid a lot of money for the UCLA deal, and want to make sure they make a big splash in the NCAA for the deal to pay off. Prior to the UCLA Under Armour Deal, basketball analysts at 247 Sports had UA's top youth star Trevon Duval (the #1 ranked PG in the country by ESPN) projected to go to Under Armour's flagship East Coast school, Maryland. As soon as the UCLA deal was signed, his projection to UCLA skyrocketed to nearly 100%. Coincidence? Highly unlikely.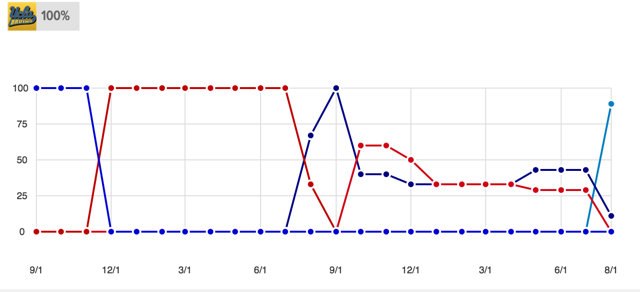 While critics will say that these youth players are unimportant or too far away from the league to make an impact, many of these players only compete for one year in college then jump straight to the NBA and sign an endorsement deal. With Under Armour taking their time in adding new superstars to its basketball roster, it is likely will see some big new signings in the next few years.
Disclosure: I/we have no positions in any stocks mentioned, and no plans to initiate any positions within the next 72 hours.
I wrote this article myself, and it expresses my own opinions. I am not receiving compensation for it (other than from Seeking Alpha). I have no business relationship with any company whose stock is mentioned in this article.