While this mornings Q2 2016 GDP data came in massively weaker than economists had expected, the bright spot in the data from the Census Bureau was consumption. The U.S. economy was expected to have grown 2.6% in the second quarter, but the Census Bureau reported that not only did the US economy grow a at only 1.2% in the quarter, but Q1 GDP was revised lower from an already poor 1.1% to just 0.8 percent. Having said that, personal consumption, which accounts for more than two-thirds of economic output, expanded at a 4.2% rate. This metric was the best gain since late 2014. Outlays on goods advanced 6.8%. Spending on services climbed 3 percent in the 2 nd quarter. With those data sets in mind, the consumer remains healthy in spite of the subdued total GDP results. Below is a chart of quarterly GDP performance since 2012. The chart very much identifies that the economy has been faltering since 2014, albeit still growing at a muted pace.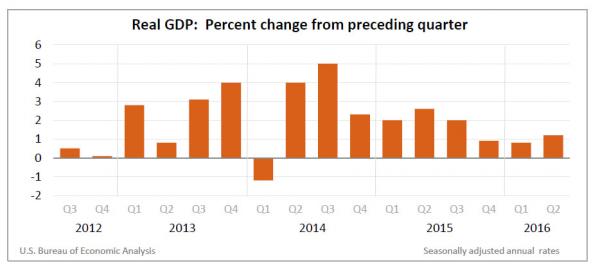 With personal consumption as a component of total GDP serving as a backdrop for this article, I'd like to discuss one retailer that has been plagued by subdued retail sales growth and consumption over the past several quarters. That retailer is Bed Bath & Beyond (NASDAQ:BBBY). As I have archived and forecasted the declines of the business since the beginning of FY15, I think it fitting to underscore the latest GDP results and the possible impact from personal consumption on the retailer.
During Bed Bath & Beyond's Q1 2016 performance, the company exhibited total comp sales that fell some 50 basis points. This came alongside the company missing top and bottom line estimates. Furthermore, the company lowered their comp sales guidance from 1-2% to just 0-1% for FY16. This may have been a very prudent measure for the company. Given the rise in retail sales and consumer spending over the last few months, some of this spending may have filtered into Bed Bath & Beyond's sales that wouldn't need much of a boost from the previous quarter to hit the 0-1% forecast in the coming quarter/s.
It's no secret that the retailer has been struggling for the last several years and as gross margins indicate. With gross margins at roughly all-time lows, it shows that Bed Bath & Beyond's management team has not adjusted to the changing consumer and retail landscape. Essentially they have been forced to increase their " couponing" to lure customers to spend more at the retailer. The couponing is somewhat different from traditional discounting as most coupons serve to bring down the price of the average retail sku inline with the likes of competing retailers. Additionally, much of what Bed Bath & Beyond stocks is unable to be shopped by the consumer elsewhere.
Most of Bed Bath & Beyond's broad soft goods merchandise, inclusive of bed and bath, can't be found at the likes of Wal-Mart (NYSE:WMT), Target (NYSE:TGT), Costco (NASDAQ:COST), Kohl's (NYSE:KSS) or J.C. Penney (NYSE:JCP). Additionally, the retailer has longstanding contracts with suppliers and vendors to ensure exclusivity on skus if not on brands. In other words, Bed Bath & Beyond and Kohl's may carry the same brand, but not the same style or color of a particular sku within the brand. With this in mind, it is hard to recognize Bed Bath & Beyond as competing with anybody with regards to soft goods. Having said that, the company does compete with the aforementioned retailers in the categories of hard goods, which has shown to be a fierce market to participate in over the years. And when you layer on the competition from Amazon (NASDAQ:AMZN) one can recognize quite easily why Bed Bath & Beyond's business has been less profitable over the last couple of years. Of course when I state this, the company has grown earnings on the back of billions of dollars in buybacks, but buybacks have little to do with earnings and more to do with how free cash flow is being spent or returned to shareholders.
For investors considering dedicating capital to shares of BBBY, you may recognize my dedicated coverage of the company and its shares on Seeking Alpha. I have issued many reporting and analytical pieces on the company's operations over the years. My coverage has carried with it a negative sentiment since 2015 as the business was exhibiting stresses. I have recommended avoiding acquiring shares of BBBY due to the continual pressures on the business and in doing so I've hopefully enabled investors to avoid capital erosion with the instrument. But…at present and given the company's lowered guidance and personal consumption trends, I'm willing to raise my Underweight rating on shares of BBBY to Neutral. Let me further explain.
While I am not expecting any spectacular turnaround in the company's sales or gross profit margins in the near to mid-term, I think the bar is set low enough for the company to meet or jump over in the coming earnings report. Such a forecast, if achieved, may serve to stabilize the share price decline that has persisted since February 2015 as indicated in the chart below.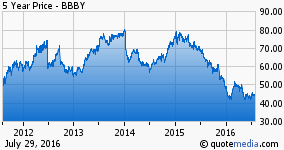 I don't believe Bed Bath & Beyond has materially improved the state of business operations or has addressed the lack of millennial clientele spending at the retailer. Additionally, I don't believe the retailer's e-commerce growth can offset the declines in its brick & mortar business beyond 2016. But given that the stock is already exhibiting a very low price to earnings multiple, investors may become overly enthused by modest improvements in metric performance, which may serve to improve the stock performance. Furthermore and adding fuel to my rating change, with missing estimates on the last quarterly reporting cycle, shares are actually higher than when the company reported these misses on analysts' estimates. As such, logically one can assume that the greatest proliferation of investors recognize the current value in the share price with the potential for modest improvements in operating results going forward. Keep in mind that Bed Bath & Beyond did not lower its EPS estimates in accordance with lowering sales expectations, which again, may be what is benefiting the share price to some degree since last reporting. I tend not to give a heavy weighting toward BBBY's earnings as much of the growth has come from share repurchase of late.
To reiterate, much of my raised rating on shares of BBBY stem from the trends in retail sales and personal consumption and are juxtaposed with the company's lowered guidance. If the culminating of these variables converge in a positive manner when the company reports Q2 2016 results, shares of BBBY may prove to appreciate from $44 and where the shares have been trading for much of the latest period.
We are currently in the broader reporting cycle, investors should also recognize that BBBY does not report alongside the major retailers during earnings season. Bed Bath & Beyond won't likely be scheduled to report its Q2 2016 results until mid-late September. I believe this to be to the benefit of investors who are considering an investment in shares of BBBY. Investors will get a peak into the strength of big-box retailers during the latest period as company's like Wal-Mart, Target, Kohl's and J.C. Penney will all be reporting Q2 2016 results in the coming weeks.
Added Disclosure
With respect to shares of BBBY and my portfolio, while I have not participated in long-term investing with shares since eliminating my ownership at $76, trading the stock in a narrow range as of late has proven profitable. In my recent article titled "Golden Capital Portfolio Performance: UVXY Driven Returns", I added shares short to my portfolio. In quick order, I was able to cover these shares short for a profit as outlined in my real time Twitter (NYSE:TWTR) feed. At present, I do believe shares represent a long-term value, but that value is also consistent with long-term gross margin erosion, stagnant sales growth and a cash balance that has deteriorated mightily YOY. These variables remain a risk to the value thesis. Thus, a Neutral rating is optimal unless shares of BBBY become further depressed.
Disclosure: I/we have no positions in any stocks mentioned, and no plans to initiate any positions within the next 72 hours.
I wrote this article myself, and it expresses my own opinions. I am not receiving compensation for it (other than from Seeking Alpha). I have no business relationship with any company whose stock is mentioned in this article.