(Encana Corporation logo)
Encana reports in USD; unless otherwise noted, all prices quoted are in that currency.
Encana's Current Situation
As oil prices have increased, Encana Corporation (NYSE:ECA) shares have become increasingly popular with investors. Since its February lows, Encana's share price has risen by over 150%. Its Q2 Earnings Report attracted considerable attention in both the media and on the street. However, many comments indicate that the greatest interest came from the fact that Encana was increasing its production (and its capex) even in the current uncertain environment. Given that this was being done by a major company, some chose to regard it as a hopeful sign of things to come.
The Encana quarterly report may have been seen as suggesting green shoots of spring for the oil patch generally, but as regards the company's own position, the positive indications were muted. There were lower transportation, processing and operating costs that were projected at $100 million on an annual basis, and possibly better for 2017. Capital efficiency in drilling and completion costs continued to come in lower than Encana had targeted. With the cost reductions and especially with the significantly better oil pricing for the quarter as compared with Q1, both cash flow and operating earnings were up, although the financial statements still showed an earnings loss of $1.068 billion, which an income tax recovery reduced to a net loss of $601 million.
The company also stated that both the previously announced DJ and Gordondale divestitures would close by the end of July of this year and would bring in net proceeds of about $1.1 billion. The company conference call indicated that, "We expect to use a portion of the proceeds from announced divestitures to further reduce debt." Some $200 million from these proceeds would also be used to fund the projected increase in capex for this year.
Guidance for 2016 production is now provided at between 340,000-360,000 boe/d. Given Encana's recent asset sales, this is down considerably from the 405,900 boe/d averaged in 2015. Apart from divestitures, the Q2 MD & A noted disappointing results from Deep Panuke, where gas production fell from 107 MMcf/d in H1/15 to just 39 MMcf/d in the same period this year.
Still, with the newly increased drilling program, guidance now represents perhaps a 13,000 boe/d increase in Q4 from earlier projections, and an annualized increase of between 30,000-35,000 boe/d for 2017. What is also notable is that with the divestitures and acquisitions over recent years, Encana's natural gas production, which was 94% in 2012, is likely to come in at around 65% for 2016, and should decline even further in coming years.
Encana is still devoting almost all its attention to its Core Four properties: the Permian, Eagle Ford, Duvernay and Montney, where about 95% of its 2016 capital expenditures are allocated. The company's conference call noted that this situation will remain the same for its increased capex program, with most of the additional $200 million going to the Permian.
Still Selling Assets
Encana acquired its oily assets in the Eagle Ford and Permian at relatively high cost. Since then, the company has attempted to solidify its balance sheet especially by several measures (a bought deal and debt buyback included), but especially by major divestitures of assets regarded as non-core. These divestitures have helped, but in a low price situation the company is still in a short-term seesaw effort to grow its oil production while reducing, or at least not increasing, its debt levels.
On the divestiture front, in October, 2015, Encana had announced the sale of its assets in the DJ Basin in Colorado to a group led by the Canada Pension Plan Investment Board for approximately $900 million. The deal was expected to close by year-end, but closing has been postponed. The company has now indicated (July 29) that both deals have been closed, Gordondale with an effective date of January 1, 2016, and DJ with effect as of April 1, 2015.
The most recent sale of the Gordondale property to Birchcliff Energy (OTCPK:BIREF) deserves some attention, especially since it is located in the Montney area, which Encana considers one of its Core-4, and some analysts have suggested that the $490 (C$626) million Encana has received may be somewhat below the property's NAV. Birchcliff, whose main investor is Seymour Schulich, seems to be enthusiastic about the deal, feeling that they can optimize the asset, which is contiguous to its other holdings.
This year the Gordondale property has been producing about 26,000 boe/d (largely gas, but 41% liquids), and has a decline rate of about 20%. Birchcliff has guided to over 28,000 boe/d from the property by 2017. The total asset sold includes extensive proved reserves and undeveloped property as well as tax pools.
What Encana has done is to juggle a divestiture of Montney production for greater short-term gain from the Permian, where costs are low and the output, by comparison, is oil-rich (75% liquids). The company, with its reduced capex, was not intending to drill further in the Gordondale area during 2016, and it attributes the $100 million savings in transport, process and operating costs during 2016 to the Gordondale sale. The $200 million or so of funds from the sale that will be largely applied to the Permian. As noted, this will generate new production of about 13,000 boe/d in Q4 and perhaps 30,000 - 35,000 boe/d in 2017. Still, the Gordondale property is not an unattractive one and divestiture is permanent.
The Gordondale sale indicates Encana's determination to maximize cash flow over the next two years in a low price environment. When asked about further asset sales during the recent conference call, Brian Ferguson, Encana's CEO did not exclude them, but commented: "What we really believe we need to do is actually grow our EBITDA as one of the most powerful levers to reduce our debt." At the same time, further divestitures could be another lever in that strategy.
Encana's long-term debt stood at $5.69 billion at June 30, having increased from $5.33 billion on December 31, 2015. Less the announced additional capex of $200 million, the net proceeds of the divestitures now closed should reduce debt to a current level of about $4.8 billion. Clearly Encana's present priority is to reduce its debt further, or at the very least, to ensure that negative cash flow does not increase it.
In this connection, it should be noted that Encana has just issued a "Preliminary Short Form Base Shelf Prospectus" that would allow it to issue up to $6 billion in new debt, shares, warrants etc., over the next 25 months. The proceeds could be used "to finance capital expenditures, to reduce our outstanding indebtedness, to finance future acquisitions, or for general corporate purposes." Investors familiar with this type of prospectus will recognize that it might mean anything or nothing, but that it is sometimes a prelude to the issue of new shares, which while dilutive, could further deleverage Encana's balance sheet.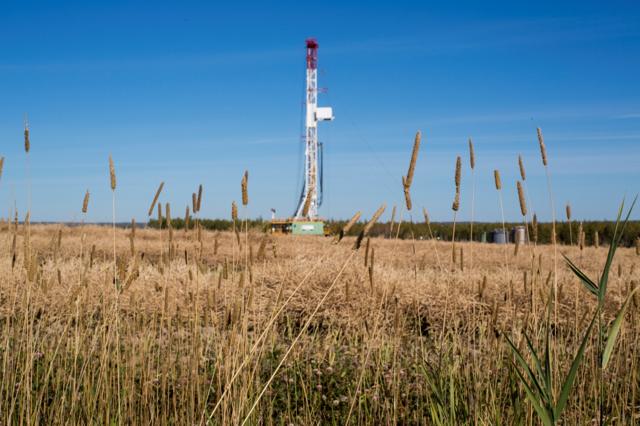 Montney Rig; Encana Corporation photo.
Intensified Hedging Program
Encana had provided preliminary capital expenditure guidance for 2016 of between $1.5 and $2.0 billion, but then lowered that range to between $900 million and $1.0 billion. This will now be increased to $1.1 to $1.2 billion. A full 95% of this will be spent on its Core-4 plays, 50% or more in the Permian alone, where costs of drilling and completion have been sharply reduced. In 2016, about 75% of total production should come from Encana's Core-4 assets, a 12% increase from the current year. Most importantly, the company's 2016 production should be at lower costs.
Encana's current challenge is to protect its balance sheet. Higher oil price levels would clearly help. However, with the July drop in oil prices, forward strip WTI pricing for the remainder of this year is just about $43, and in 2017 this rises only to about $46-$47.
In 2017, Encana may be obliged to increase its capital expenses further simply to maintain reasonable production volumes. The possible offset to this would be a significant price increase for the 65% of its total production that comes from gas, but this seems unlikely. Even Encana's Core-4 holdings, despite the high ratio of liquids production from the Permian and Eagle Ford, are still predominantly natural gas-weighted. Effectively, investors are hoping that the profitable liquids production from the Permian, Eagle Ford and Duvernay can offset the large low priced gas production.
Encana had previously de-risked its balance sheet by a moderate hedging program that it has currently stepped up. Its Q2 Report indicated that Encana has increased its hedging to almost 78% of its remaining 2016 liquids production and about 86% of its natural gas. In both cases, hedging was done by a variety of methods, but the NYMEX gas hedges range between $2.22 and $3.07, and probably average in the $2.63 area. (Note that this is lower than the $2.86 current pricing and the future strip that runs around $3.00.) The 2016 oil hedges range from $47.11 to $62.99, with an average price that is in the $55.91 area.
For 2017, ECA now has about 15,500 boe/d of liquids hedged at a fixed average price of $49.49 and in the second half of the year has hedged 10,000 boe/d of liquids in three-way options that average about $50.86. In terms of 2017 natural gas, about 300 MMcf/d is hedged with options that might average about $2.75; another 350 MMcf/d is hedged at fixed price contracts in the area of $2.70 or so.
As CEO Doug Suttles observed, its hedging program gives Encana "very little exposure to the low prices we have seen this year." That seems accurate as regards Encana's oil hedges for the remainder of this year. At the same time, the gas hedges for 2016 now appear to be low, as do both the oil and gas hedges for 2017.
Given its hedging program and 2016 pricing to date, ECA probably needs WTI pricing closer to $50 for the remainder of this year and close to $60 for 2017. By 2017, Encana expects to have 75% of its cash flow from liquids, despite the fact that almost two-thirds of its total production will still come from gas. Put simply, it needs the liquids production to generate enough cash flow so that it does not run up more debt; yet not to increase its debt, it also needs to keep its capex low, which can limit production.
Analyst Recommendations
Encana is well covered by analysts. The table below shows ratings since June 1. Target Prices are for the share price on the NYSE. ECA is currently (July 29, closing) trading at $8.05.
| | | | |
| --- | --- | --- | --- |
| Date | Institution | Recommendation | Target Price |
| | | | |
| July 22 | BMO Capital Markets | Buy | $10.00 |
| July 22 | RBC | Sector Perform | $8.75 |
| July 21 | CIBC | Sector Underperformer | $8.00 |
| July 14 | Barclays | Equal Weight | $7.00 |
| June 23 | Macquarie | Underperform | |
| June 23 | Jeffries Group | Buy | $12.00 |
| June 14 | Deutsche Bank | Buy | $11.00 |
| | | | |
Risks
The most obvious risk to Encana comes from sustained low commodity pricing for oil and natural gas. Although many energy investors hold bullish outlooks on oil, they should be aware that even for December 2024 future WTI crude prices still stand at only $55.90.
Investors should also be aware that despite its fine oil properties, and barring large further divestitures, Encana is still predominantly a gas producer, and will suffer if North American gas prices continue low.
In Encana's case, because it is heavily involved in tight oil shale plays, there is a risk that depletion rates will be greater than anticipated, that production volumes might be less than expected, and that costs may be higher.
There is a particular risk in Encana's case that its need for quality short-term production could impair its longer-term production interests.
Investment Thesis
So far this year with rising oil prices, Encana has been a momentum stock. Whether that momentum will continue is clearly an open question.
Taking a long-term view, and assuming both oil and natural gas prices that are significantly higher than at present (WTI at perhaps $60 by 2017), Encana could do well. It is fiscally conservative and its assets are good, although it purchased its Eagle Ford and Permian holdings at considerably over-valued prices by current standards.
The refocusing of Encana from gas to oil production was likely a wise move in the longer term. The timing, however, was poor. This has dictated that in the nearer term (2016-2017) the company is required to take a narrower focus to make ends meet. What might be the long-term effects of this are still unclear.
While its asset sales and debt reduction give a level of protection to Encana's dividend, the dividend could still be cut should balance sheet strength require it.
The company's 2016 oil hedging could be a significant benefit. Its oil hedges, however, for 2017 are much weaker. Its gas hedges also seem weak, although they provide a floor.
Encana remains a predominantly natural gas play until 2017-2018. With high North American production, a catalyst for significantly better future gas prices seems to be lacking, except perhaps seasonally. While LNG exports could change that, Asian and European gas pricing are shifting downwards.
In 2016-2017, Encana may still have to face the challenges of a transition. It likely lacks, for example, the capacity to make acquisitions of distressed assets. Its divestitures have been significant, and there may be more of them. There may also be a dilutive share issue. Moreover, capex vs. production (and realized prices) remains an issue, since the company's overriding objective is not to increase, and, if possible, to lower its debt levels.
DISCLAIMER: The information provided above is not a recommendation to buy or sell a stock. It intends to increase investor awareness and to assist investors in making smarter decisions. Prospective investors should always do their own further research, and take into account their own current financial holdings, their risk levels and their shorter or longer-term outlooks.
Disclosure: I/we have no positions in any stocks mentioned, and no plans to initiate any positions within the next 72 hours.
I wrote this article myself, and it expresses my own opinions. I am not receiving compensation for it (other than from Seeking Alpha). I have no business relationship with any company whose stock is mentioned in this article.
Editor's Note: This article discusses one or more securities that do not trade on a major U.S. exchange. Please be aware of the risks associated with these stocks.