AT&T (NYSE:T) has proven over time to be one of the gems of dividend growth companies in the S&P 500. With a current dividend yield of 4.5%, AT&T offers continuing value to investors against the risk of holding the equity. In the near zero to negative current era of central banking, the AT&T yield returns provide a very attractive assurance to investors.
I am in the midst of a roundup of the best long-term blue-chip (and value) investments which will provide not only the most comfortable (i.e. non-volatile) investment platform for consistent and reasonable returns, but the types which also outperform the market as a whole over essentially the entire history of the stock market. AT&T clearly fits into the portfolio and is a stock that investors should follow in order to pick up shares when market conditions warrant (i.e. buy it when it is "on sale").
Overview
Everybody knows what AT&T is: the communications entity which not only survived the significant transition from wireline to wireless technologies, but which also largely helped to jumpstart the data driven age with its multi-year monopoly on the Apple (NASDAQ:AAPL) foray into the cellular handset business (through the iPhone). And while the Apple monopoly has disappeared, AT&T's market share in the industry has not.
There is an incessant debate that will arise when an individual considers a behemoth the likes of AT&T: where will its future growth come from? The potential for significant gains has the tendency to get gobbled up when the share of market cap reaches the scope of the Dallas-based giant ($264B at last count). Percentage gains not only require billions in investor inflows, but forward growth begins to butt heads with the mechanics of business: the only way to return high growth rates over time is to find a process (or product) that is yet unknown (and therefore under-serviced), bring a paradigm shifting business approach to filling the niche, and dump capital financing into it until the market reaches saturation.
The problem, of course, is what to do once the market reaches saturation. Although forward growth in data needs is predicted worldwide for the cellular industry, the growth in this revenue opportunity will almost certainly average somewhere in the single digits going forward. And while the total gains between AT&T's dividend and forward cellular growth have the opportunity to create reasonable value, the current P/E of 18.4 implies a hefty premium against former partner (in iPhone sales at least) Apple's P/E of 12.2.
Where growth will come
Both Apple and AT&T know that substantial future growth will not materialize from within the cellular market. Though international emerging economies produce the hope (and realistic expectation) of continuing market share on a worldwide scale, the dynamics of income inequality (and political trade tensions) around the world hinders the expectation of outstanding future growth opportunities in what can only be termed the first-world cellular industry.
At home, the advent of these technological products have resulted in a tremendous increase in the income that individuals allocate towards communications and connectivity. And while some flattening in the percentage of income that individuals will allocate to future connectivity services seems inevitable, this does not mean that opportunities for growth will not have forward potentials, nor that the scale of size will prevent Fortune 10 corporations from producing continuing value for portfolios in the years to come.
In the case of AT&T (and Apple for that matter), as the cellular handset and data market begins to flatten at the top of the curve, connectivity to a whole range of entertainment services is still in the midst of changing the paradigm for consumers. Though portable on-demand entertainment is nothing new in the market, it seems clear that consumers will trend more and more towards the more convenient product that allows them to watch what they want, when they want, where they want.
Where DirecTV comes in
A year has officially past since the AT&T-DirecTV acquisition. As with all such activities, one of the potential benefits of M&A is the ability to join forces in administrative, marketing and selling costs. There is also greater access into consumer profiles which allow more effective and targeted abilities to convert customers on one platform into customers on another. As it is, AT&T forecasts run-rate cost savings of $1.5 billion for 2016 on "account of lower content costs as well as other operational synergies."
On the income sheet, the ratio of cost of revenue (against total revenue) has not changed a great deal since the DirecTV M&A a year ago, leaving hope that further integration efforts will parse synergetic costs and increase efficiency of the post M&A operation (it should be noted that management costs - among others - are not included in cost of revenue calculations; this is not an insignificant area of post merger cost savings). Still, while increases in earnings (brought on by cost efficiencies) will benefit shareholders, perhaps the biggest advantage to DirecTV is the leverage that it gives AT&T's Entertainment division in delivering something much more like traditional satellite television in a mobile solution.
Speaking to investors after announcing a suite of IP-only DirecTV products, Entertainment Group CEO John Stankey explained that AT&T is aiming to "get to a common middleware," to be able to use the leverage of its 26 million strong customer base to economically "deliver content to all platforms... We didn't buy DirecTV because we love satellite as a distribution medium."
What Stankey seems to allude to here, is the idea that AT&T bought DirecTV not necessarily believing in the long-term sustainability of the satellite to consumer business, but rather to gain entry into the DirecTV subscribers rolls; this will give a major telecom muscle with entertainment content providers. AT&T, in other words, is looking forward to the time when a full entertainment solution will incorporate not only live television supplemented by DVR, but a holistic era where mobile connectivity is seamlessly integrated into the entire entertainment package; where even the effort of programming DVRs will be a thing of the past as ready on-demand access is available to a wide suite of entertainment needs.
This will be the point at which traditional couch viewing suddenly becomes fully mobile; not just a way to pass time at home, but a way to pass time in the doctor's office, or at the airport waiting for the next flight out of town. Of course, AT&T is not alone in recognizing this vision, nor is it the first - Hulu, Amazon (NASDAQ:AMZN), iTunes, and Netflix (NASDAQ:NFLX) have all been rowing along towards this end. Still, from a forward business perspective, AT&T may well be the first entity capable of leveraging its large consumer base into mobile and IP entertainment options, which include providers (i.e. channels) that are not currently available outside of the straight and narrow of cable or satellite subscription.
Conclusion
As the chart below shows, AT&T has rounded up very nicely in the past couple months. The Dallas telecom has bested Verizon (NYSE:VZ) in terms of shareholder gains, but both companies have done well as safe money has been flowing in on the basis of questions regarding Brexit, the election cycle in the States, and a topping market that has yet to fully indicate the directionality of the next market wide move.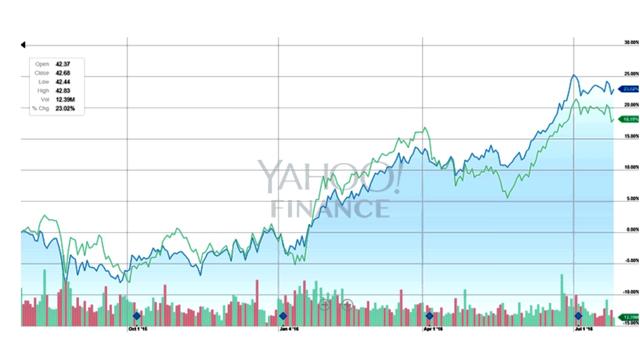 And while AT&T Entertainment CEO John T. Stankey himself recently sold 2,131 working shares in AT&T (or 15% of his previous totals), perhaps tipping the hand that AT&T may be due for some form of correction, Forbes has a price target of $46 which leaves some room for additional appreciation. Still, while the long-term horizon for investors is intriguing with AT&T, the stock is not currently priced for sale, and I believe that it will trade lower (likely with the rest of the market) in the next few months. Look for AT&T when that sale happens and hold the telecom for a long time.
Disclosure: I/we have no positions in any stocks mentioned, and no plans to initiate any positions within the next 72 hours.
I wrote this article myself, and it expresses my own opinions. I am not receiving compensation for it (other than from Seeking Alpha). I have no business relationship with any company whose stock is mentioned in this article.