Much to my chagrin, it appears that Ford's (NYSE:F) US business is starting to implode. I don't think vigilant investors will be surprised that Ford's US business has peaked, but I do think the velocity will be a surprise. Let's a look at Ford's Q2 performance, with a particular emphasis on North America, and why the peak of the sales cycle can actually occur after the peak of the profit cycle.
Ford's Q2 in North America was robust…in isolation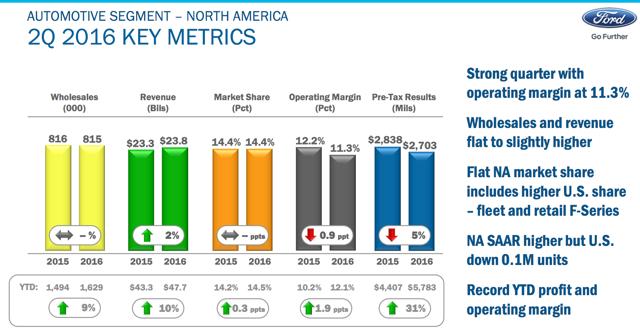 Source: Ford IR
On the surface, Ford's Q2 North American results weren't bad. Sales were actually up 2% on flat volumes. Operating margins, while down 90 bps from a year ago, still registered 11.3%, which is a solid figure historically. Back in 2011, that margin hovered around 8.3%, which is likely more representative of the company's mid-cycle margin.
So, with margins strong and sales still growing, why am I so concerned?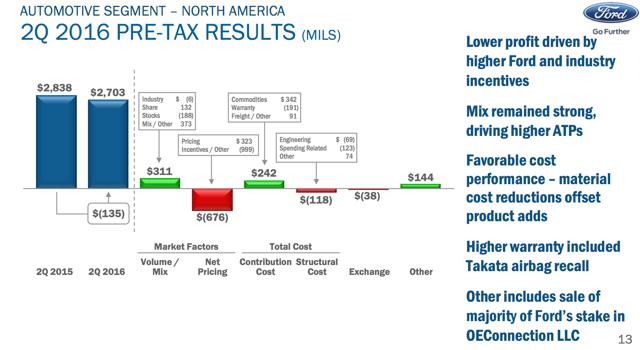 Source: Ford IR
To me, the risk lies in the net pricing. Incentive spending was up nearly $1b in the quarter. CFO Bob Shanks was honest about the issue on the Q2 call, saying:
" If you look at the market factors, you can see that they were down on a net basis, driven by the incentives. And essentially, what we're seeing is over time, and particularly as the U.S. industry started to plateau and we're starting to get to a more mature part of the economic cycle in the U.S., we've seen sort of a very gradual rising, very modestly rising level of incentives for the industry, and we have been increasing along with that."
The nature of the auto beast is fierce competition
Shanks is well aware of the nature of the auto beast. He knows the primary reason why the auto market is challenging, and that is the nature of end of cycle behavior. Growth was incredible coming out the Great Recession. The company posted spectacular results for the past several years. However, the pent-up demand from under consumption from 2008-10 is mostly alleviated, and OEMs like Ford, GM (NYSE:GM), Fiat Chrysler (NYSE:FCAU), Honda (NYSE:HMC) and Toyota (NYSE:TM) are fighting for whatever market share they can get, so they turn to incentives. The macro demand growth appears to be over, and CEO Mark Fields confirmed as much on the call, saying:
" But also, I think what it will result in probably for the remainder of this year, Brian, is a fairly volatile kind of SAR factor from month-to-month because that will be influenced by any particular OEM or brand that wants to increase their incentives to maybe use their market share or whatever. As we get in - so the bottom line is we expect in the second half of this year that the retail industry to be lower than the year ago. As we get into 2017, obviously, we'll talk more about that in the future, but as Bob mentioned, we do expect the industry to be probably slightly down in 2017."
Why are auto industry executives concerned about incentive spending if they know it could hurt shareholder value and profitability? The answer: incentives.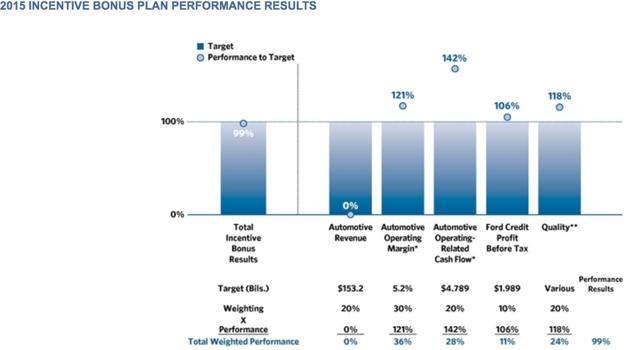 Source: Ford Proxy
Not only do Ford executives receive sales performance incentive based comp dependent on sales, but let's remember the front-line sales people responsible for driving the retail performance of the business. Additionally, even executives who are compensated primarily on ROIC, like GM, will see their compensation fall without increasing incentives. If Ford or another competitor takes too much market share, GM (or any other competitor) will be stranded with high fixed costs that will impair profitability if sales decline sharply. Thus, to even maintain compensation and a respectable ROIC, everyone has to engage in incentive spending.
Credit quality also will fall as industry growth declines. As I noted before, retail sales people will be anxious to maintain their levels of compensation and thus may engage in unsatisfactory behavior to boost sales. Much like the mortgage market, auto loans are securitized and sold to investors, so there is certainly less incentive for OEMs to make the loans as safe as they would be were the OEMs to own them.
While I think declining credit standards are a bad signal, and Ford noted an uptick in defaults, I do not think auto loans default are catastrophic for the economy. While over a $1T market, it is still less than 7% of the size of the US mortgage market (~$13.8T). It simply isn't big enough to cause a large catastrophic event, and I think defaults are actually a symptom of deteriorating macroeconomics than anything else. Plus, as we can see below, default rates are still well below recession levels, sitting at 0.91%.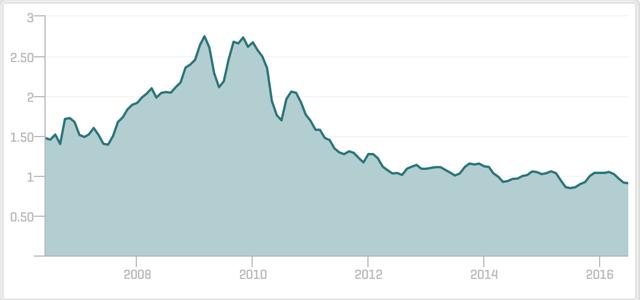 Source: S&P
Stay away from Ford
While results are improving greatly in Europe and China is destined to be a growth driver for years to come, North America is still by far Ford's most important region. With profitability in the company's most important geography likely under pressure for the next few years, I think the company will have a challenging time fetching a higher earnings valuation. Even with its robust dividend yield, I'm not interested in shares at current prices. The company will struggle to trade above 6x earnings, though, at the right price, it could become a decent income investment.
Disclosure: I/we have no positions in any stocks mentioned, and no plans to initiate any positions within the next 72 hours.
I wrote this article myself, and it expresses my own opinions. I am not receiving compensation for it (other than from Seeking Alpha). I have no business relationship with any company whose stock is mentioned in this article.