Exxon Mobil (NYSE:XOM), the world's largest publicly listed vertically integrated oil producer, recently released its quarterly results in which its profits and revenues fell again, seventh and eighth time respectively in a row, on a year-over-year basis. But what's particularly disappointing was that the earnings were down on a sequential basis as well, despite some support in oil prices.

For the three months ended June, the company's revenues dropped 22% from the same quarter last year to $57.69 billion, missing analysts' estimate of $60.64 billion, as per data from Thomson Reuters. Profits fell from $4.19 billion, or $1 per share to $1.7 billion, or $0.41 per share, below analysts' forecast for $0.64 per share. That also wasthe lowest profit since the 1999 merger between Exxon and Mobil which gave birth to the oil giant. Operating cash flows of $4.5 billion came in significantly below analysts' estimate of $6.8 billion. The company spent $5.2 billion as capital and exploration expenditures and $3.1 billion in dividends, leading to free cash flows (after dividends) of -$3.79 billion. Excluding the impact of changes in working capital and other items brings the shortfall down to -$1.79 billion. The deficit was funded from asset sales and additional borrowings.
(Note: Exxon Mobil does not calculate free cash flows the abovementioned way. To learn more on FCF, read Plenty Of Reasons To Like Exxon Mobil - This Isn't One Of Them.)
Exxon Mobil posted a slight drop in oil production to 3.96 million from 3.98 million barrels of oil equivalents per day last year. The decline in production, which was almost 59% liquids and 41% natural gas, came as natural gas output fell 3.6% which offset the impact of a 1.7% increase in liquids production. The realized price for crude oil averaged $37.97 and $41.46 per barrel at home and in the international market, showing year-over-year drops of 29.8% and 28.1%, respectively. The weak prices hit the company's upstream earnings by $1.7 billion. Its US upstream business moved deeper into the red, with losses climbing by more than 10 times from last year to $514 million. Total upstream profits plunged 85.5% to $294 million.
Meanwhile, earnings from the downstream, or refining business, which has benefited from weak oil prices throughout the downturn, tumbled 45.2% from a year earlier to $825 million. The refining margins came under pressure thanks to the glut of refined products like gasoline, which dragged refining margins and offset the impact of increase in volumes. Downstream profits from international markets dropped 62.2% to $413 million while earnings in North America were flat at $412 million.
The bright spot was that the chemicals business witnessed a slight 2.3% decline in profits to $1.2 billion. The unit has played a major role in Exxon Mobil's earnings in 2016. In fact, over the last six months, almost 60% of Exxon Mobil's total segment earnings came from petrochemical production - that's a big deal for a company that is generally known for its vast oil and gas production and refining operations. This also validates the company's decision to stick with the integrated business model rather than spinning off the refining and chemicals units. If one segment performs poorly, the other picks up the slack. In the beginning of the downturn, it was the refining business. Now it appears to be chemicals. That's the main reason why the company's profits haven't fallen as sharply as others. In fact, Exxon Mobil is one of the rare US oil companies that has remained profitable, even as its peers, including Chevron (NYSE:CVX), have slipped into the red.
It is important to note that the large drop in upstream earnings and weakness in the downstream segment was expected. Previously, I wrote that due to persistent weakness in oil and gas prices on a year-over-year basis and near record levels of gasoline and diesel stockpiles in the US and abroad were going to weigh on Exxon Mobil's profits. However, oil price has gained substantially on a sequential basis. In fact, in the second quarter, Exxon Mobil's realized price for crude oil increased by 40.1% in the US and 44.6% in the international markets as compared to the first quarter. This should have ended the streak of declining earnings on a sequential basis. That would also have marked the first quarter as the bottom of this cycle and the start of the company's turnaround. But it was disappointing to see that this did not happen. Exxon Mobil's earnings continued to go downhill on a sequential basis, with a drop of 6.1% in the latest quarter.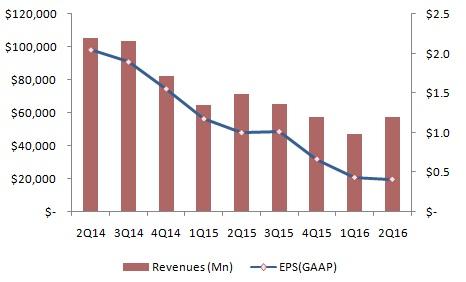 Exxon Mobil quarterly revenues, EPS, 2Q2014 - 1Q2016
That was likely due to a combination of weak production numbers, which can be partly attributed to operational issues in Nigeria (militants) and Canada (wildfires) and little support from natural gas prices. Although the benchmark WTI oil price increased by 36.7% in the second quarter as compared to the first, the Henry Hub natural gas price fell 6.7%.
However, we did get some glimpses of what could be the start of a turnaround. First, the revenues, which also have been declining sequentially for the last few quarters (as shown in the picture above), increased by 18.5% from the first quarter due in large part to the strength in commodity prices. The revenue growth should continue as crude oil price finds support at the mid-$40s to low-$50s. The increase in revenues will likely be followed by an increase in earnings, first sequentially and then on a year-over-year basis, in the coming quarters.
Second, although Exxon Mobil itself has yet to post a sequential increase in earnings, its upstream business, which is essentially what the oil giant is all about, did turn around. In the second quarter, the segment swung to a profit of $294 million from a loss of $76 million in the first quarter. The significant improvement came as losses in the US upstream business shrank 38.2% while profit from international markets rose 6.9%. Unless we witness a sharp decline in oil prices to $30s in the near future, I believe the first quarter could turn out to be the bottom of Exxon Mobil's upstream business.
Conclusion
In short, Exxon Mobil has, once again, shown the benefit of sticking with the vertically integrated business model. The company, however, failed to end its streak of declining earnings, on a sequential basis in the latest quarter, which was disappointing. But it came close. We did, however, get some glimpses of a turnaround, with a sequential increase in revenues and the upstream unit returning profitability. Perhaps the second quarter will be Exxon Mobil's bottom and we'll begin to see sustainable improvement in revenues and earnings from the current quarter.
Note from author: Thank you for reading. If you like this article, then please follow me by clicking the " Follow" link at the top of this page.
Disclosure: I/we have no positions in any stocks mentioned, and no plans to initiate any positions within the next 72 hours.
I wrote this article myself, and it expresses my own opinions. I am not receiving compensation for it (other than from Seeking Alpha). I have no business relationship with any company whose stock is mentioned in this article.
Additional disclosure: I own shares of funds that may hold a long position in XOM, CVX.