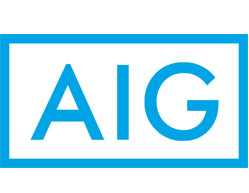 American International Group, Inc. (NYSE:AIG) has not done much for shareholders lately. The insurance company's shares have shed 12 percent of their value since the start of the year, and American International Group sold off sharply in light of the Brexit referendum in Britain at the end of June, too. American International Group's shares have recovered from the Brexit shock, Yes, they are up ~12 percent from their 52-week low ($48.41), but they appear to have run into some resistance at the $54/55 price level.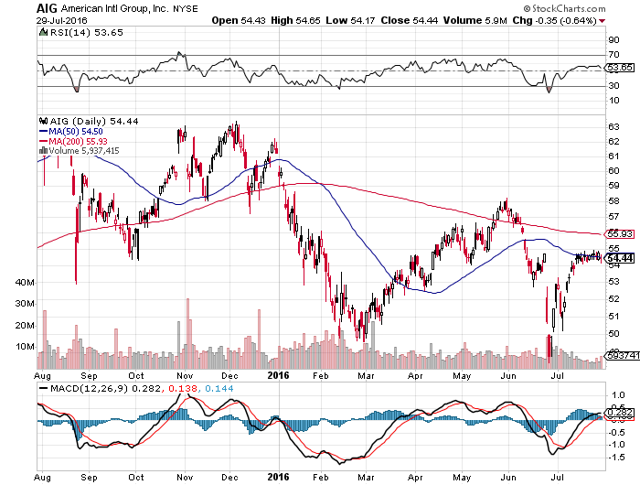 What American International Group needs more than anything right now is a catalyst that shines a more positive light on the insurance company. And I believe the insurance company's upcoming second quarter results could deliver such a catalyst.
Why?
Because the insurance company bought back a boat load of its shares in the first quarter, and American International Group will have likely done so in the second quarter, too. In the first quarter American International Group spent a lot of cash for the benefit of shareholders, including share buybacks ($3.5 billion), warrant buybacks ($173 million), and dividends ($363 million).
Importantly, for most of the second quarter American International Group's shares sold for prices in the low to the mid $50s, reflecting a very big discount to accounting book value, making buybacks a particularly lucrative move for the insurance company.
American International Group's accounting book value at the end of the March quarter was $78.28/share. It's anybody's guess at this point how well the company's property casualty business has done in Q2 2016, but in absence of major losses in this part of the business, the insurance company will probably see a nice bump in accounting book value thanks to share buybacks substantially below BV.
A Promising Capital Return Play
As a matter of fact, it's all about this chart from American International Group's last investor presentation: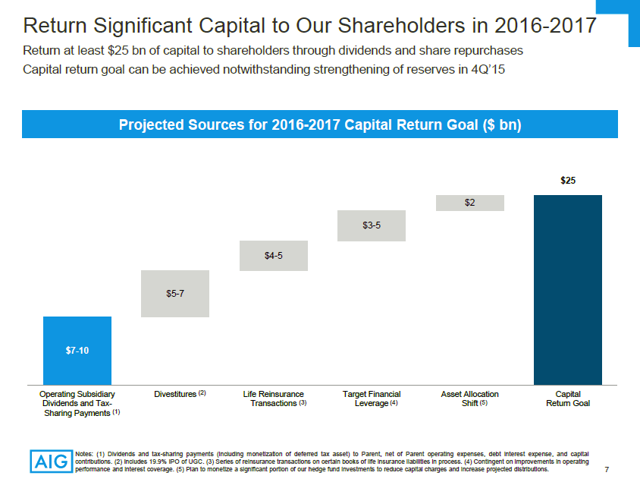 Source: AIG
Personally, I think there is a good chance that the insurance company spent ~$3-4 billion on buybacks in the last quarter (hopefully a good chunk of it at super-low prices below $50 after the Brexit referendum), which translates into significant surprise potential relating to American International Group's book value when the insurance company releases second quarter earnings on August 2, 2016.
A higher accounting book value (maybe surpassing the $80/share level on the back of accretive buybacks) could reignite interest in American International Group as a capital return play.
Your Takeaway
As far as I am concerned, American International Group's second quarter results have significant surprise potential which relates to the size and dollar amount spent on share buybacks below accounting book value. I would think that the insurance company spent a similar amount of money on buybacks in the second quarter than it did in the first quarter, which could be a positive catalyst for American International Group's shares next week. Buy for capital appreciation.
If you like to read more of my articles, and like to be kept up to date with the companies I cover, I kindly ask you that you scroll to the top of this page and click 'follow'. I am largely investing in dividend paying stocks, but also venture out occasionally and cover special situations that offer appealing reward-to-risk ratios and have potential for significant capital appreciation. Above all, my immediate investment goal is to achieve financial independence.
Disclosure: I am/we are long AIG.
I wrote this article myself, and it expresses my own opinions. I am not receiving compensation for it (other than from Seeking Alpha). I have no business relationship with any company whose stock is mentioned in this article.