This article will be about the spread trade of Hormel Foods (NYSE:HRL) versus Fluor Corp. (NYSE:FLR). I started to focus my portfolio on market neutral trades like these to make money regardless of market moves. The trade HRL vs. FLR does not have any correlation with the market whatsoever. The next few graphs give you a fundamental overview of the trade.
Non-manufacturing construction sentiment is in a downtrend. The downtrend started at the beginning of 2015 and has worsened since then. Sentiment is just slightly above contraction levels. We are talking about ISM non-manufacturing industry sentiment which is the most important leading indicator when it comes to industry analysis.
Fluor's stock had a strong period from 2008 till 2014 with some big up and down moves. In 2014 things changed. Growth started slowing. Construction sentiment however stayed strong. Fluor's stock fell. The reason behind that move is the fact that Fluor is doing a lot of oil & gas construction. The oil & gas crash started 2014 and got a huge relief rally in February of this year. At this point, oil is in a bear market again. Down more than 20% from the June highs.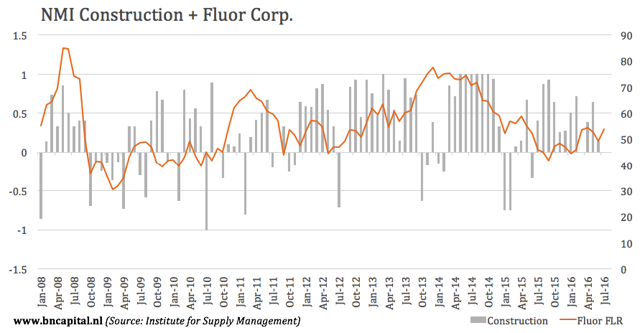 Food, beverages & tobacco sentiment has had just one month of contraction since 2014. Growth has been extremely strong since the end of the recession. Hormel's stock price has reacted accordingly. The stock only fell when sentiment slowed down, hence the logarithmic y-axis.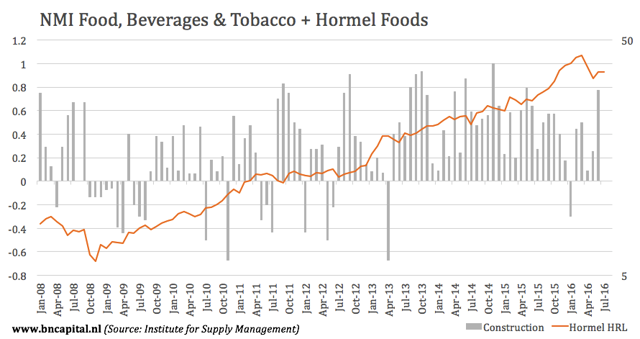 The spread between both sentiments show that the spread is gaining momentum to the upside which would benefit the trade. Almost every time when sentiment soared like this, it was able to stay high for at least a few months.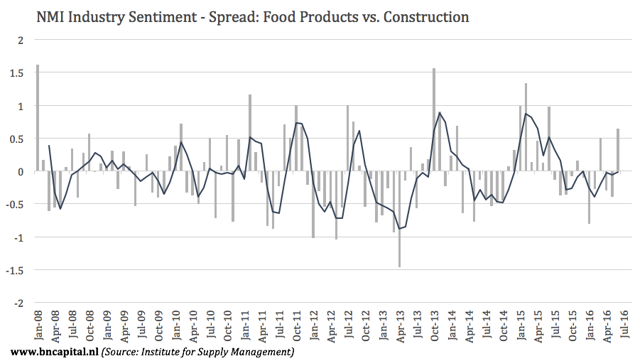 Leading indicators are in favor of the trade. Now let's look at some coincidence indicators.
Nonresidential construction spending growth is almost negative. Spending started imploding a few months ago. We saw the same in 2014. The main difference is that leading indicators are not hinting towards a bottom.
In addition to that, the industry has lost jobs since two consecutive months...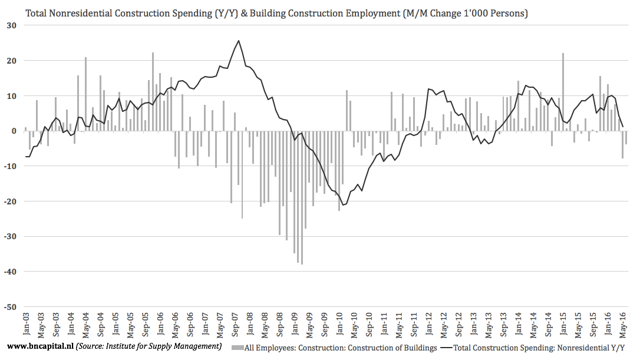 Industrial production of food and beverages looks a bit better. Industrial production is growing close to 2% on a year-on-year basis since the start of 2015. Retail trade is doing even better. Both started to accelerate after the February/March bottom.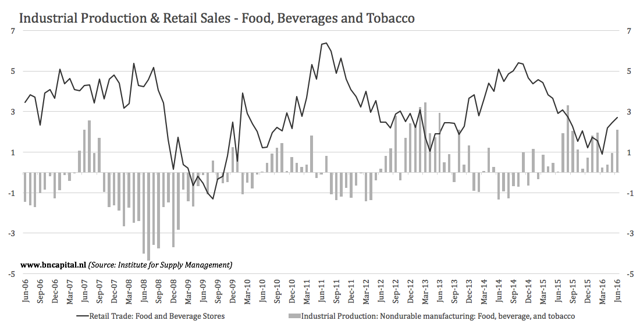 The ratio spread between Hormel and Fluor is about to gain momentum. The spread reflects my fundamental research and is poised to go higher.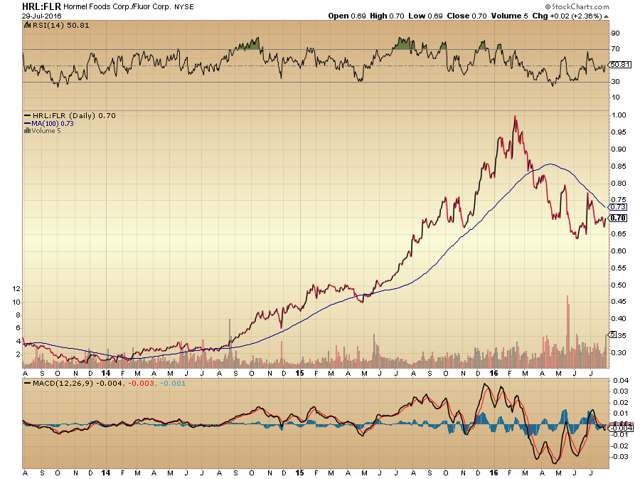 I've put this trade on my watchlist to execute the trade when the timing is right. There is a high possibility that I am going to trade this idea next week.
Thank you for reading my article, I hope you enjoyed it. As always, feel free to leave a comment if you have questions or remarks.
Disclosure: I/we have no positions in any stocks mentioned, and no plans to initiate any positions within the next 72 hours.
I wrote this article myself, and it expresses my own opinions. I am not receiving compensation for it (other than from Seeking Alpha). I have no business relationship with any company whose stock is mentioned in this article.