You have probably heard many pundits discuss Millennials, their interests, and how these interests can make you money. As a Millennial myself, I find it easy to wade through the opinions of balding men on CNBC to categorize what may be fact from fiction.
As I have written about in numerous other articles, the natural and organic food craze is real and will not be going away any time soon. Wall Street recently witnessed Danone's (OTCQX:DANOY) acquisition of WhiteWave Foods (NYSE:WWAV), and my bet is that consolidation in the natural and organic food space will continue. Natural and organic food companies give immense value to pantry giants like Danone and General Mills (NYSE:GIS).
In my view, it is very important to follow the likes and dislikes of the Millennial customer. These are the people who will continue to eat natural and organic foods and shop in their favorite retailers, which will continue the rotation of interest out of certain companies and into others. The latter brings me to TJX (NYSE:TJX) Companies.
One view that I have heard in financial media is that Millennials desire an experience when they shop. Why should they go to the store when they can buy the same items from Amazon (NASDAQ:AMZN)?
Like Costco (NASDAQ:COST) or Ikea, the stores operated by TJX give the consumer an experience. T.J. Maxx and Marshalls, TJX's largest subsidiaries, are stores that make customers feel like they are on a treasure hunt for items they did not know they needed. One goes to T.J. Maxx or Marshalls to get a shirt; not a specific shirt, but a shirt. And that is the point.
Plus, it goes without saying that Millennials are always looking for a bargain. TJX's model of off-priced goods certainly bodes well with this cohort of customers. In essence, shopping at T.J. Maxx and Marshalls is like glorified thrifting.
According to a survey by Ad Age, Millennials listed the following retailers as where they most recently bought clothes: Thrift stores, H&M, Forever 21, Urban Outfitters (NASDAQ:URBN), Bloomingdale's, J. Crew, Abercrombie & Fitch (NYSE:ANF), American Apparel (APP), Macy's (NYSE:M), Nordstrom Rack (NYSE:JWN), T.J. Maxx, Gap's (NYSE:GPS) Old Navy, and Zara. It is no coincidence that eight of the above retailers are known for their low prices.
With regard to TJX specifically, The Robin Report points out that the company is able to attract Millennials in large part because of its focus on contemporary brands and styles. Less than fifteen percent of T.J. Maxx and Marshalls' inventory is from previous seasons, which is a testment to TJX's ability to circulate inventory and keep its offerings fresh and relevant.
Outside of clothing, TJX's HomeGoods is wildly popular among people my age. The store carries with it the same sense of surprise, which makes the shopping experience more fun and ultimately leads to a higher average ticket price.
With the above said, so too exists the reality that the number of Millennials moving into homes is declining. I know not whether this decline is the result of Millennials choosing to live in cities -- which would nullify this headwind for HomeGoods.
What I do know, however, is that while TJX is purely a discretionary play, the company has a track record of strong performance in any type of macro environment. Since 1982, TJX has seen only one year of declining same-store sales growth.
I attribute TJX's ability to withstand economic downturns to its off-priced model. It truly is a type of business that is in style during both good times and bad.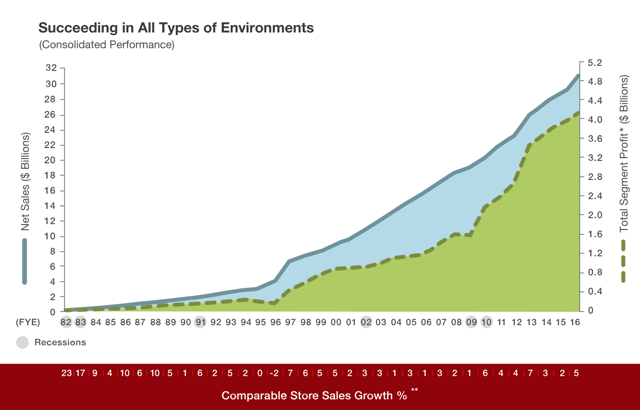 Because TJX has shown the ability to keep earning and growing throughout downturns in the economy, sector rotations out of retailers henceforth should be seen as long-term buying opportunities.
At a time during which many investors view the market as overvalued, I believe that TJX is not overpriced and deserves to be trading at a premium to others in the space.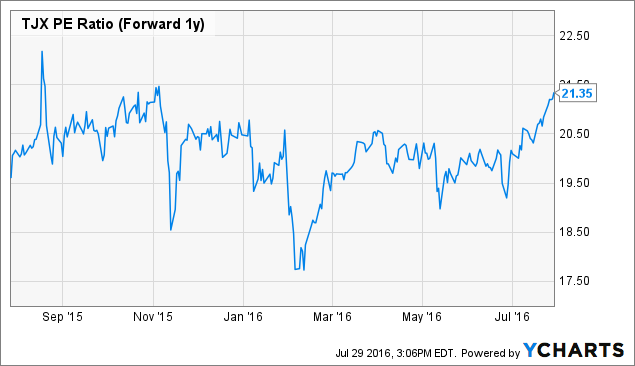 TJX PE Ratio (Forward 1y) data by YCharts
TJX currently trades at 21 times forward earnings. This is not very expensive when considering where the stock's valuation has been in the last year and the company's reputation for consistency. The latter leads me to believe that TJX deserves to be valued more richly than its competitors, too.
Furthermore, TJX has a lot more room to grow without threatening or cannibalizing its existing locations. TJX sees 85 U.S. markets in which there is a T.J. Maxx or Marshalls, but not currently a HomeGoods.
The company sees HomeGoods being a much larger business than it is today, and believes that this segment of the business could reach 1,000 locations over the long-term. There are currently 526 HomeGoods stores, and TJX plans on opening a total of 50 more before 2016 comes to an end.
In addition, TJX has seen strong numbers from their locations across the globe and plans to continue its overseas expansion. Long-term, TJX plans on more than doubling its store count overseas, from a current total of 530 locations to 1,100. Clearly this company has big eyes and the will to keep expanding into any market with promise.
To come full circle, I believe that TJX will continue to see strong performance over the long-term because they have built a relationship with the Millennial consumer. In the growing age of e-commerce, TJX has given the most ill-attentive cohort of customers a reason to come to their stores and shop.
Disclosure: I/we have no positions in any stocks mentioned, and no plans to initiate any positions within the next 72 hours.
I wrote this article myself, and it expresses my own opinions. I am not receiving compensation for it (other than from Seeking Alpha). I have no business relationship with any company whose stock is mentioned in this article.