Weekly Recap
As we reach the midpoint of earnings season, REITs built upon last week's outperformance amid generally strong Q2 operating results.
Roughly half of the REITs that have reported thus far have met expectations, with 35% beating and 15% falling short of expectations.
With the exception of self-storage and costal apartment REITs, the second quarter appears to have been stronger than expected for the remaining REIT sectors.
Looking forward, half of REITs boosted 2016 guidance, while 35% reiterated guidance and 15% lowering guidance.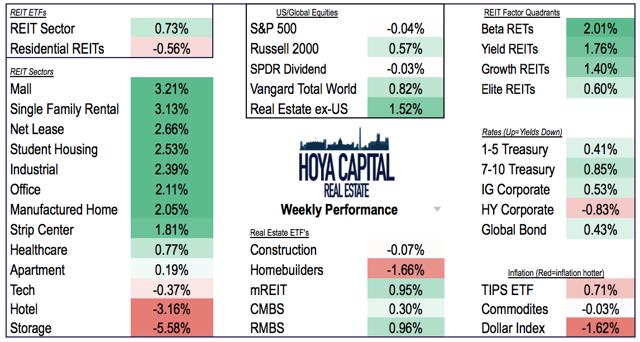 The REIT sector (NYSEARCA:VNQ) gained 0.73% on the week, outperforming the S&P 500 (NYSEARCA:SPY) which finished the week roughly unchanged. REITs are now up over 13% over the past quarter.
REITs were aided by falling treasury yields over the week. The 10-Year Treasury fell from 1.55% on Monday to close the week nearly 10 bps lower at 1.458%.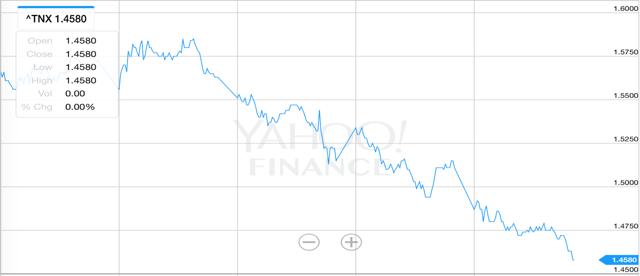 Mortgage REITs (NYSEARCA:REM) rallied nearly 1% on the week, while CMBS and RMBS ETFs gained as well. Ex-US real estate (NASDAQ:VNQI) had a strong week, again corresponding with lower global bond yields.
Investment grade (NYSEARCA:LQD) bond yields tightened, while high yield bonds (NYSEARCA:JNK) saw widening spreads resulting from declining oil prices, which entered a technical bear market this week, falling 20% from their recent highs.
Homebuilders (NYSEARCA:ITB) and commercial construction companies (NYSEARCA:PKB) finished the week lower despite stronger than expected new home sales.
The divergence between the REIT sector and the residential-focused REIT ETF (NYSEARCA:REZ) continues to be notable. Weaker than expected Q2 results from EQR and self-storage REITs resulting from concerns related to oversupply in key market continues to weigh down the REZ ETF. The residential ETF has underperformed the broader REIT index by nearly 10% over the past 6 months. (20% vs 10%)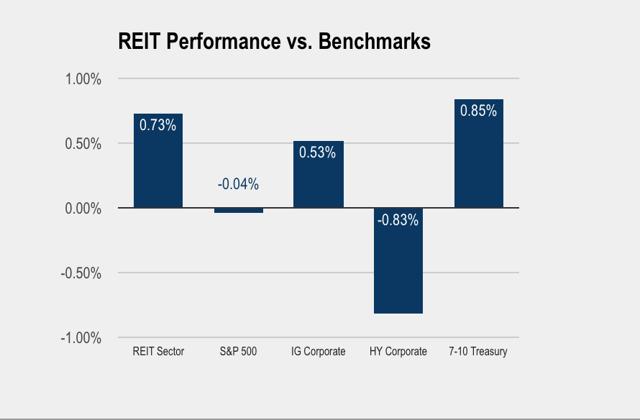 Sector Performance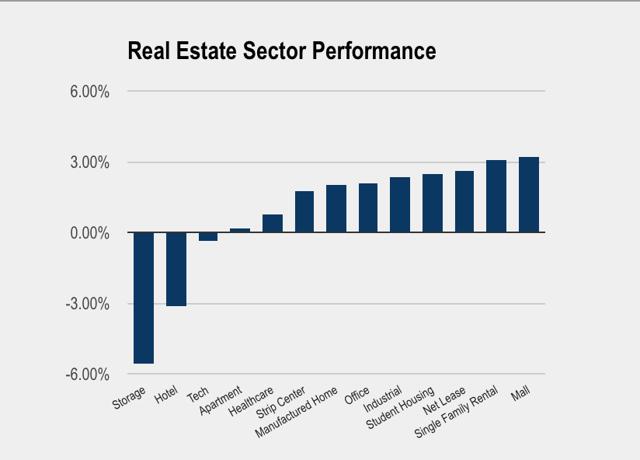 As expected, we saw quite a bit of divergence between sectors during earning season.
Self-storage REITs were priced for perfection heading into Q2 earnings, and results were strong but slightly less than perfect. Public Storage (NYSE:PSA) and Extra Space Storage (NYSE:EXR) fell 6% and 8% on the week following discussions of over-supply fears by management, particularly in the Houston and New York markets. Demand for self-storage remains strong, though.
Malls, net lease, and student housing led the way following strong results from Taubman (NYSE:TCO), Realty Income (NYSE:O), and American Campus Communities (NYSE:ACC).
Industrial REITs added to their year-long rally after Prologis (NYSE:PLD) reiterated that demand will exceed supply well into 2017.
Office REITs have been quietly outperforming as white-collar job growth continues to show robust growth, which was reflected in strong Q2 earnings for several office REITs.
Earnings in the tech sector beat expectations, but concerns over leasing volumes weighed on DLR. Management remarked in the earnings call that July is shaping up to be a strong month for leasing following a soft Q2.
REIT Quadrant Factor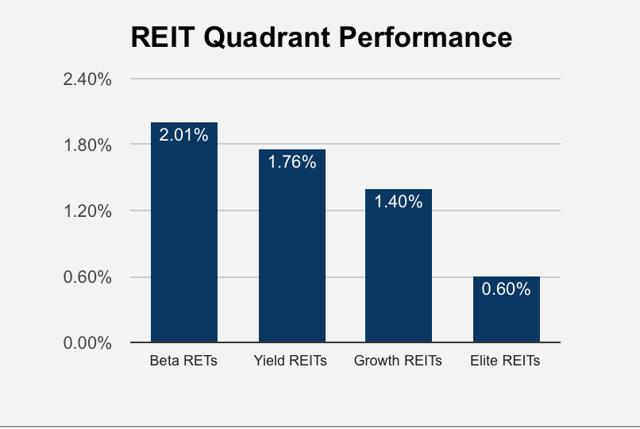 Beta REITs, an index of the most highly leveraged REITs, were the best performers on the week, rising over 2% amid strong earnings from B-class mall REITs.
Yield REITs, a proprietary index of the most yield-sensitive REIT names, were next with a 1.76% jump on the week. Strong reports from net lease REITs account for the bulk of changes in the index.
Growth REITs, an index of high growth and low payout names, rose 1.4% after last week's underperformance.
Elite REITs, those REITs included in the S&P 500 index, slightly underperformed the broader REIT index, rising 0.6%.
Real Estate Economic Indicators
GDP in Q2 grew at a weaker than expected 1.2%, short of the 2.5% expected. The Federal Open Markets Committee noted that risks to the economy have diminished, but a September interest rate hike is still not expected by the market. After reaching a 21 month high this week, the Citi Economic Surprise Index posted its biggest daily drop on Friday following the weak GDP data.
Housing data was mixed this week. New home sales rose 3.5% month/month above of 1.6% expectations to reach a post-recession high. Pending home sales rose just 0.2%, short of 1.2% expectations. The homeownership reached a 51-year low of 62.9%. The combination of rising home prices, student debt, delayed family formation, and a rent-by-choice attitude are reasons for the decline.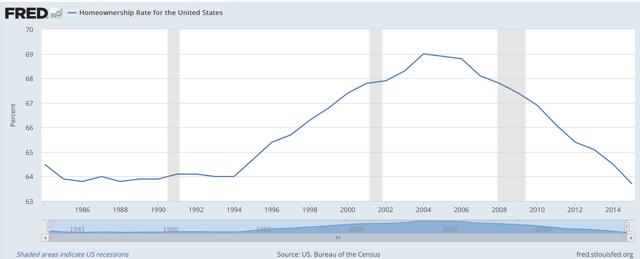 The drop in homeownership unsurprisingly coincides with rising apartment rent, which continues to reach record highs despite a relative glut of new supply coming online in several markets. The supply issues noted by several REITs were anticipated based on permit and starts data, which peaked in 2015, and is thus expected to come online in mid to late 2016. Permit and starts data for multifamily construction has since moderated, but supply issues remain a concern for the New York and San Francisco markets.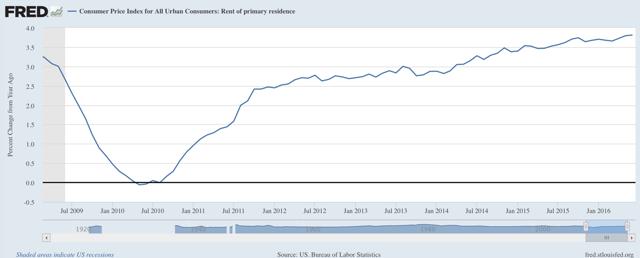 Deeper Dive
Every weekly recap, we like to dive a little deeper into one particular topic or issue affecting real estate equities.
We published an article earlier this week, "Beat the REIT Index Using This Contrarian Strategy" where we found that a simple sector-rotation strategy was able to outperform the All Equity REIT index by nearly 2% per year. The strategy involves rotating into the four weakest REIT sub-sectors from the prior year. We point out that this strategy likely requires sector-specific ETFs to achieve optimal results, but that we are continuing to study stock-specific strategies related to sector rotation. We conclude that there is a "value-factor" at play in the REIT sector, and also a "momentum-factor" to a lesser extent. Click the link above to read more about the study.
We also wrote about how REIT investors can diversify their real estate portfolios and hedge some interest rate risk by investing in international real estate. Our article, "REIT Investors Can Avoid Home Country Bias" discusses the three ETFs that investors can use to invest in non-US REITs. We point out that domestic REITs are almost entirely US-focused, and that modern financial theory holds that foreign diversification critical to achieve an optimal portfolio that maximizes risk adjusted returns. We discussed that investors need to be careful with choosing their ex-US REIT ETF because the composition of the three major indices is quite different. Foreign real estate ETFs have underperformed US REITs, but outperformed foreign stocks over the past three, five, and ten years.
We encourage readers to follow our Seeking Alpha page to continue to stay up to date on our weekly recaps and analysis on the REIT and broader real estate sector.
Disclosure: I am/we are long EXR, PLD, PSA, TCO, ACC.
I wrote this article myself, and it expresses my own opinions. I am not receiving compensation for it (other than from Seeking Alpha). I have no business relationship with any company whose stock is mentioned in this article.