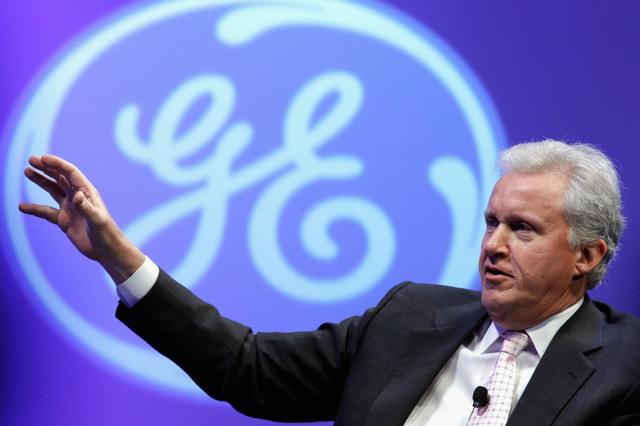 General Electric (NYSE:GE) reported Q2 earnings last week. If financial statements are designed to paint a clear picture for investors then GE's results were as clear as mud. The company is in the process of divesting certain business units while simultaneously growing others via acquisitions. GE reported revenue of $33.5 billion and eps $0.51. Both exceeded expectations. Below is my take on the quarter:
Industrial Segment Showing Anemic Growth
GE's core industrial segment grew revenue Y/Y by 7%. This is anemic by GE standards.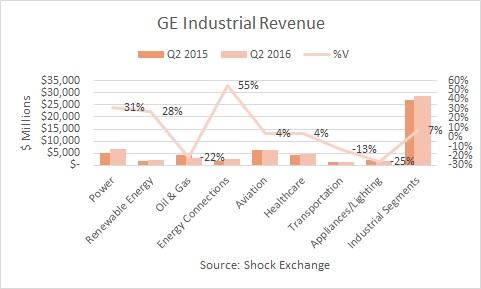 The performance comes amid stimulus efforts from central bankers around the globe. What happens when or if the punch bowl is finally removed? Secondly, results ranged from gaudy for Power (up 31%) and Energy Connections (up 55%) to downright ugly for Oil & Gas (down 22%). It calls into question how much of the revenue growth was actually organic?
The company's press release suggested that orders for equipment and services fell 2% Y/Y. A separate management presentation intimated that excluding the Alstom acquisition -- on an organic basis -- orders were actually down 16%. Equipment orders were down 30% organically due to market pressure in Oil & Gas, Power (27%) and Aviation (37%).
Profits from the industrial sector fell 5% Y/Y. Of the eight units, only three -- Power (up 9%), Aviation (up 6%) and Healthcare (up 11%) -- grew. As already mentioned, Power's results benefited from the Alston acquisition.
How To Decipher GE
Sans its financial services unit, I view GE as a hodge podge of cyclical businesses subject to the vagaries of the U.S. economy. Most will decline, some might grow organically and some will grow through acquisitions. I view GE has having two businesses in deep trouble -- Oil & Gas and Transportation. The company's prospects will likely be determined by whether management can find other growth engines to offset them.
Transportation
Transportation provides freight and passenger locomotives, signaling and communications systems and rail services; GE also offers repair and upgrade services and wreck repair. In Q2 the unit's total orders fell 51%. Equipment orders were off 77% (driven by locomotives), while services were down 36%. Total revenue and gross profit fell 13% and 18%, respectively.
In my opinion, it could worsen. Selling into the transportation industry appears to be tough sledding these days. For the first 28 weeks of 2016, cumulative U.S. rail traffic was down 12% Y/Y. Railroads have cut compensation costs in order to better compete with Canadian Pacific (NYSE:CP), which has the best EBITDA margins (north of 50%) in the industry. They also have to explain to shareholders how they are compensating for a lack of top line growth. Lastly, they have cut capex given the declining returns on new investment. This does not bode well for the long-term prospects of GE's Transportation segment.
Oil & Gas
GE built up its Oil & Gas segment through via $10 billion in acquisitions when oil prices were much higher. In my opinion, its foray into the sector made its earnings even more cyclical. Now that oil prices are over 50% off their Q2 2014 peak, GE's $10 billion bet appears to be a bad one. Orders for the unit fell 34% Y/Y and the declines were broad-based. Revenue declined 22% overall; revenue for Surface Technology and Subsea and Drilling fell 45% and 32%, respectively. The company has developed major market share in Subsea and Drilling. Of note is that Dril-Quip (NYSE:DRQ) -- a competitor -- also experienced a 37% Y/Y in revenue from the subsea sector.
E&P has been in the doldrums as big oil has cut capex and focused on shoring up its balance sheet. For those who think capex will rebound anytime soon, guess again. Earlier this week Chevron (NYSE:CVX), Royal Dutch Shell (NYSE:RDS.A) and Exxon (NYSE:XOM) reported disappointing earnings results. They might have to cut capex further just to preserve their dividend pay outs. According to Bloomberg, oil & gas capex is expected to fall to $410 billion in 2016, down from about $500 billion last year. Capex is not expected to get much better in 2017 or 2018.
Questions For GE
Questions abound for GE. Can CEO Jeffrey Immelt grow other businesses fast enough to offset declines in Oil & Gas and Transportation? Can he redeploy capital garnered from the sale of GE Capital and GE Appliances at acceptable rates of return for shareholders? Oil & Gas I highly doubt it.
Disclosure: I/we have no positions in any stocks mentioned, and no plans to initiate any positions within the next 72 hours.
I wrote this article myself, and it expresses my own opinions. I am not receiving compensation for it. I have no business relationship with any company whose stock is mentioned in this article.