Introduction
In early June I advised investors to evaluate the amount of risk they had on the table given all the unknowns in the oil market. Oil rallied for a couple of weeks following that article, but has since dropped back into the low 40's and things are not looking bright. I recommend those new to my articles that you take a moment to read my previous article from early June for a bit of background.
To level-set for the new reader, I am a long-term investor and have been bullish on oil over the longer-term for some time. My investment ideas are seen through a lens of greater than 6-month holds, not short-term trades. Some of the names presented may not be good buys for the next market day but should be added to a watch-list for a good entry point.
State of the oil market
The oil (NYSEARCA:USO),(NYSEARCA:OIL) market is currently focused on a worldwide product glut, extraordinarily high crude inventories and a long 'wait and see' process on changes in worldwide supply and demand.
As I mentioned in my previous article, the distillate overhang from the mild winter had a knock-on effect, in conjunction with exceptional profitability for refiners in 2015 (known as crack spreads) that incented over-production of gasoline. Chinese teapot refiners have had insatiable demand for crude oil but it seems at least some of that is translating into a glut of refined product in that nation and region as well. Given that refineries are the primary demand for crude, you can see how too much refined product is going to mean lower crude oil demand for the remainder of 2016. An important note is that by lower demand I am referring to demand for crude oil from refiners. Demand from consumers is very strong, but they are working on draining the ocean of product and the Summer driving season did not make as much of a dent in that glut as was needed for the situation to be more bullish.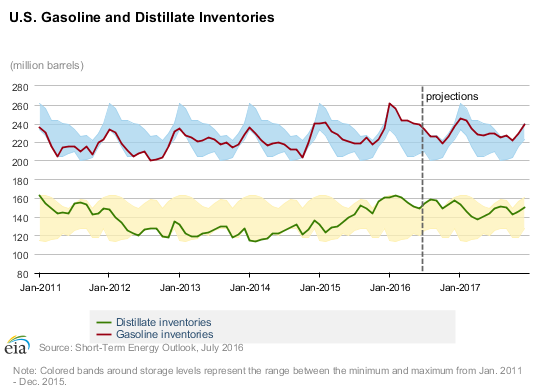 The net effect of this will be lower refinery runs, meaning lower crude demand right at a time where crude demand falls seasonally. However, given expectations of a cold winter (strong heating oil demand) and strong product demand, this will likely prove to be temporary.
On the production side, U.S. production continues to fall, but the latest EIA monthly figures (below) show a 53Mbpd (thousand barrels per day) drop in May 2016. This resumes the trend of a slower fall in production after the dramatic 200Mbpd drop in April.

Source: EIA Petroleum Supply Monthly
Overall it seems that worldwide production will continue to move closer to demand over time, but the process keeps finding new ways to elongate.
Oil Equities
Firstly, this is not a good time to hold USO. The sideways trading and contango could cause losses even if oil stays flat.
Many of you looking at the red in your brokerage account over the last month may disagree, but oil equities have held up very well in general given that the crude price changed direction and is falling into a seasonally weak demand period. Coupled with the fact that fall redeterminations will happen before any seasonal demand catalysts for crude, the weaker upstream names are much more at risk than their prices suggest. The poor financials of the major integrated names have been interesting too as the downstream operations also struggle.
To be clear, I would advise exiting long positions in any upstream MLP's common or preferred units. This includes Memorial Production Partners (NASDAQ:MEMP), Legacy Reserves (NASDAQ:LGCY), Vanguard Natural Resources (NYSE:VNR), and Mid-Con Energy Partners (NASDAQ:MCEP). The longer oil takes to recover, the less chance these names have. The risk/reward is not good here. Traders may drive these up and down somewhat irrationally but I just don't think these are good for a long-term investor. The same goes for anything in fellow author Raw Energy's bottom of the barrel club.
Where to invest
If you are an energy-only investor, the best advice you could have taken a month ago was to sell it all and enjoy the Summer. If you're a long-term bull like me, your FOMO (fear of missing out) has kept you invested somehow in the market. My best guess is that you're still better off building model airplanes than going long oil equities until around November 2016. I expect any rally to start earlier than it did this last year.
Whether you're busy building model airplanes or are willing to risk getting the timing wrong (sustaining some losses) to avoid missing any gains, I suggest you have a deeper look into some alternative energy names.
Solar, fuel cell and other alternative energy names have been highly correlated with oil prices historically. While the solar CEO's will deny the price of oil matters, it definitely moves the price of Solar and other alternative energy equities.
Additionally, if you have a moral aversion to investing in the oil and gas industry, these names should allow you to take advantage of a recovery in oil without investing your money in drilling directly.
Alternative Energy Names to watch
My favorite name in this space is First Solar (NASDAQ:FSLR). First Solar has a strong balance sheet, a real and profitable business, and has been somewhat correlated with the price of oil. If you look at a chart you'll also see that First Solar trades in a band between 40 and 70; It's currently trading at $46.
A second name I like is Canadian Solar (NASDAQ:CSIQ). CSIQ is currently trading at 52-week lows and is a little more speculative that First Solar, but definitely worth some more research. I personally think Solar is the most promising of the alternative energy options. Residential Solar is not something that has interested me due to the complex nature of that business.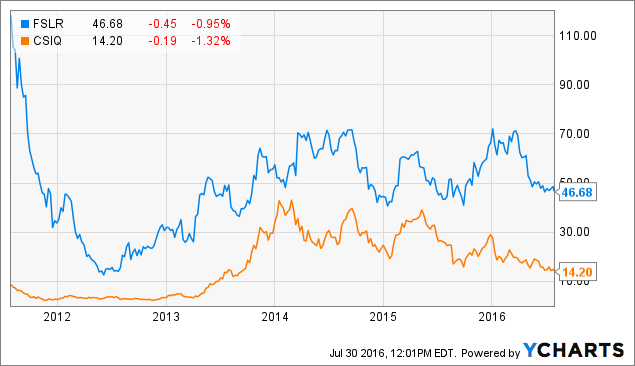 If you believe natural gas may be a bridging fuel, take a look at the only two names in town; Clean Energy Fuels (NASDAQ:CLNE) and Westport Fuel Systems (NASDAQ:WPRT). Both of these names are quite distressed right now as the low oil price environment means that their customers don't have many financial incentives to invest in their products. CLNE is actually EBITDA positive, but WPRT has been full of promise for years now and has struggled on execution. Both of these names were considered highly promising in the last oil-price spike, with WPRT experiencing sky-high valuations. Luckily WPRT completed secondary's at these heady prices, but their cash-burn and lack of execution continue to plague them. WPRT recently merged with Fuel Systems Solutions (NASDAQ:FSYS) to create Westport Fuel Systems. This acquisitions was definitely a good one for WPRT as Fuel Systems is a viable and profitable international business. Fuel Systems had some cash on the balance sheet which should help the combined company.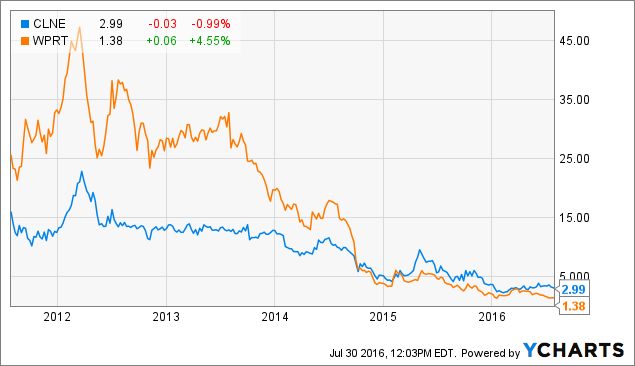 Both Clean Energy Fuels and Westport Fuel Systems are extremely volatile and could lose you money very quickly. Take a look at the charts, do your own research and make sure you understand what you are getting into here. The story in these names has been compelling since 2009, but it's never come to fruition. I was long both in 2014 on the hope that their time had finally come and managed to sell before that huge drop you see on the chart above. Neither of these names are a slam-dunk, but I think they will get a lot of love (deserved or not) as oil rises. A look at the 6-month chart below gives you a good idea of the volatility.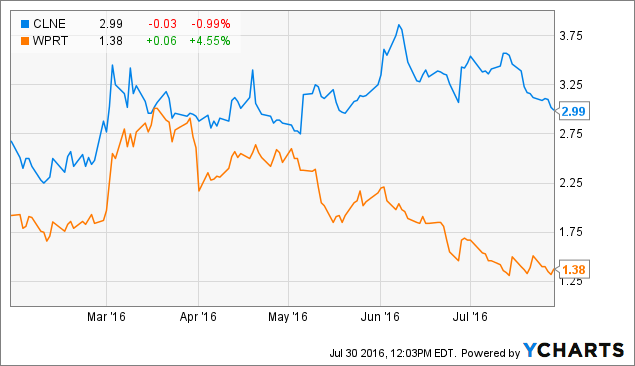 The last category is actually a few names I really don't believe in, but will likely rise when oil does. Fuel Cell marketer Plug Power (NASDAQ:PLUG) and Fuel Cell manufacturer Ballard Power (NASDAQ:BLDP) experienced incredible growth early 2014. Plug has entered into some contracts with high-profile names such as Wal-Mart, BMW and Fedex, but none are game-changing in my opinion. My personal assessment is that the core business of Plug will never meet investor expectations, however these names are likely to outperform in an oil price recovery. Another one to add to this list is Fuel Cell Energy (NASDAQ:FCEL). FCEL is more focused on Fuel Cell power plants and the micro-grid. It's a cool story but I'm not convinced it's ever going to anything but niche.
The chart below shows how correlated PLUG and BLDP are.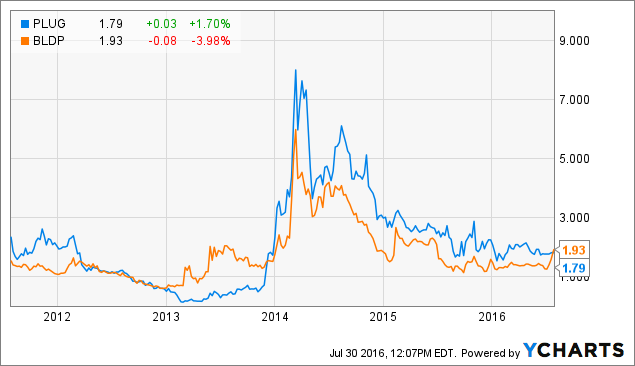 Takeaway
An oil recovery is likely not happening in the next few months, but it still appears inevitable to this writer. Oil equities are not the only way to play an oil recovery and some of them are overvalued right now in my opinion. For those truly willing to risk their capital, names like CSIQ, CLNE and to a lesser degree WPRT may be home-run opportunities. They could also send you to the poorhouse lickety-split if you aren't disciplined with how you buy and sell and fully understand what you are getting into.
I will reiterate that I think it's a little too early to get into these names, but it's good to have a bit of runway to do your own research and time your entry. I am long almost all of them as I am hedging the timing of an oil recovery and think there may be some upside catalyst on earnings.
Come November 2016, some of the oil names may present a better opportunity based on valuations. Use this time wisely to make sure you have a solid strategy and a long shopping list so that you can take advantage of the most attractive valuations when you are ready to execute. I also advocate building a position over time. The trading costs are higher but it averages out your entry point over a period of time.
Disclosure: I am/we are long FSLR, CSIQ, CLNE, WPRT.
I wrote this article myself, and it expresses my own opinions. I am not receiving compensation for it (other than from Seeking Alpha). I have no business relationship with any company whose stock is mentioned in this article.
Editor's Note: This article covers one or more stocks trading at less than $1 per share and/or with less than a $100 million market cap. Please be aware of the risks associated with these stocks.