Kroger (NYSE:KR) has dropped by 20% in the last 7 months, 14% YoY, marking a step change from the growth of the previous couple years. Any time an equity drops this drastically with effectively no news breaking, I re-analyze my position to understand if I have the wrong target price or if it is a buying opportunity. With that in mind, let's review Kroger from both a business model and a fundamental perspective.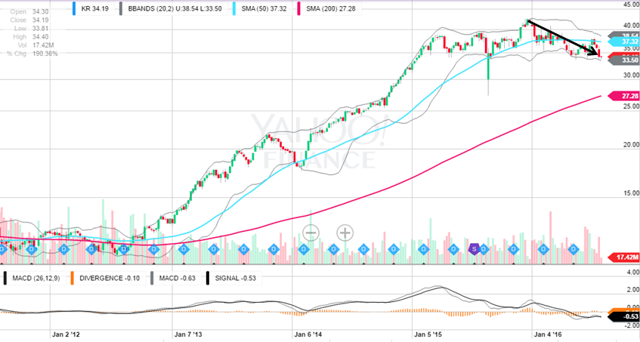 Business Outlook:
Kroger is more complex than the average grocer as they have a more diversified base including fuel sales, jewelry stores, food processing and packaging, and convenience stores.
Per the Kroger Investor Relations website:
Every day, the Kroger Family of Companies makes a difference in the lives of eight and a half million customers and 431,000 associates who shop or serve in 2,778 retail food stores under a variety of local banner names in 35 states and the District of Columbia. Kroger and its subsidiaries operate an expanding ClickList offering - a personalized, order online, pick up at the store service - in addition to our 2,231 pharmacies, 784 convenience stores, 323 fine jewelry stores, 1,387 supermarket fuel centers and 38 food production plants in the United States.
Kroger is diversified into fuel, convenience, pharmacy, and jewelry sales, as well as being a food processor for their private label brands and small outside sales. With that said, 94% of the revenue comes from supermarket sales per their 2015 Fact Book breakout below:

Kroger is scaled across the country and based on their acquisitions, operates under 24 different banners in the different regions. Below is a map of their supermarkets in the US, also from the Fact Book. Kroger only operates in the US so there is no international exposure.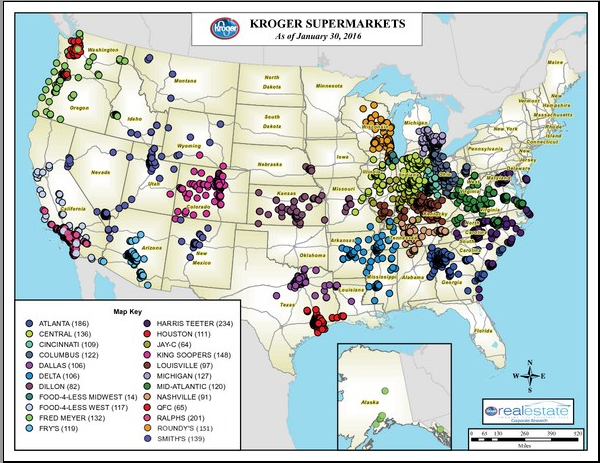 Kroger has an extremely effective portfolio of owned brands with a range from value to high quality. The recent additions of organic focused brands has helped Kroger to appeal to the increasingly health conscious consumer and has made them a primary competitor to Whole Foods Market (NASDAQ:WFM).
Kroger also leads the market as an innovator in the consumer data space. Given its scale, it is able to gather large amounts of data for informing its decisions and shaping its offerings.
A Fundamental Review:
Kroger has a trailing P/E of 16.0 and a forward P/E of 14.1. This compares to the global grocery stocks P/E (NYSE:TTM) of 22.6 (+37%) and domestically traded grocer P/E of 21.1 (+32%). In order to justify this low valuation, we should expect there to be a much lower growth rate for Kroger or a risk sufficient to justify selling at a third of the value of the other grocers.
In order to review the growth, let's compare the growth rates via PEG. Excluding 2 outliers (Supervalu (NYSE:SVU) @ -3.6, Whole Foods @ 4.8), the average is 1.6 for domestically traded grocers compared to Kroger's 1.7. While slightly below average, this is effectively in line so the price discount is not based on growth concerns. Kroger also can boast 49 straight quarters of same store growth, a startling accomplishment in this competitive space.
The next check is yield which can drive disparity from typical valuation metrics. Kroger has a 1.4% yield at Friday's closing price. The global and domestic average yields are 1.1% so Kroger actually has a better yield than average.
Next, we look at profitability to understand whether we should be concerned with operating efficiencies. Kroger is in line with the US grocer average excluding QKL stores (NASDAQ:QKLS) (-11.6%) at 1.9% v 2.1% average.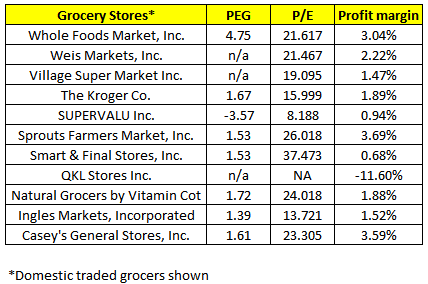 Finally, let's compare to Walmart who is not included in the grocery sector but does act as a major competitor. Walmart has P/E of 16.1, PEG of 12, yield of 2.7%, and profit margin of 3%. Kroger has a lower yield and profit margin but much higher growth rate.
Conclusion:
Kroger operates one of the largest domestic supermarket chains with small diversification into fuel sales, convenience, and jewelry. They also operate as a major food processor for themselves which can act as a margin of safety as they are more agile in this respect and can choose to capture the margin in the middle or pass it on to the consumer as a value versus competitors.
Kroger is trading at a 32% - 37% discount to other grocery stocks with a higher yield and in line profitability and growth. Adding in Kroger's significantly higher market cap as a safety factor, I would expect Kroger to trade a slight premium based on the fundamentals.
Kroger had a fairly straight line price increase from 2013 through 2015 from $11 - $33. Since 2015 though, it has traded sideways in a range from $33 to $40 with small breakouts on either side quickly cancelled out. With its profitable growth, cheap valuation, and proven track record of success, I plan to continue to add to my position as long as it continues to trade in the 30's. I see upside to trade in the mid-40's based on the fundamental review to bring it in line with its primary competitor valuations.
Sources: All information is from Yahoo Finance and Kroger's Investor Relations website unless otherwise noted.
Disclosure: I am/we are long KR.
I wrote this article myself, and it expresses my own opinions. I am not receiving compensation for it (other than from Seeking Alpha). I have no business relationship with any company whose stock is mentioned in this article.
Additional disclosure: All opinions expressed are my own. Investors should always do their own due diligence before investing and should not use this article as investing advice.