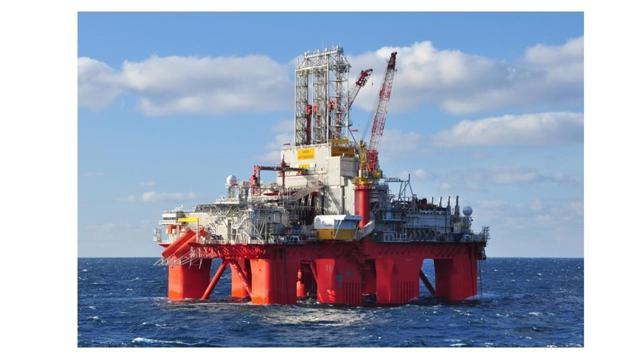 Transocean Ltd: 2Q 2016 Earnings Preview
Transocean Ltd (NYSE:RIG) is an offshore drilling business, one of the largest in the world, that focuses on deepwater and harsh environment drilling services. Year-to-date the company's stock performance is in the bottom tier when compared to a select group of peers, only outperforming Ensco (NYSE:ESV) so far.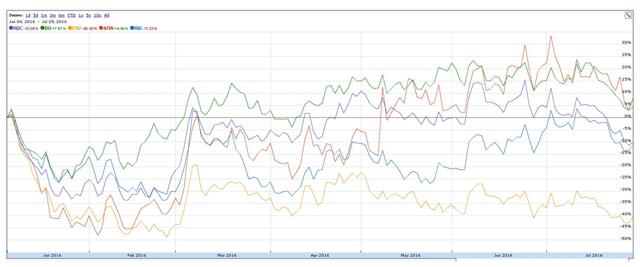 Source: Google Finance
The below table compares Transocean Ltd to a handful of similar companies in the oil and gas drilling industry and highlights projected year-over-year EPS development and 2016 Estimated EV to EBITDA for each company (data compiled at the end of trading day July 29th).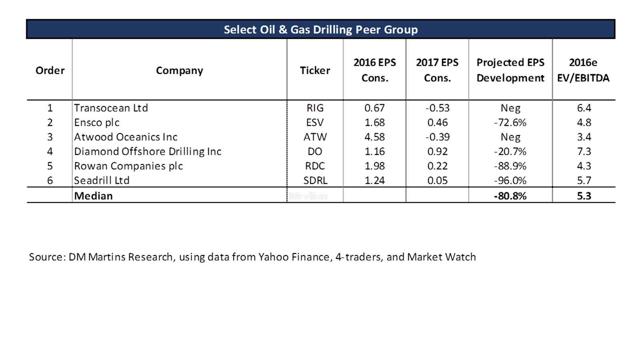 Transocean will report its 2Q16 results at the close of trading on Wednesday, August 3rd. With crude oil prices recently slipping closer to bear market territory from the earlier 2016 heights, the focus of the upcoming earnings call and subsequent Q&A will likely be on the company's ability to follow through on its strategy to execute on cost management. In the following few paragraphs we preview pertinent topics that we believe will be top of the earnings call agenda.
· We expect lighter backlog deterioration
· Looking for detail on possible secured debt issuance and the impact this may have on RIG's unsecured funding costs
· Company unlikely to address near-term liquidity with sale/leaseback arrangements
Backlog deterioration:
During 1Q16 earnings, Transocean's SVP of Marketing shared that, despite difficult operating environment, there are not any meaningful cancellations of existing contracts expected. This is due to the fact that all remaining contracts in the backlog require a hefty termination fee upon cancellation. On a sequential quarter basis at the end of 1Q16, the backlog had declined by 6.1% to $14.6 billion and it will be interesting to see the extent of additional backlog deterioration, if any, during the second quarter. Lack of bad news regarding backlog should help to support the stock's current valuation.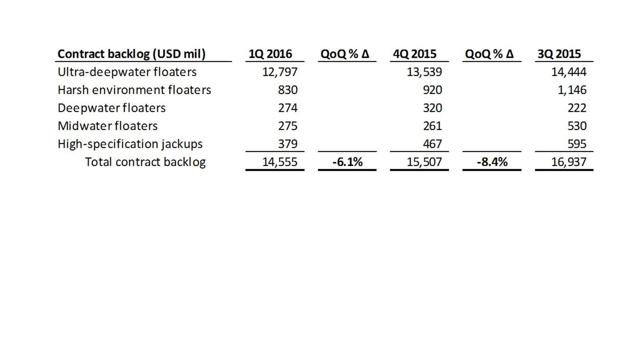 Secured debt issuance:
On the liquidity topic, it will be interesting to understand further developments with RIG secured debt issuance and the impact it could have on the company's future unsecured refinancing. As mentioned on a report by The Street, management hopes to arrange secured financing on five newbuild drillships that are going under contract with Shell (RDS) and Chevron (NYSE:CVX). Two Shell contracted rigs (Deepwater Thalassa and Deepwater Proteus) already began operating this year, and the rig contracted with Chevron (Deepwater Conqueror) is expected to commence operations at the end of 2016. Normally, the rig must be operating for at least one year under a long-term contract to be used as collateral. The analyst community estimates that this new type of financing potentially available to Transocean will be in the $1.2-$1.4 billion range, and timing wise probably on the back end of 2017. Secured financing could be an improvement to the company's slowly deteriorating liquidity position. The noted $1.2-1.4 billion amount would fall under the 10% threshold of Consolidated Net Tangible Assets of secured debt available to the company as defined in its indentures. During the call, any additional color on secured financing should help investors have better visibility into RIG's future liquidity needs.
We also note that secured financing subordinates any further unsecured issuance, which could negatively impact funding costs. Recently, the company already had to deal with a high rate of 9% p.a. for its recent $1.25 billion senior unsecured issuance. Secured financing could also dissuade Transocean from having to tap the equity market and diluting existing shareholders, which bodes well for the current depressed trading multiples. We believe that, after the completion of secured financing round, should the worst case scenario persist, possible equity raise could remain an option to Transocean's management.
Unlikely to engage in sale/leaseback agreements for the existing rig fleet:
The news earlier this year of a service level agreement between Diamond Offshore Drilling (NYSE:DO) and General Electric (NYSE:GE) that transferred some of the downtime risk to the equipment provider prompted questions whether this arrangement could happen between Transocean and a third party equipment provider. In short, this relatively near-term liquidity support remains unlikely for Transocean, given that the management balks at the high cost of servicing and feels that it has a good handle on downtime risk. We will watch closely for any developments in this space during the 2Q16 results announcement, as any messaging change from management can indicate higher acceptance of such solutions and increased capability of offshore drillers to reduce operational risks and outlast the downturn.
Closing thoughts on macro environment and peer comparison:
Transocean's CEO Jeremy Thigpen does not expect to see meaningful recovery in rig activity before 2017 as customer budgets have been set for 2016 and are unlikely to improve until there's further recovery in the price of oil. Many industry experts forecast the offshore drilling recovery to take place even later, possibly no sooner than the second half of 2018.
Positively, Transocean remains one of the industry leaders in the drilling space. Relative to most of its peers, the company has less leverage, an experienced management team in place, and hopefully long-term viability in the eyes of operators. Such customer preference for more established companies could lead to faster pick-up in demand for Transocean's rigs and higher utilization rates relative to competitors.
Disclosure: I/we have no positions in any stocks mentioned, and no plans to initiate any positions within the next 72 hours.
Business relationship disclosure: Article written by third-party author, edited by Daniel Martins